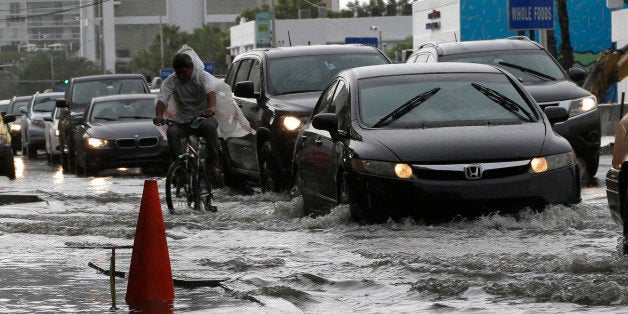 A few months ago, I was greatly blessed by the birth of a third grandchild. His arrival caused me to reflect on the world as I have known it and how it may look by the time he reaches my age. It was a sobering moment. I know that if action is not taken immediately to stop and reverse current climate trends, my grandson will live in a world where the average global temperature could be several degrees higher than when I was a child.
The result will be suffocating heat waves, severe droughts, disastrous floods and devastating wildfires. Entire regions would experience a catastrophic decline in food production. Glaciers and ice sheets would disappear, leading to rising sea levels -- drowning cities such as New York or Venice and small island states.
This brings to mind what Nikita Khrushchev said when reflecting on the impact of a potential nuclear war: "The living will envy the dead." We are close to reaching the tipping point beyond which man-made climate change risks denying my grandson and his generation the right to a healthy and sustainable planet.
But it is not too late to take action. Change can happen: provided there is the political will to push for it. For the Climate Conference in Paris to succeed, we must secure a global consensus with ambitious targets for emissions control to limit the increase in average global temperature rise to less than two degrees Celsius.
We must adopt policies to decouple economic growth from the ever-greater use of coal, oil and gas and ensure a faster shift to renewable-energy sources. This will require carbon pricing and the phasing out of fossil-fuel subsidies. The wealthier countries must provide financial resources and technologies to aid poorer countries to cut emissions and adapt to the impact of climate change. Specifically, developed countries must deliver on their commitment to annually mobilize $100 billion for the Green Climate Fund.
We must not forget that Africa can and has to be part of the solution to climate change. Africa is already experiencing the damaging impact of climate change; yet no region has done less to contribute to global warming than Africa. In 2012, Sub-Saharan Africa -- without South Africa -- emitted only two percent of total global greenhouse-gas emissions. By tapping into its vast potential of renewable energy, Africa can boost economic growth, create jobs, and avoid the high-carbon pathway that has brought the world to the brink of catastrophe.
However, the solution to the climate crisis, in Africa and elsewhere, cannot be left to governments alone. It requires the active participation of individuals, civil society, and businesses -- and I am glad to know that many of them are already showing the necessary leadership.
Climate change is the most emblematic challenge in this age of globalisation. For the sake of our grandchildren, we cannot refuse that challenge. We have the duty to bequeath to them a world where all of mankind lives in peace and harmony with nature. As an African proverb says: the earth is not ours, it is a treasure we hold in trust for our children and grandchildren. We must be worthy of that trust. By working together, every nation and every individual, in Paris and beyond, we can defeat the threat of global warming. Let us act now, not tomorrow.
This post is part of a "Nobel Prize Laureates" series produced by The Huffington Post, in conjunction with the U.N.'s 21st Conference of the Parties (COP21) in Paris (Nov. 30-Dec. 11), aka the climate-change conference. The series will put a spotlight on Nobel Prize Laureates and their thoughts on how to effectively combat climate change. It is part of HuffPost's What's Working editorial initiative. To view the entire series, visit here.
Calling all HuffPost superfans!
Sign up for membership to become a founding member and help shape HuffPost's next chapter