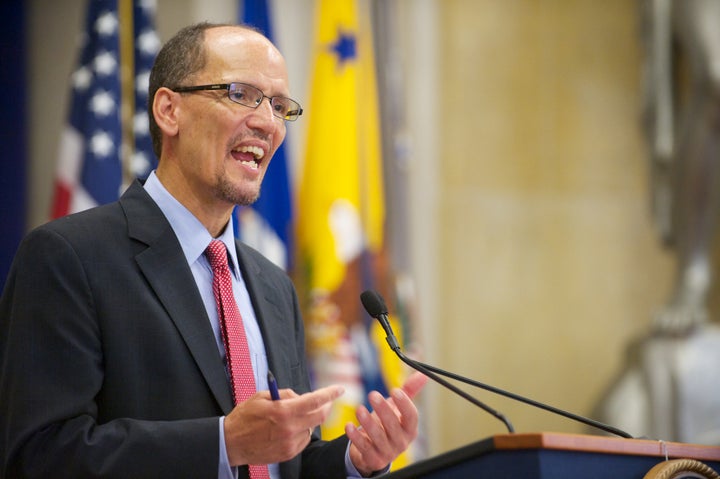 With the national conventions only a few weeks away, the media is laser focused on who the presumptive nominees will choose as their running mates. On the Democratic side, Hillary Clinton faces an especially interesting choice. While a few names have been leaked, including, Elizabeth Warren, Tim Kaine, and Sherrod Brown, one other name should also be floating to the top: Labor Secretary Tom Perez.
Tom Perez is a bridge candidate. He connects with old and new Democrats, with white and blue collar workers, and with the Berners and the Hillary faithful. He is the son of political refugees from the Dominican Republic but was made in Buffalo, NY. He believes in public service and has spent his career fighting for equal opportunity and justice for all Americans. He is a team player and has worked with many of nation's greatest political leaders, including the late Senator Ted Kennedy. Like our current President, Secretary Perez understands the importance of the American Dream because 'he has lived it'. He was raised by a single mom and, with the help of his family, was able to attend Brown University and Harvard Law School. And perhaps most importantly, if need be, he would make an excellent Commander-in-Chief.
Secretary Perez transformed the Department of Labor from a relatively quiet government agency into the vanguard for the President's second term agenda. Like Senator Kennedy, he stands his ground, but also works tirelessly to seek common ground. In developing the overtime regulation, for instance, he held a record number of outreach meetings with various association groups, including all types of businesses and worker advocates.
Perez may have blue collar roots and a deep connection to labor unions, but it is his ability to actively and productively engage with the private sector while defending progressive values that stands out. He firmly believes that companies can do right by their employees and still be profitable. As Secretary, he met with hundreds of companies to learn how their business models help them achieve this goal: companies that  pay better wages in order to reduce turnover, that provide paid leave to attract talent, and that provide more voice to employees as a way of increasing motivation and productivity.
Secretary Perez is in the trenches, going from town to town, company to company, and representative to representative building support for major progressive ideas. He's on the forefront on the #LeadonLeave effort. He was the first member of the Obama Administration to embrace a $12/hour minimum wage. He was the leading advocate in the White House for updating the overtime threshold and ultimately convinced the President to double the threshold at which employees would receive overtime pay. He has also proven an able manager of a major government agency, pushing major projects across the finish line, such as the updating of the Department's conflict of interest regulations to help ensure that all Americans can trust the financial advice they pay to receive.
He is very committed to Secretary Clinton becoming President and has been tireless in working for her election. He was one the first current Cabinet Members to endorse Secretary Clinton during the primary. He flew to a number of states and made phone calls to Hispanic voters, met with labor leaders, and proved himself a capable deliverer of the Clinton economic message. He has shown the same level of loyalty to the President and will undoubtedly maintain that same commitment to a President Clinton.
Perhaps most important, his experience and character, should the situation arise, qualify Secretary Perez to be Commander-in-chief. He is calm under pressure, thorough, and he listens to all sides of an argument before making a decision. He has served at every level of government – the Montgomery County Council, the State of Maryland, the US Department of Justice, and the US Department of Labor - so he appreciates how policy decisions at the federal level translate to actions on the ground. In his role at the Department of Labor, he also oversees its international work, meaning that he feels comfortable representing our nation abroad and protecting our interests.
Both major political parties are experiencing a realignment. While it is unclear where the Republicans will land, the Democratic Party is clearly becoming more unabashedly progressive. The Party's stand on issues like the minimum wage, consumer protection, and paid family leave send a clear message to voters about its values; however, in order to maintain its competitive edge, the Democratic Party will need to think deeply about how it stands by these policies while also building support among blue collar workers and businesses. Secretary Perez would help President Clinton accomplish this goal, and by doing so, be a bridge for all facets of the Democratic Party.
― Harin Contractor ( @harincontractor ) & Patrick Reimherr ( @Patch_UT ) are former Economic Policy Advisors at the Department of Labor and served with Secretary Tom Perez.
REAL LIFE. REAL NEWS. REAL VOICES.
Help us tell more of the stories that matter from voices that too often remain unheard.