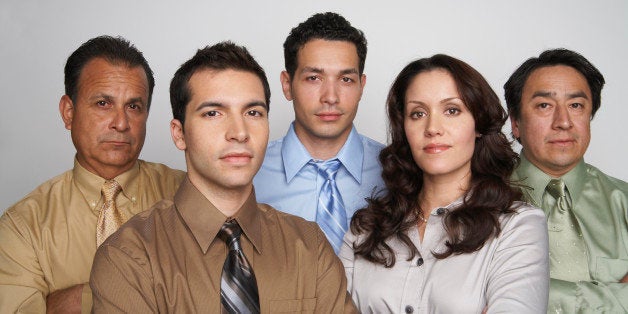 I watch ABC's Shark Tank show religiously, and I'm not the only one. Adults and children, of all ages and racial/ethnic background, tune in every week to watch this sign of the times phenomenon, a slice of modern America's obsession with the American dream, innovation, power and big money.
My disappointment with Shark Tank? Latina entrepreneurs are seriously underrepresented. In fact, I have yet to watch an episode where a Latina entrepreneur is pitching. With Latinas and African-American business owners being the fastest growing entrepreneurial segments in this country, this is a problem.
Where are the Latina/o Investors on Shark Tank?
What's equally disappointing is the fact there is no Latina/o shark on the show. Yet, two Latino billionaires were ranked as the second (Carlos Slim Helu) and the fourth (Amancio Ortega) in Forbes 2015 annual list of the world's richest people. But perhaps this has nothing to do with Latino billionaires. The truth is, Marc Cuban is the only billionaire on the Shark Tank.
The Latino community would greatly benefit by having Latina/o investors not only in Shark Tank, but most importantly across venture investment networks. Let me explain why: There is a phenomenon known as "pattern recognition" that plays an important role in who investors invest their money. Pattern recognition refers to the investor's identification with the entrepreneur who is pitching. Often, these unconscious and conscious investor identification with the entrepreneur are around sociodemographics such as gender, race/ethnicity, age, socioeconomic status and educational background, among others.
Pattern recognition has been blamed, in part, for the lack of entrepreneurs of colors, especially women, receiving venture capital funding. Comments from investors like: 'You remind me of myself..." or "I see myself in you..." are some of the verbalized ways in which pattern recognition presents itself, and can lead to investment bias. The truth is, investing is as much about the entrepreneur, as it is about the business. Therefore, the investor's background and personal experiences do matter.
Why the case of the missing Latina/o shark? Well, that's an important question that generates more questions: Is it because there is a lack of wealthy Latinas/os interested in venture investment? Is it due to lack of Latina/o engagement in investment circles/networks? Are investment networks, including shows like Shark Tank, not done enough to engage Latina/o investors? I don't have the answer, but I am proposing we begin a dialogue on the importance of engaging and including Latina/o investors not only on a hit show but, most importantly, on the many VC and angel investment networks around the country.
For Latinas, this conversation is critically important. Last year, I had a real challenge finding one Latina investor to invite and serve as a panelists at the Latinas Think Big Innovation Summit. Ultimately, I invited a non-Latina angel investor, Carol Sands, the Founder and the Managing Member of The Halo Funds, who has spent almost 40 years in investing, entrepreneurial, and/or large corporate institutions. She shared with me that, for years, she has been trying to identify and engage Latina investors, but had not succeeded. Fortunately, the panel was also joined by Natalia Oberti Noguera, a mission-driven Latina who is changing the face of angel investors with her successful Pipeline Fellowship Program, a angel investing bootcamp for women.
Building the Pipeline for Latina/o Investors Is Key
It is imperative that we begin to build the pipeline for Latina/o ventures investors. We need develop programs, initiative and efforts that are solely focused on educating and training Latinas/os on how to invest in innovation and highly scalable companies. Latinos must take on a leadership role in venture investment. This will lead to significant impact on the economic prosperity of Latinos, and in the economy and social well being of this country.
Let's Create Our Own Real Life Latino Shark Tank
I propose we create our own version of Shark Tank -- in our communities, across colleges and universities, within our companies, in our churches -- and include Latina/o investors who will invest in Latina/o businesses and big ideas. We can start small, but we must do something to connect Latina/o investors to the Latina/o entrepreneurs who need the capital to grow their business and startups.
If you know of a Latina/o who is currently an investor, or if you are interested in learning more about becoming an investor, I invite you to write to us (email here) at Latinas Think Big. We are compiling a list of aspiring and current Latina/o investors to bring them together, and to create content and educational programs for future Latina sharks around country and abroad.