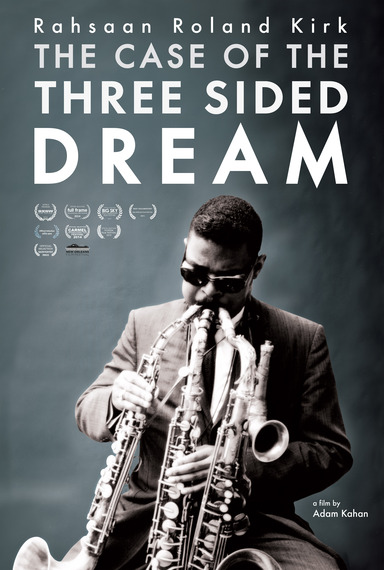 The winner of two Best Documentary Awards and rated one of the top ten best music documentaries by nonfics.com, Adam Kahan's masterful "The Case of the Three Sided Dream" sold out at its premieres at SXSW film festival, the Blue Note jazz festival, and other festivals around the world. This stellar documentary is about Rahsaan Roland Kirk, the man who would not even let partial paralysis stop him from realizing his dreams.
Forty years ago, Rahsaan Roland Kirk released his comeback album, "The Return of the 5000lb Man." Several months earlier during the Thanksgiving holiday, his wife Dorthaan had heard a loud thump and rushed upstairs to see what it was. Finding her husband on the floor of their bedroom, she immediately knew. Chaos ensued with Dorthaan screaming to her daughter downstairs for help, their dogs barking furiously and sirens wailing as ambulances sped to the scene. Rahsaan had suffered a massive stroke that left him half paralyzed. Everyone thought he was finished but months later he proved them wrong and was back in action with the release of a new album - playing using only one hand.
Rahsaan Roland Kirk, widely known as a jazz musician, was much more than that. Kirk explored all musical and sonic possibilities. His occupation, as he put it, was quite simply, "exploring sound."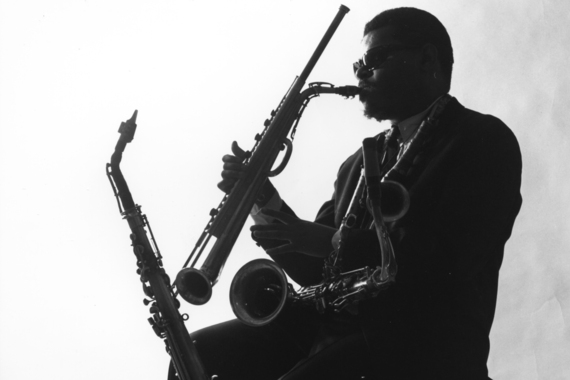 "The Case of the Three Sided Dream" allows audiences to join Kirk on his sonic journey. His music was highly emotive, virtuosic, soul stirring, innovative and unlike anything else. But beyond music the film tells the story of a man who faced one obstacle after another - and overcame each of them right up until the end.
Kirk became blind as an infant, but that did not stop him from becoming a professional musician in his teens. Later transformed into an outspoken activist who started a political movement, Kirk appeared on the Ed Sullivan show and was a rising star in the world of music. At the height of his career he suffered a massive stroke that left him half paralyzed. But that did not stop him either. His partial recovery and his resolve to do whatever he desired meant that he continued to perform and record - right up to the very day he died from a second stroke after a gig at the University of Indiana at the age of 42 years old.

Director Adam Kahan has created a vibrant and passionate film illuminating the many facets of his extraordinary subject. The film is filled with live concert footage that features Kirk's trademark playing of three saxophones simultaneously. There is luscious archival footage from the 1960s and 1970s and interviews with Kirk's closest collaborators. But perhaps the most powerful element of this film is the intimacy that Kahan creates by allowing us to glimpse Super 8 home movie footage given to him by Rahsaan's wife, Dorthaan.
There are no easy labels for Kirk or his musical legacy. Kirk never fit into a convenient marketing box. He was traditional and avant garde at the same time. He revered the past and all the music came before him, but was also a cosmic warrior of the future. Because of these paradoxes, because he was so unique, he was that much more powerful - and that much more obscure. Joel Dorn, who produced some of Kirk's seminal records said, "His greatest strengths worked against him."
"The Case of the Three Sided Dream" shares those strengths, and weaknesses, but above all, it does what any great film must - it provokes thought and reflection just as Rahsaan Roland Kirk did and still does.
Popular in the Community