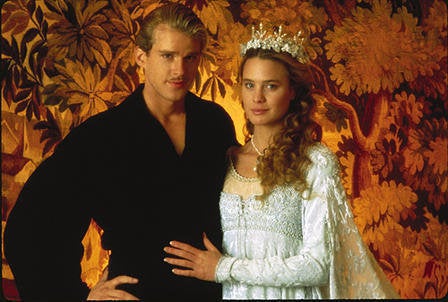 25 years ago, the very idea that there might actually be an audience out there for The Princess Bride was -- for executives at 20th Century Fox, anyway -- inconceivable.
"Fox just couldn't figure out how to market the thing. Was it a comedy? A love story? An action-adventure? A spoof?," director Rob Reiner recalled earlier this week at the New York Film Festival. "Which is why -- a week before this movie is due to hit theaters -- I was at the producer's house, working on the one-sheet and the trailer."
But clearly over the past quarter century, The Princess Bride must have connected with a pretty sizable audience, given the turn-away crowd that came out on a very rainy Tuesday night to Alice Tulley Hall to watch a brand-new 35 MM print of this much-beloved motion picture, as well as listen in as members of the cast shared some fond memories of working on this film.
For some, getting ready for their role in The Princess Bride was kind of like preparing to run a marathon. Mandy Patinkin talked about how he spent eight months prior to the start of shooting studying fencing so that he could properly play Spanish swordsman Inigo Montoya.
"Ron didn't want to have to use any stunt doubles for Cary (Elwes) and my big sword-fighting scene in the movie. He wanted us to do it all right in front of the cameras," Patinkin continued. "So during production, every day right after lunch, Cary and I would pick up our foils and then go off to practice. And we kept getting better and better, faster and faster."
And speaking of fast, Billy Crystal shot his scene-stealing cameo as Miracle Max in just three days. Which isn't to say this comic had a particularly easy time when it came to working on The Princess Bride.
"Because it took 10 hours to put all of that make-up on, I had a 2 a.m. call. Plus -- because they made me wear these contact lenses which made it look as though Miracle Max had cataracts -- I couldn't really see what I was doing on set," Crystal remembered. "Then -- because you couldn't really take off that make-up to eat -- that's how I was led down to lunch every day at the Shepperton Studios cafeteria. Where because of the prosthetics, I felt like I now had to stay in character. (In Miracle Max's voice) What's the soup of the day? Is it spicy? Because I can't do spicy."
And even though the make-up that Billy and his co-star Carol Kane (who played Miracle Max's wife, Valerie) had to wear was obviously a challenge, Crystal still gave this part his all. He dutifully played the scenes just as they were written in William Goldman's screenplay. But then -- once Rob had gotten everything that he needed from Billy -- he'd keep the cameras rolling as his longtime friend began to ad-lib in character. Which sometimes made life very difficult for the other performers who were on set.
"That's the only time I ever got injured on the set of The Princess Bride," Patinkin recalled. "I was trying so hard to stifle my laughter while we were shooting those Miracle Max scenes that I actually bruised a rib."
Speaking of bruising, Robin Wright (who made her feature film debut in this Rob Reiner film) didn't know quite what to expect once she'd signed on to play Princess Buttercup.
"I remember reading the stage directions in the screenplay and thinking that they couldn't be serious. I mean, my character was going to have to cross a fire swamp, be attacked by this shrieking eel, climb the Cliffs of Insanity? There was just no way that they were actually going to be able to do all of that stuff. So I just ignored the stage directions and concentrated on the dialogue," Wright laughed. "So imagine my surprise when I arrived on set and here was this 35 foot-tall version of the Cliffs of Insanity that I'd soon have to climb."
And speaking of the Cliffs... Robin wasn't the only cast member of The Princess Bride who was somewhat daunted by the physical demands of this production. Actor / playwright Wallace Shawn (who played Vizzini, the Sicilian criminal mastermind in this movie) had his own concerns when he arrived on set and was confronted by those cliffs.
"Now you have to understand that I'm deathly afraid of heights. So I was wondering if I'd actually be able to shoot this scene," Shawn stated. "And if I wasn't physically up to the challenge... Well, there were all of these rumors going around that they were going to fire me and then bring Danny Devito in as a replacement Vizzini."
Which -- as it turns out -- really wasn't the case. If anything, Reiner did everything he could to facilitate a safe and nurturing work environment on the Princess Bride set. Even going so far as to have this special climbing rig constructed for the Cliffs of Insanity sequence. Which turned out to be necessary because -- due to a debilitating back condition that Andre the Giant had developed over the course of his wrestling career -- that oversized performer wasn't physically able to carry weight.
"So while we're shooting that scene, Andre is standing on this forklift which is slowly lifting him up the Cliffs while he pretends to climb the rope. And meanwhile -- while it looks like we're all hanging off of Andre's body -- Robin, Wally and I are all sitting on these modified bicycle seats," Patinkin explained. "But even so, Wally -- who's in the papoose thing in front of Andre-- is clearly terrified. But whenever the camera was off, Andre would pat Wally's head and back, continually reassuring him. Saying things like 'Don't worry. I'll take care of you.' He was such a sweet guy."
That was the vibe that you got from Tuesday night's event at the NYFF. That the cast of The Princess Bride had genuinely enjoyed working together. Which is why they were thrilled to get this chance to come together again after 25 years and then reminisce about what it was actually like to work on this movie.
"I remember that there was this one day when we were shooting in Haddon Hall. William the Conqueror had this place built for his bastard son back in the 10th century. And the acoustics in that place were just so amazing that Christopher Guest, Mandy and I sat in there for hours and sang three part harmony songs from the 1950s like 'What's Your Name,' " Reiner reminisced.
Now you have to remember that -- back when Rob was directing The Princess Bride -- he only had two films under his belt, the 1984 mockumentary This Is Spinal Tap and his then-yet-to-be-released 1985 romantic road picture, The Sure Thing.
"This was why we shot that entire movie on a shoestring. I mean, the Army of Florin was just seven guys. That's how little money we had," Reiner stated.
So why did Rob and his creative team succeed where Norman Jewison, Francoise Truffaut and Robert Redford (i.e. the trio of talented filmmakers who had previously tried to get movie versions of The Princess Bride off the ground) had failed?
"We played it straight. We took William Goldman's brilliant screenplay but didn't go for the laughs. We never winked towards the camera," Cary Elwes said. "I think that's why this film has held up as well as it has after all these years."
Speaking of Goldman, this 81-year-old screenwriting legend (who is probably best known for his Academy Award-winning work on the scripts for Butch Cassidy and the Sundance Kid and All the President's Men) seemed genuinely moved by the reception this film received Tuesday night, with the audience giving The Princess Bride a standing ovation as the credits rolled.
But then again, you have to understand that this was the very first time in nearly a quarter of a century that the cast and crew had seen this movie with an audience.
"The last time for me had to have been a screening at a friend's house just before the film came out," Crystal recalled. "Since then .. Well, I've watched the VHS with my own daughters and the Blu-ray with my granddaughters. That was my 'As You Wish' moment. Which is why this is a movie that I'm very, very proud to be associated with."
More to the point, it's the movie that Billy's fans are most likely to quote back to him.
"Just today, as I was getting ready to fly out for tonight's screening, the attendant at LAX -- as she handed me my boarding pass -- said 'Have fun storming the castle,' " Crystal smiled.
Jim Hill is an award-winning entertainment writer who lives in New Boston, N.H. Over the past 30 years, he has interviewed hundreds of veterans of the animation and themed entertainment industry and written extensively about The Walt Disney Company. For more of his musings on movies, TV shows, books and theme parks, please check out his blog, jimhillmedia.com.
Support HuffPost
The Stakes Have Never Been Higher
Popular in the Community