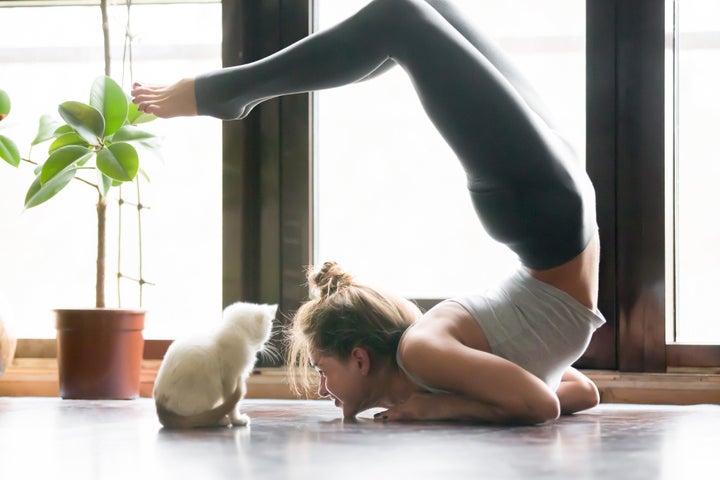 For cat lovers and exercise enthusiasts, free yoga classes filled with feline friends sounds like a pretty good deal. But these classes are offered with a larger purpose in mind: The cats need homes.
The P.A.W.S. Animal Adoption Center in Camden, Maine, offers free monthly cat yoga classes as a way to introduce potential new pet owners to some kitties in need. P.A.W.S. executive director Shelly Butler told the Bangor Daily News Monday that the classes were a "win-win" because yoga has therapeutic benefits cats bring joy to many people.
Butler got the idea for the monthly classes after reading about other animal shelters in the U.S. with similar offers.
The trend started when yoga practitioner Jeanette Skaluba, a volunteer at the now-closed Homeward Bound Pet Shelter, in Decatur, Illinois, posted a video of her performing the practice with kitties to YouTube, according to Yoga Journal.
Skaluba started a website devoted to the concept called Yoga For Cats, though the trend has also been dubbed Meowga.
At New York City's Meow Parlour, the Big Apple's first cat cafe, Yoga and Kitty classes are offered five times a month in partnership with the nonprofit organization KittyKind. The parlour's teacher Amy Apgar leads groups in 30 minutes of cat playtime and 45 minutes of yoga.
"These cats are all up for adoption. Some of them are special needs," she told CNN. "Some of them have been through a lot."
And there's a happy ending for the cats in Bangor too. Since P.A.W.S. started offering the sessions in January, all of the cats that have participated have been adopted, the organization told Bangor Daily News.
CORRECTION: A previous version of this story stated that P.A.W.S. Animal Adoption Center was in Bangor, Maine. P.A.W.S. is in Camden, Maine.
Popular in the Community