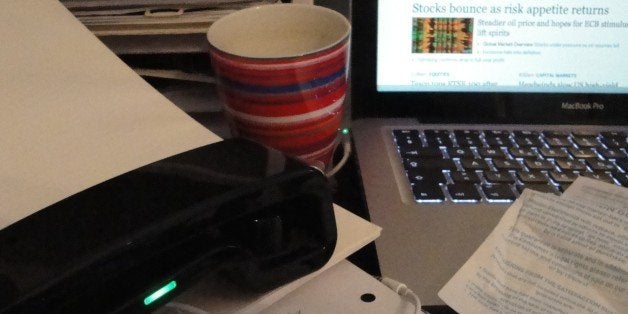 I'll never forget the day my boss decided to tidy his desk. I was 25 years old, and an associate headhunter in a boutique firm in the City of London, focusing on the commodity markets. We were a team of four, known to be good at what we did, and it took a lot of meticulously hard work and investigation to carry out our research. My boss was an old-school ex-metals trader, who also owned the company and some of our best market information was in his brain (inputting data was about as interesting to him as watching paint dry). He was also well known to have a notoriously messy desk. "Organized chaos" he said -- and it was. If he needed to find anything, it was either in his brain, a phone call away, or somewhere on his desk. My responsiblity was to investigate areas of the market he didn't have access to and make sure we had all our data logged and recorded.
One day I came back from lunch, to find his desk absolutely clear. It was incredible. What had once been stacks of paper resembling the Himalayas with the Karakoram highway wending in between them (enough room for a coffee cup and a telephone to pass) now resembled the Gobi Desert. I shivered, as if suffering from intense climate change.
"What's happened?" I said -- half elated, by the zen of the desk and the change, and also with a slight tension in the pit of my stomach. "Oh," he replied in a gleeful, beaming way. "I've tidied my desk -- I'd had enough of all the paper, so I just swept it all off the surface and threw it away."
I froze. We were working on a huge deal, in a brand new market, and some incredibly important research that had taken an arm and a leg to get hold of was on his desk, handwritten on paper (as it was so fresh I needed him to see it first before inputting the data). Taking a deep breath, in a very measured way, I said "Nick -- what did you do with the research, on the X project?" He looked at me rather wide eyed, noticing the expression on my face. "Well it's all gone," he said "in the bin, there's nothing left!" My ears did not want to believe what they were hearing. "That was all our information!" I said, "I can't get that back -- there is no copy." I was not sure whether I was going to kill him, faint, or throw myself out of the window. Instead I took myself for a walk around the block.
Fortunately in my team, the rare disagreements we had did not last for long. Issues were cleared up on the spot, apologies made and there was a lot of forgiveness as well as laughter. On returning to my desk I was calm. I did get an apology from my boss, which I accepted. Both of us learned a great deal. I learned to input or make a copy of all valuable information immediately. He learned the effect of dramatic action and the consequences it could have on those around him. Most of all we learned that nothing is ever as bad as it seems and the folly of catastrophizing. He had catastrophized the state of his desk and thrown everything in the bin. I had catastrophized the loss of the paper, thinking we'd lost huge inroads into the market.
The moral of the story was: we still managed to get the information we needed and were hugely successful with our client. Most importantly, being able to laugh and continue to work well together while learning from our mistakes, was what managed to keep our team strong.
When was the last time you catastrophized a situation. What happened?
How do you deal with extreme moments in the office when the tension is high? How do you react or respond?
What do you think about tidy desks?
Related
Popular in the Community