The nation's most famous city of movie stars and swimming pools has a special reverence for their cats. And because of this the new book First Person Cat is all the rage.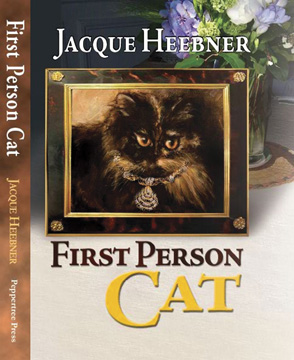 First Person Cat (Peppertree Press) Hardcover by Jacque Heebner
In the opening theme song of the hit TV show the Beverly Hillbillies, the Paul Henning lyrics forever remind us of Jed Clampett's-
"...move to Beverly... Hills, that is. Swimming pools, movie stars."
But the lyrics should of read, swimming pools, movie stars... AND CATS!
The City of Beverly Hills, a beautiful community of multi million dollar homes, verdant hills, 5 star hotels, and even oil derricks on the high school grounds, is America's dream town. If you live here or work here, you are privileged. Generations of Beverly Hills residents are mingled with the planet's richest immigrants, who in each generation come here to buy the good life. For the most part it works. It's sort of the American ethnic melting pot for the rich. Like the fictitious mountain hillbilly Clampetts in the 1960's, there are many who have made it rich in other tough parts of the world and want to buy their heaven. The population of Beverly Hills has grown at an acceptable rate. But there is not much land left to build on. The Iranians came in the 80's, the Japanese and Germans in the 90's, the Armenians in the millennium and huge segments of Vietnam, Britain, Mexico, South America, and even New Yorkers throng here with each generation. They pay ridiculous amounts of money for homes that are overpriced by 1000% in some cases. Homes bought with suitcases full of cash from Russia and the Middle East have driven up the price of almost everything in Beverly Hills. It's a false inflation.
But there is something in common with all the residents and immigrants of Beverly Hills, including the movie stars, writers, and the artists. It's their cats! Beverly Hills has always had a soft spot for their cats. Famous cats and celebrity cats are found here. They are revered. There are also many professionals here in the cat world. Cat psychologists, cat sitters, cat groomers, cat shrinks (feline behavioral counselors), cat brokers, cat doctors, cat clothing designers, cat accessories, cat charities, cat publications, cat cemeteries, cat background checkers, cat psychics, cat dietitians, cat channelers, and the list goes on and on.
The celebrity cats are owned of course by people that are household names . Beverly Hills cats are the patrician class of felines in the United States. Our earliest and iconoclast motion picture stars loved their cats. James Dean, Carol Lombard, Clark Gable, Kim Novak, and Marlon Brando loved their cats and were often seen in Beverly Hills with them. Even today's stars like Drew Barrymore, Halley Berry Kate Beckinsale, John Travolta, Lou Ferrigno, Tippi Hedren, and Nicolas Cage revere their cats and are seen here often with them in their cars, shops, cafes or on their shoulders. And don't forget that the Hollywood star animated cats came from the minds and skills of Beverly Hills residents. Cartoon cat icons like Krazy Cat, Tom from Tom & Jerry, Garfield, and even Walt Disney's Cheshire Cat from Alice in Wonderland. When the role of Catwoman was up for grabs from Warner Bros., there was a frenzy of leading ladies obsessed with getting the part. Michelle Pfiefer won out and it remains one of her favorite film roles. There are still remains of Catwoman signs and memorabilia cherished throughout Beverly Hills.
But even the average resident in Beverly Hills (if their is such a person) loves their cats. Even the homeless cats. This past year there was a story that broke in the Beverly Hills Courier, the community's main newspaper. It's a about a war between residents and some of the city's government officials. A 65 year old woman was charged with feeding feral cats not under her ownership. She had been doing this for a period of twelve years. But for the first time the city issued her a citation- twice. The violation is considered a misdemeanor by the city and will be heard in Beverly Hills criminal court. The charge carries a possible six months of jail time and a $1,000 fine. The residents, after reading the article, became an angry and concerned group in the majority supporting the woman for her feeding the cats in order to keep them healthy and able to keep the vermin rate down. Others feel the feral cats are a nuisance, dangerous, and a health hazard. Readers comments, letters, and petitions to government officials, lawyers and their legal representatives are still occurring. All of this has caused a huge renewed interest in cats, their breeds, and their well-being. Anything CAT is a hot item. Beverly Hills cats makes it hotter. In the last year cat businesses were popping up all over the west-side of Los Angeles and spreading to other areas in this 8 million plus metropolis.
In Beverly Hills, something has become an obsession of many celebrity cat owners and celebrity followers. It's a new book that is all the rage with the cat people. It's called "First Person Cat" (Peppertree Press) written by a socialite, former journalist and philanthropic special event designer named Jacque Heebner. She once worked for famed producer Gene Roddenberry. Heebner is very well connected. But this book is not just any cat book. It's actually a murder mystery, written by the cat- ergo the first person in First Person Cat. The book is everywhere. It's seen by people in the court rooms for the cat lady, and at restaurants and cafes all over town. Even David Murdock, the powerful multi-millionaire and owner of Dole foods, allowed the promoters of the book to launch the official book signing party recently at his famed private Regency Club in Westwood, a suburb of Beverly Hills. Tippi Hedren, the star of Alfred Hitchcock's classic The Birds, and known unofficially as the Queen of the Big Cats, was so thrilled with the book, that she agreed to review it. In fact part of her review is on the book jacket. Here's a sample.
" The beautiful Beverly Hills Tiffany, Tiff to a select few, will guide you through a most fascinating, page flipping murder mystery. It deals with the rich, the conniving, the rock and film stars, the devious and then ever clever Beverly Hills detectives. However, none is more clever than the magnificent Tiffany in solving the crime, with it's intriguing cast of celebratory characters. By the way, Tiffany is a hot tortoise-shell Persian Cat!"
Celebrity friends of Jacque Heebner had motivated her to start and finish this massive research and writing project five years in the making. They came to her lavish book signing party to get their signed copies while drinking champagne, cocktails and eating lobster and caviar. Lou Ferrigno, the hulking world class body-builder, actor and iconoclast was there.
" Tiffany the cat is a cute and very enjoyable read . I love cat Tiffany and her point of view with humans and their flaws"
He and his beautiful wife Carla have a big old house with cats and dogs all over the place. Also at the party and quoted on the book jacket is world renowned pop concert pianist and gold and platinum recording artist Roger Williams, a long time friend of Heebner.
" I'm a dog person, but I really love this book"
He seems to mean it. Former NBC news anchor Kelly Lange, a best selling author of mysteries herself, has also reviewed the book. She was also a big help in motivating and guiding Heebner in writing this brilliant murder mystery.
" I loved having Jacque Heebner, and her furry sidekick, Ms. Tiffany as students...now you get to have this fun, fabulous mischievous pair at your house...Enjoy"
Barbara Lazaroff, Wolfgang Puck's former wife and current founding partner of the Spago empire, bought 20 books for friends at the party. Singer and music producer Frank Stallone, Sly's gifted brother, loved all the pussycats at the party both the 2 and 4 legged kind. There were a number of books seen in his back seat as the valet closed the door to his sports car. Some of the celebrities bought their own pedigree cats to show off. But not one cat fight. Well, not with the 4 legged variety anyway. Of all the book signing parties this writer has attended over the years, nothing topped this one.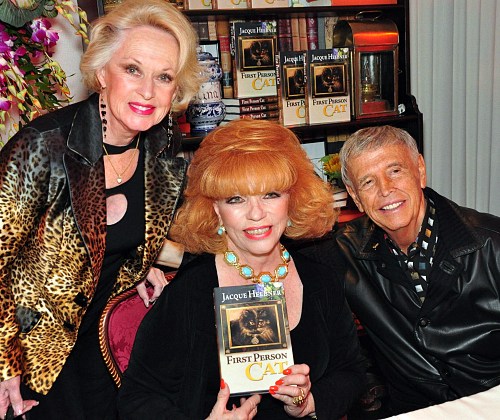 Tippi Hedren, author Jacque Heebner, and piano star Roger Williams
First Person Cat is a book long awaited here in Beverly Hills. But most things Beverly Hills blast-off to the rest of the nation anyway. Jacque Heebner took her time writing it. She wanted it to be accurate, especially about it's setting in Beverly Hills. So Heebner takes the reader on a surreal murder mystery in the world of Beverly Hills of power, money and celebrity. She writes the book in the first person from the cat, Tiffany's point of view, a humanesque diva-feline brought up on caviar, Perrier, mansions, and an acute appreciation for diamonds, a girl's best friend. Beverly Hills cats have been known to wear jewelry from the leading diamond houses of their owners including David Webb Precious Jewels, Cartier, and Harry Winston. On the cover of First Person Cat the main cat character is actually wearing a diamond necklace from David Webb. This regal Tortoise shell Persian, witnesses the murder of her owner-mother, a Cher-like rock star with two hot daughters living at home in Beverly Hills. Like the blockbuster twentieth century novels, famous in American literature and written from the animals point of view, (Jonathon Livingston Seagull, Watership Down, Charlotte's' Web, and Animal Farm), Heebner's tome brings back the excitement of breakthrough communications within the animal world. But First Person Cat takes it to a higher level of communication. And that is with humans!
"If you have ever been afraid a truth couldn't be told because of the high cost attached to it, did you feel as mute as a cat?"
Says author Jacque Heebner.
" How do you get the words out? Tiffany is my character, a combination of at least 12 cats I have owned over the years. In this mystery Tiffany seems to smell the murder's thoughts, and hear human words--by what creative methods can she expose the person who murdered her human mother, and to reveal this to investigators?"
Combining ingenuity, a whole lot of attitude, and natural born talents, Tiffany makes it her job to see that justice prevails. She hooks up with a handsome detective on the Beverly Hills police force, wraps her charms around him, and flirtations begin between them and with only one thought-to avenge her human mom's death.
Well researched facts are woven into a tapestry about how kittens evolve into our playful, lovable furry friends, while Tiffany guides cat lovers and her new followers on a merry romp sleuthing through a sophisticated city with a glamorous population. As a writer and columnist from Beverly Hills, and whose many cats allowed the author to live in her home with them, this true to life collection of experiences and on the spot observations, colored with some wild imagination, was written focusing on the child in all of us.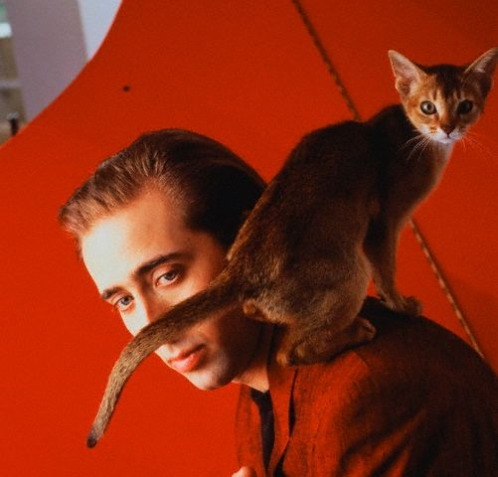 Nicolas Cage and one of his cat pals
Beverly Hills residents haven't seen a run on books like this since 1981 with the Beverly Hills Diet book by Judy Mazel. But soon this demand will pass. So for now, the melting pot of residents here have something in common again, a book written by a cat that all ages, colors, and creeds are reading and feeling good about. Elly Mae Clampett would of been very happy.
Related
Popular in the Community