If you are traveling to St. Petersburg, Russia most everyone will say, you must see The Hermitage Museum, the Faberge Collection and Catherine Palace. Yes, you must, but you should also ride the metro because it's so unexpectedly beautiful.
Nothing could have prepared me for the beauty, majesty and elegance of the metro in St. Petersburg. It's stunning. The platforms are covered in marble and bathed in light from chandeliers.

Ana Garcia at Kirovskiy Zavod station St. Petersburg, Russia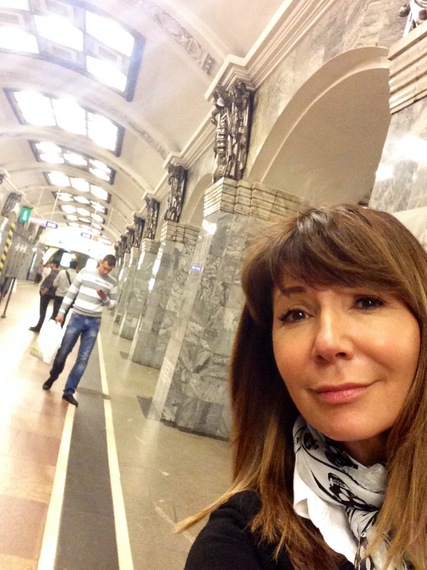 By comparison, I grew up in Queens, New York riding the E, F and 7 trains where the ambiance could have been described as an exposed flickering light bulb reflecting off the backs of scurrying rats.
Enough of Queens, back to the land of czars.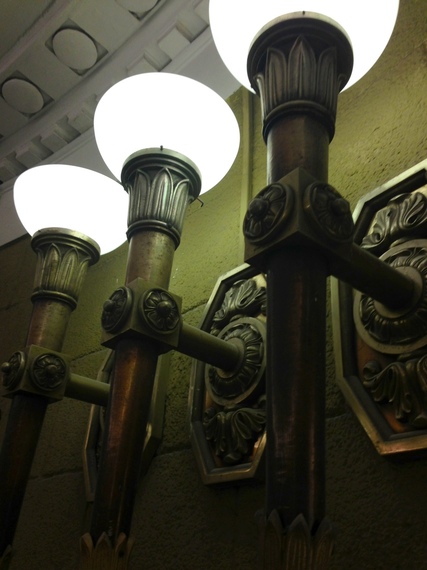 The St. Petersburg's metro was built in 1955 at the height of the Cold War. It is one of the deepest subways in the world which is why it doubles as a nuclear bomb shelter. It's always nice to know there's a bomb shelter handy when you're in Russia.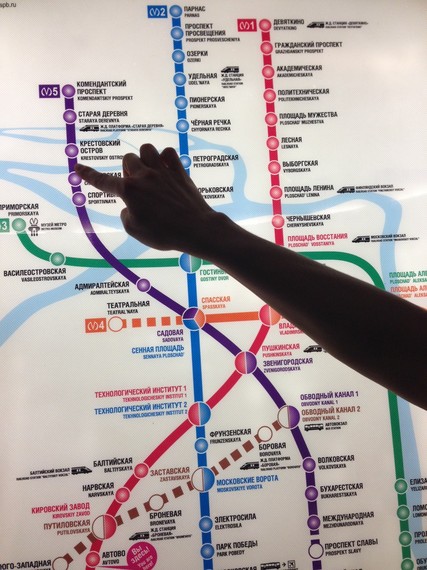 While the 5 subway lines cover a lot of ground, reading the map and station stops can be challenging if you are not familiar with the Cyrillic alphabet (writing Americans can't read).
Fortunately for me, I hired a private guide, Anna Glushkoff.
She was fantastic, well educated, elegantly dressed and a walking encyclopedia of Russian history. Anna laughed when I told her I wanted to ride the subway.
I love riding mass transit everywhere I travel: light rail in Istanbul, ferries in Bangkok, and the legendary Tokyo subway at rush hour. It's the only way to see how people really live.
I am pretty adventurous and usually do these things without guides, but Russia is tricky because unless you have a blanket visa, your movements are restricted. It's so quintessential Russian.
If you are traveling from the US you will need a visa for Russia. If you plan way, way in advance, which I never do, you should be able to get a blanket visa from the Russian consulate. Emphasis on should.
For many travelers, getting a Russian visa is not easy or cheap. Visa companies can charge more than 400 US dollars in processing fees.
Another option is to get a limited visa from a travel agent in Russia. This visa should be free and will permit you to travel only when accompanied by an approved tour guide.
Honestly of all the options, this one was the easiest for me because I traveled to Russia on a cruise ship, the Seabourn Quest.
We spent 3 days in St. Petersburg which was the perfect amount of time to see all the major sights. St. Petersburg is on the Neva River and scattered over a series of canals, so a small cruise ship, like the Quest, is perfect.
A token for the metro costs 28 roubles which is about 65 cents US. That's a bargain compared to the London Underground and the Paris Metro. I don't care how much you romanticize about Paris, their metro is dirty and not as beautiful.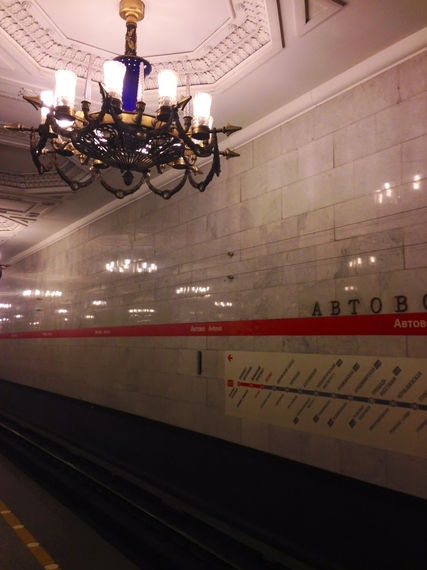 Avtovo station is the crown jewel with wide chandeliers hanging over the tracks from stunning ceilings decorated with cornice moldings. Tired of waiting for your train, lean on one of the many ornate marble columns.
It's hard to believe that Russia, a country known for its utilitarian approach to all things social has what maybe be the most opulent subway in the world.
It's worth your roubles to check it out.
Popular in the Community