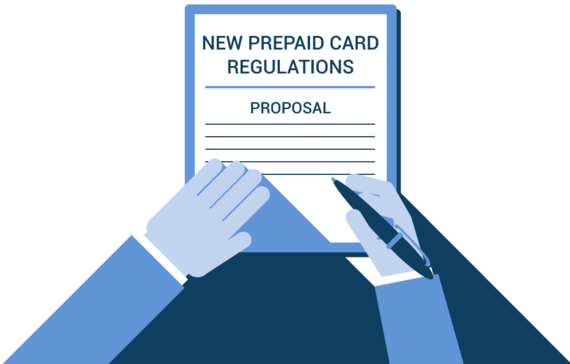 The Consumer Financial Protection Bureau (CFPB) is a relatively new federal agency that was born in a swirl of political controversy, thanks to harsh opposition from many members of the financial industry and the lawmakers who strive to protect their interests. That was expected, though, because the CFPB was designed to go toe-to-toe with powerful financial corporations and police the way they conduct business to ensure consumers are treated right.
The Network Branded Prepaid Card Association (NBPCA), a trade group that serves the prepaid card company community, are pushing back because the CFPB is proposing changes that will impact how they conduct themselves. The proposed rules would demand greater transparency and tighter regulation of the prepaid card industry, and last month the industry's main trade association filed a formal request for the CFPB to show restraint - or, in other words, the prepaid industry is basically telling the CFPB to back off and chill-out.
Proposed Changes to Prepaid Industry
The CFPB wants to impose some of the same rules on prepaid card issuers that banks must adhere to when issuing regular credit cards. That includes increased clarity and transparency in the information provided to consumers about how the products work and what fees are involved. They are also limiting how much customers can be charged for various features and transactions. The bureau would also expand the definition of what constitutes a prepaid debit card - which would subsequently subject more prepaid products to the proposed regulations.
In addition, any prepaid company that allows customers to overdraft or overdraw their accounts -or that offers a credit line (versus simply drawing money they have already put on deposit)- would be required to follow laws under the Federal Reserve's Regulation Z, which means prepaid products will now be treated like a credit product.
Prepaid Industry Pushes Back
A spokesperson for the NBPCA called the CFPB's plan an "imposition of unnecessary compliance burdens." The NBPCA believes overly broad restrictions would limit consumer access to popular features and even eliminate entire categories of prepaid products from the market, resulting in loss of revenue for those affected, or completely eliminating the prepaid market altogether.
The NBPCA also asserts that this kind of tough, restrictive oversight will limit the financial options and opportunities for American consumers. In fact, the industry trade group believes that the result could be that consumers, including their own valued customers, will migrate away from prepaid cards and into riskier, less consumer-friendly products.
The NBPCA suggests the following changes:
Limit the definition of "prepaid account" to primary account transactions, those that basically take the place of a debit card tied to a checking account.
Facilitate disclosure requirements. The NBPCA wants to issue one single disclosure rather than the trio of different ones proposed by the CFPB.
Continue offering overdraft and other features without complying with Regulation Z.
Change the definition of "finance charge" so all prepaid products aren't defined as a credit product. The difference between a prepaid account offering overdraft protection and credit features, and a prepaid account that does not offer credit needs to be established since they are different account types.
Extend effective date of proposed changes. The NBPCA believes 9 months isn't enough time to implement the final rule, and would like 18-24 months instead.
It is too soon to know what the final proposals from the CFPB will look like, but it is likely that they may make some compromises to please prepaid industry companies, while still maintaining an unbending stance regarding the real "meat and potatoes" of the new regulations.
Evidence of the CFPB's work can be subtle, often flying under the radar of average consumers and getting little or no media coverage. However, many of the agency's initiatives are working to ensure fairness and transparency for consumers - whether we realize it or not. Recently, for instance, the CFPB took credit card companies to task because it said they were not clear enough with cardholders about how performing a balance transfer, while using the card for regular purchases, can wind up costing more in interest charges.
I blogged about that recently, and then noticed that Discover Card, for example, has started to include a bold, easy-to-read message along with its balance transfer offers. The message reads "TIP: Your Balance Transfer Savings Will Be Less if You Make Purchases." That bold headline is followed by a clear and complete explanation of how and when that can happen.
The bottom line is that the CFPB is getting things done on several different fronts. Regardless of what your view may be, the CFPB is definitely asserting itself and showing some teeth in controversial ways as it attempts to adhere to its mission and live up to its name. To stay up-to-date as these proposed changes unfold, follow the CFPB Monitor or the CFPB.