It's been a good week for The Chainsmokers! As the New York-based DJ/production duo embarks on its inaugural North American tour, including a March 8 stop in San Francisco, the act's infectious, innocuous first single "#Selfie" became the top debut on Billboard Magazine's current "Hot 100."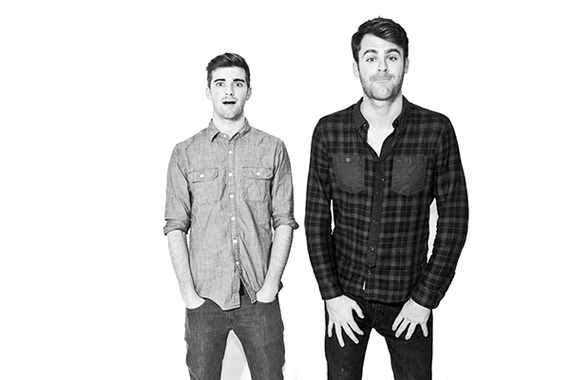 "It's pretty surreal," admits Alex Pall, one-half of The Chainsmokers. "As an artist, you obviously want this to be happening -- it's an incredibly special moment in anyone's life -- but I've got to say, it hasn't really hit us yet."
Marked by spoken verses following a vapid, self-obsessed woman's night at the club -- highlighted by her stopping everything to snap photos of herself ("But first, let me take a selfie...") -- The Chainsmokers' "#Selfie" has become a bona fide viral sensation. The video, which features the likes of Baywatch star David Hasselhoff, well-known DJ friends, social media celebrities and hundreds of fan-submitted images, has amassed in excess of five million views and growing.
This week, "#Selfie" burst onto the Billboard "Hot 100" singles charts at #55, impressively earning the magazine's "Hot Shot Debut" honors. Though it's all a dream come true, Pall says things have been so hectic, neither Chainsmokers partner Drew Taggart nor he has been able to soak it in.
"It's like we're going through the motions every day," he shared during a recent telephone interview. "We know something incredible is happening, but we can't even stand back and see it happening. It's very strange!"
"We're also the type of personalities that, once we get something, we already want something else -- which is kind of a blessing and a curse," he continues with a laugh.
This go-getter mentality marks The Chainsmoker's rapid rise. Pall and Taggart came together scarcely 18 months ago, with the duo's remixes of artists from Ellie Goulding to The Wanted quickly gaining the attention of top names in the electronic dance music (EDM) world. Soon they were signed to Republic Records with "#Selfie" making waves worldwide.
Riding a wave of popularity for "selfies" -- photos taken of oneself and posted to social media -- the song continues to gain momentum. While Pall attributes a portion of the song's success to "luck" -- "It couldn't have come at a better time in terms of the relevance of the trend," he acknowledges - surely the pair must receive credit for infusing the track with a fun, playful spirit he says encapsulates The Chainsmokers.
"It's totally our personalities in a nutshell," Pall says.
"With '#Selfie,' we're hoping it brings people to our brand, because we have this really great back catalog of music," he explains, "We're pretty confident that anyone who listens to that song, then comes to listen to our Soundcloud, will be a fan for life."
Meanwhile, the benefits of being artists on the rise are obvious. Pall and Taggart kicked off a massive club tour March 6 in Montreal. On Sat., March 8, they play San Francisco's Vessel Nightclub (85 Campton Place). According to Pall, these live performances are fans' true opportunity to see what The Chainsmokers are all about.
"The thing about a lot of the big stars today, when you go to their shows, you feel like you're a guest going to their show," he notes. "With us, we want to feel like a guest at your show.
"I think if you come to our show on Saturday, you'll see we really want to be part of the crowd," Pall explains. "We're not there to entertain them. It's like we're all there to party together. It's their party and we're the guest!"
For more information about The Chainsmokers March 8 show at Vessel, click here.
Calling all HuffPost superfans!
Sign up for membership to become a founding member and help shape HuffPost's next chapter