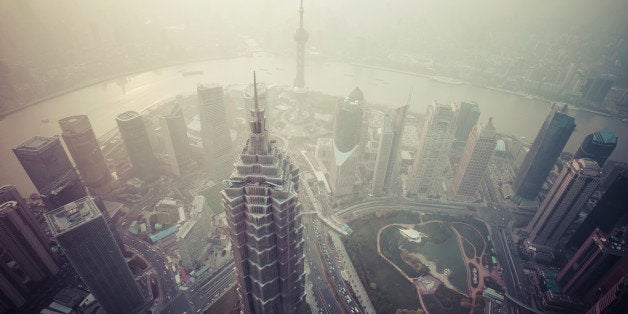 A study recently released by Berkeley Earth made for sobering reading. The authors find that air pollution contributes to 1.6 million deaths a year in China, about 17% of deaths in the country.
Coal burned to supply power to China's economic miracle is a source of a type of pollution called particulate matter -- toxic particles linked to serious health problems, including asthma, lung cancer, heart attacks, and strokes.
The death toll clearly worries officials responsible for cleaning up the problem. Senior Chinese officials say that they are proud of raising more people out of poverty than any country in history, but that they did not get the balance right, favoring development too much over environmental health. They are right about the feat of raising so many out of poverty. And they are now focused on the environmental problems.
The government acknowledges the crisis, and is transparent about the data. The Berkeley Earth study used data from Chinese monitoring stations. And the government has made real time emissions data from polluting factories available online to the public.
The desire to tackle the problem goes to the top of the Chinese Communist Party. Premier Li Keqiang, has pledged to wage a "war on pollution."
This is more than rhetoric. Around Beijing, where air pollution is famously bad, all major coal-fired power stations will be closed down by the end of next year.
Chinese citizens are being enlisted into the war on pollution. A law came into effect in January this year, the Environmental Protection Law 2015. It allows non-governmental organizations to bring cases against polluting companies for the first time. Premier Li Keqiang described their new law as a secret weapon in the fight against pollution.
It won't be easy to bring cases. It's not easy in Europe - ClientEarth's Supreme Court victory against the UK government on air pollution was hard won and no doubt we will continue to face fierce opposition as we launch cases in other EU countries.
The good news is that Chinese citizens are now empowered to act. The door to enforcement is open for around five hundred Chinese environmental groups. Several have quickly taken action--we know of six enforcement actions that have already been filed, with more on the way.
These are positive developments and suggest that China has reached a tipping point in how it deals with pollution. But the new study is a reminder of just how serious the problem is. China and all of its friends will have to work diligently and for the long term to tackle its environmental problems together.
Calling all HuffPost superfans!
Sign up for membership to become a founding member and help shape HuffPost's next chapter