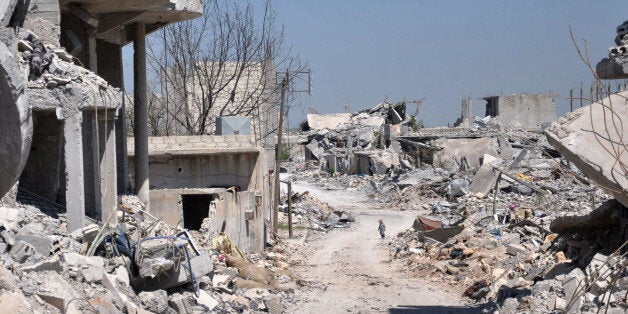 Unprecedented changes are gripping the Middle East region, and at a dramatic pace, that is altering not only the borders of nation states dating back to the end of the First World War, but also the social, demographic, political and economic landscape of the region. These changes are undoubtedly, and irreversibly, shaping a new political economy for the region that will define its future relationship with global powers, and its position within the international community. They will also affect how the countries of the region will face the new ensuing challenges, not only to survive within the community of states, but to be able to meet and sustain the growing aspirations of their peoples.
The social and economic conditions in many Arab states, characterized by pervasive human underdevelopment, deep poverty, chronic and growing unemployment, and widening gaps between rich and poor, combined with a lack of political freedoms, the absence of a reform agenda, and a weak commitment to the principles of good governance, accountability, transparency and inclusive political participation, have all provided a fertile soil for uprisings across the Arab World since 2011. The revolts culminated in regime change in a number of Arab countries, and have led to outright civil, sectarian and confessional wars in many others, with a resulting tragic loss of human lives, unbearable human pain and suffering, mass upheaval of entire populations, and phenomenal damage and destruction of physical infrastructure. Hundreds of thousands have already lost their lives in Syria, Iraq, Yemen and Libya, and many others have been wounded. Violence has also resulted in large-scale human displacement.
More than 5.4 million Iraqis have been displaced since 2003, and according to UNHCR official statistics, the total number of Syrian refugees has so far reached almost 4 million (with 2.2 million registered in Lebanon, Jordan, Iraq and Egypt, and 1.7 million registered in Turkey). In addition, colossal economic losses have resulted, reaching up to US$900 billion. The economic impact is visible in aggregate statistics. Economic growth in Arab countries dropped from 5.9 percent during the period 2005-2010, to 3.5 percent during 2011-2014. The decline is more precipitous in Syria, where the GDP growth rate fell from 5.1 to 0 percent. In Lebanon, the rate of economic growth fell from 6.9 to 1.4 percent, whereas Yemen saw its growth decline over the period, from 4.6 to -0.2 percent. In Syria 45 percent of the population is currently living under the poverty line and the estimated unemployment rate has risen to 39.4 percent. Even in Tunisia, arguably a more hopeful child of the Arab spring, the unemployment rate has increased from 13.3 percent in 2010 to 16 percent in 2014.
The economics of conflict has other dimensions as well. Widespread damage to physical infrastructure is one of them. The scale of destruction is phenomenal, and includes roads, bridges, schools, power generation and water supply. Whereas the Arab region required an investment in infrastructure of US$450 billion prior to the Arab spring, this amount has increased to over US$700 billion. With the destruction of more than 4,000 schools in Syria, ESCWA estimates that the cost of reconstruction could reach as high as U.S. $200 billion.
As one surveys the map of the Arab World, the political and humanitarian calamity is indeed staggering. Libya, Yemen, Syria, Iraq, Sudan and Somalia are witnessing civil and sectarian wars, while Tunisia, Egypt, Lebanon, and Bahrain face domestic political strife, and are undergoing either political transition or stagnation. The porosity of borders separating Syria and Iraq, Syria and Lebanon, Saudi Arabia and Yemen, Libya and Egypt, Libya and Tunisia, and Algeria and Mali, has contributed to the physical cross-border control of vast and expanding territory by terrorist groups seeking authority over entire regions. This has all come at the expense of a disintegrating political, economic and social Arab order.
The recent Arab League Summit Conference held in Sharm El Sheikh reflected this, to the extent that in the opening speech of the Summit, Egypt's President Sisi warned Arab leaders that the Arab League was in serious danger of becoming merely a group of countries that share the same language and history, but that are not able to affect their present, let alone shape their future. In fact, pan-regional and national identities are increasingly being replaced by sectarian and confessional sub-identities, as was the case in the late 19th and early 20th century, though there has been a tenfold increase in population since that period.
With over 370 million Arabs, the overwhelming majority of whom are under the age of 30, Arab countries are witnessing a generational struggle for inclusion, where young people are aspiring for opportunity and mobility. Arab governments seeking to provide welfare will face major fiscal constraints, especially with the shrinking resource envelope, that can no longer accommodate the growing pool of the educated unemployed in the public sector.
In most Arab economies, the state has typically remained the most important economic actor, eclipsing all other productive sectors. This is the second major challenge of the changing regional political economy. It is the question that most governments will have to face, namely, how to sustain the cost of a welfare state, with falling oil prices and with a fast expanding population, yearning for a new social contract that could provide ladders for economic and social mobility -- ladders denied by the present Arab development model. The institutional strategy to deal with economic and political shocks has so far rested on throwing money at the problems. This is no longer possible -- or can be maintained only at an exorbitant cost. There is a growing price tag for maintaining this stability.
Two other major changes are also taking place. The declining importance of the region's oil resource for the U.S., particularly with its new vast discoveries of domestic shale gas, and the expected gradual improvement in relations between Iran and the Western countries following the nuclear deal, will most likely contribute to the reduction of the strategic value of Arab Gulf countries in U.S. calculations. As the U.S. proceeds to redefine the priorities of its vital national interests in the region, the stability and security of the Arab Gulf countries would no longer assume the high position in U.S. foreign policy matters that they have thus far occupied. U.S. policy makers cannot ignore that a politically- imploding region can no longer be relied upon as a solid ally and partner. Such changes will become even more important in the wake of a rising China, which will force the U.S., already embroiled on many external fronts, to reduce its overseas engagements.
This rapidly changing political economy, admittedly, raises more questions about the future of the region than it answers. Most importantly is how regional instability will affect global security. But equally relevant, and potentially more dangerous, is the question of how hundreds of millions of Arab youth are going to be able to fulfill their aspirations and dreams of social and economic mobility within such a challenging political economic future. The answers will be determined by the course of action that these countries will decide to take. What is the fallback strategy of Arab rulers in the wake of such momentous shifts in the international order? Would the changing political economic landscape prompt a true Arab Awakening? Would rulers finally decide it is time for serious reforms, both political and economic, to be pursued? Would the Arab World decide to establish regional political and economic commons that could sustain inclusion, and serve as incubators for entrepreneurship, employment and growth?
History has taught us that resilience requires concessions. States are strong only when they are both resilient and open to changes over time. The time for action is indeed quickly approaching.
REAL LIFE. REAL NEWS. REAL VOICES.
Help us tell more of the stories that matter from voices that too often remain unheard.