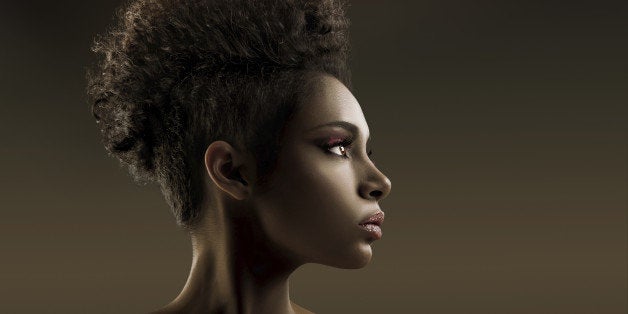 The Black haircare industry is grossly underestimated, and knowingly so. Market research firm Mintel estimated the size of the 2012 market at $684 million, with a projection of $761 million by 2017. But Mintel also wisely notes:
What's missing from these figures are general market brands, weaves, extensions, wigs, independent beauty supply stores, distributors, e-commerce, styling tools and appliances. If all of those things were to be taken into consideration, the $684 million in expenditures could reach a whopping half trillion dollars.
Hair is an important aspect of Black female culture, so it's unsurprising that we potentially spend that much money on our hair. Good Hair, the 2009 documentary by comedian Chris Rock, shined a spotlight on the business of black hair, particularly our use of relaxers and weaves and the sources of the extensions so many women sew into their hair. Since Rock's reveal of the industry, much has and hasn't changed in the world of Black hair.
What's Stayed the Same: High Spending & Weaves
We're still spending a lot of money on our hair. The market remained relatively unscathed during the recession, while other industries faltered and since then Black haircare has seen moderate but steady growth. All product categories within the market have factored into the industry's overall growth, except for relaxer sales, which, since 2008 have declined.
According to Mintel, "Relaxers represent 21 percent of the black haircare market with expenditures at $152 million, down 15 percent since 2011 due to the natural hair trend."
Interestingly enough, despite the growing move from relaxed hair to hair that is not chemically treated (natural hair), sales of weaves and wigs also experienced growth. Mintel reports "Nearly six out of 10 Black consumers wear a wig, weave or extensions, which enables them to switch up their look."
Wigs and weaves may still be a part of Black hair culture because hair versatility is somewhat intrinsic to the culture. Many Black women change their hairstyles frequently, no matter the texture. Fake hair allows for even larger pool of hairstyle options and when used correctly, can give one's real hair a break from manipulation and hence mitigate breakage.
What's Changed: Increased Competition
While Black women continue to spend significantly on their hair, albeit in shifting product categories, more "mainstream" brands and retailers are entering the market. Having acknowledged the potential of the market, brands like Pantene Pro-V, Dove and Suave are pursuing it by either:
1. Adding ingredients Black women look for in hair care products into their own existing products;
2. Releasing new dedicated product lines for Black hair; or
3. By purchasing companies that already cater to black hair.
Although these companies stand to increase competition within the industry, particularly within the rapidly growing natural hair category, they're faced with the fact that Blacks are more likely to buy products from Black-owned brands. Big business lacks the credibility of smaller brands who often are users of their own products and have built strong relationships with their consumers by sharing their own hair stories.
What's more, as the marketplace changes -- increased competition, shifting consumer tastes and a consumer segment that has galvanized online -- niche media networks like ours, Un'ruly Media Network, have sprouted up, helping big and small brands navigate and stand out in the market, as well as properly connect with Black women.
The Effects of the Natural Hair Movement
The shift from relaxers to natural hair, often referred to as the natural hair movement, is the source of many of the potentially major changes occurring in the market.
Learn more about The Changing Business of Black Hair here.
Popular in the Community