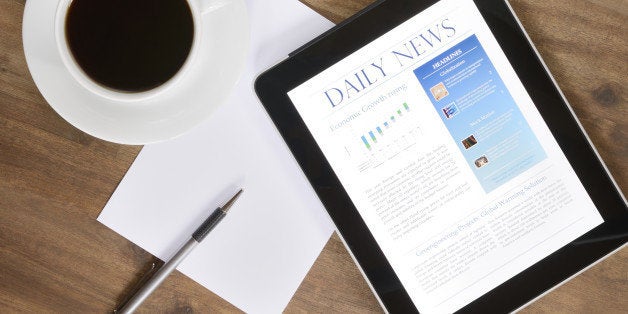 As a public relations professional, my job requires me to stay top of the news. But just like anyone else, I am constantly feeling overwhelmed by information. Up until 2013, I thought Twitter lists were the best way to distill the day's news nuggets into digestible chunks. That is, until I discovered theSkimm.
theSkimm is a daily email newsletter that summarizes the news of the moment. I read it every weekday morning on my iPhone before I even crawl out of bed. theSkimm is important because it represents a shift in the way people, especially millennials, are consuming the news. When I was growing up, people read the newspaper over Cheerios in the morning and watched the news at night. Today, news is everywhere. And it's being created by bloggers, citizen journalists, Tweeters and well, just about everyone.
If you're fascinated by the shift in how people are consuming news, or curious about what it took for two 20-something millennials to quit their jobs and start their own media entity, read my Q&A interview with theSkimm co-founders Danielle Weisberg and Carly Zakin.
Skimm waaaa? Tell our readers a bit more about what theSkimm.
theSkimm is the daily email newsletter that tells you everything you need to know to start your day. It's pretty much your secret weapon so you can walk into any meeting or event and feel confident that you know what people are talking about -- whether it's finance, politics, education or entertainment.
I know you both left NBC to pursue theSkimm. What sparked the idea?
We both grew up news junkies. We started interning at NBC News as soon as we could. We loved our jobs, but saw that the industry was changing and our career paths may not look the same in the next 5-10 years. But we didn't want to leave news. So we started to think about our friends -- smart, educated women who have great jobs and went to great schools. They're all really busy. They could tell us everything about their industry, but didn't necessarily have the time or the interest to venture outside of it. We saw a void in the market when it came to a news product for this audience, which didn't make sense to us. Our friends are representative of the female millennial -- influencing billions of spending each year and leading in so many ways. We wanted to create a product that fit into their routines and one that they enjoyed waking up to each morning.
Were you absolutely terrified to leave your day jobs? What encouraged you to make the leap?
We were completely terrified. It was the scariest day of either of our lives and completely out of character for both of us. We had worked so hard to get to where we were that it didn't seem to make a lot of sense to give it up. But we couldn't ignore the void in the market and really believed we could create something that people would love.
How did you promote the newsletter when you were first starting out?
We told everyone we could about it. We sent out an email blast to friends, family, people we hadn't talked to since kindergarten, anyone -- and told them what we had quit our jobs to do. We would ask anyone who told us they liked the product to send it to five more friends. It really grew through word of mouth.
How has theSkimm grown since you launched it?
Exponentially. We are one of the fastest growing newsletters on the market and have unprecedented engagement. theSkimm continues to grow in a large part by word of mouth, now helped by our Skimm'bassador program.
What is a normal day like at Skimm HQ?
There is no normal day. From hiring, pitching potential sponsors, paying bills, doing interviews, taking out the trash -- it's a little bit of everything.
How do you see The Skimm evolving? Do you plan to add anything to the format? What is the future vision for the company?
theSkimm makes it easier to be smarter. We seek to turn news and information into a lifestyle brand. We will be looking at taking the voice to different platforms this year.
How do you find balance between work & life?
It's hard. It's something that is really important to us and equally as hard to find balance in. We try to have a strict schedule so we can do our best to create some balance. Try is the key word.
What advice would you give to other young women hoping to quit their jobs to pursue a dream?
Take a vacation and take a coding class before you start!
Interested in receiving theSkimm? Sign up here!
Calling all HuffPost superfans!
Sign up for membership to become a founding member and help shape HuffPost's next chapter