It happens to every parent. All of a sudden, the clothes in your child's drawers are too small for him or her to wear any more. You swore they fit him yesterday, but today his little belly is hanging out beneath his shirt, and his pants look more like clam diggers.
I am a teacher, so for me that day was actually a few weeks ago, but I did not have time to go through his things until this Thanksgiving break. The task seemed easy enough and I've done it plenty of times before: I needed to swap out his 18-24 month wardrobe for the next sizes up, 2T-3T. I figured while I was at it, I could do a quick sweep of his other items. Friends of ours just had a baby, so I could see if there were things we did not need any more that would be useful to them. It would feel so good to check this off my list of things to do; I could finish out the rest of my break putting my feet up and catching up on my television shows.
Oh wait, I have a 3-year-old and an 18-month-old and a coach-husband whose team is in-season. What I meant was I could finish out the rest of my break cleaning, wiping noses, making lunches, making snacks and doing laundry. Olivia Pope, there is always the summer time.
I started with and easy one: his high chair.
We have one of those 65-in-one contraptions that he will be able to use basically for the rest of his life. The time has come to finally get rid of the baby seat and tray. Let me just tell you that I am so tired of hauling that thing to the sink after every meal. I gladly removed it and sent it to the garage, and now my son can sit at the table with us in the booster seat. Done.
Next, were his toys. He is too big for the baby basketball hoop. He doesn't use those fabric blocks anymore. The teething toys are no longer needed. Good-bye walker, hello more space in my living room!
In no time at all, I was moving on to the clothing portion of the purge. Having done this before, I knew what to expect and gave myself a pep talk as I climbed the stairs:
"You can do this, Kristy. Don't look at them. Don't hug them. For the love of God, don't smell them. Just focus on the size on the tag, make the switch, and get the heck out of there."
I swear, I really did try. I got through a few shirts without even batting an eye. But then I realized something that sent me high-speed into an ugly cry: I was switching out the last of his infant clothes. These new sizes were for toddlers. My baby was no longer a baby.
I had not seen that coming. This was not the normal blubbering experience that comes with swapping out the clothes. This was a pivotal moment in my mommy life. We are 99.9% sure that we are finished having children, so this may really be the last of it. I may never have another baby. I'll never be pregnant again. I'll never experience the joy of a newborn again. I know each stage of our children's lives comes with its own special attributes, but there is something about having a baby that I am having a hard time letting go.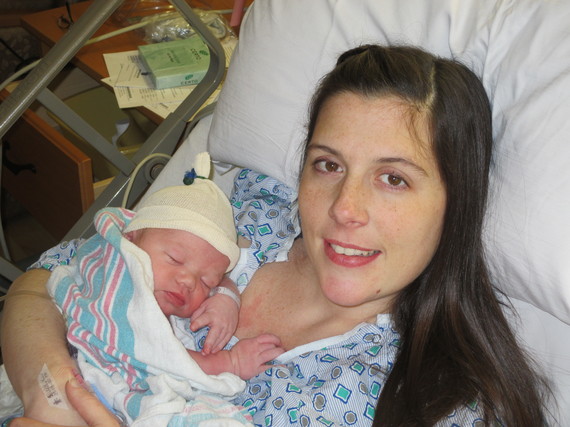 And then it happened. As I tearfully bagged up what was left of this precious time in my life, in waddled my little man clothed in footie-pajamas. (Yes, he was still in his pajamas at one o'clock in the afternoon. Actually, so was I. Don't judge.) He grabbed his blanket, took my hand and led me to the rocking chair.
He knew that his mommy needed to wrap him up and snuggle him. He knew that even though he hadn't needed her to do this in months, today she needed to rock him to sleep. He knew that by leaning his head against her heart that he would be nourishing her soul in a way that only babies can. He knew that she needed a moment like this that she could close her eyes and think about for the rest of her life.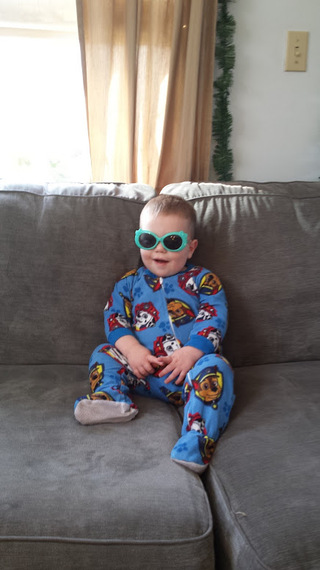 My husband spent the next hour consoling me, and reminding me of all we have to look forward to with both of our children growing up. He even talked me out of re-assembling the high-chair. I should focus on the blessings we have, and I know that he is right. We have two beautiful, healthy children and there is nothing more that I could ask for. But there will always be a part of my heart that wishes my children could be babies forever. I know he only said it to get me to stop crying, but he then assured me that if I still felt this way in a few months, we could reassess our situation.
I looked at him and smiled. That will be just in time for spring cleaning, and probably the next wardrobe change. Until then, I promise to savor every mess, every nose wipe, and every hug and kiss -- from both of my babies.