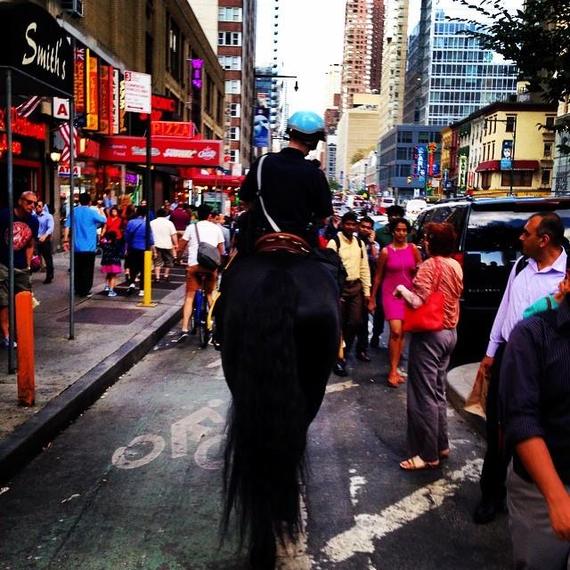 Some might say New York City's network of protected bike lanes have transformed our streets into safer, more orderly places. More and more people now bike to and from work, including the thousands who utilize the city's new bike share program.
But there are blocks of street where despite the official designation as a bike lane, the public space remains in dispute. In fact, there are some bike lanes where dangerous games of chicken happen between cyclists and pedestrians each afternoon.
I've had some messy encounters with pedestrians in bike lanes, but none is worse than a strip of Eighth Avenue from 34 street on through the mid 50's. The Eighth Avenue bike lanes runs on the west side of the avenue. Each morning and afternoon,pedestrians spill into the lane as if it were another sidewalk.
I've given up on screaming "this is a bike lane doofus!" or "move dumb-ass!" Yelling, bell ringing or whistling, it all seems useless. The outbursts of emotion have sounded increasingly self righteous, even child-like and whiny. The police, who often watch the action from atop a horse or in a parked car, don't do much to enforce the bike lane designation anyway.
So, I've had to screech to a stop before crashing into adults pushing baby strollers. Couples holding hands, perhaps headed to nice dinners or the theater have gasped in horror as I zip up past them from behind. And, there have been times when I literally felt the hair on a big man's arm and he wasn't happy about it.
While riding his bike on that same strip of bike lane one afternoon last year, a friend of mine got "too close" for another big man that was walking and that particular man hauled off and socked my friend in the head.
"He knocked me off my bike! I went and told one of those cops sitting on a horse," said my friend in his most urgent Argentine accent.
"She looked me in the face and asked; what do you want me to do about it?"
It was easy to blame clueless pedestrians for the chaos. But then after a couple of conversations with planning experts, I realized my frustration was misdirected. It's the sidewalks. They are simply too narrow for the volume of people who use them each day. And therein may lay a big lesson for city planners as they look to expand bike lanes or other traffic calming measures in other parts of the city.
Two of the nation's busiest transportation hubs sit within a few short blocks of each other on that chaotic stretch of Eighth Avenue, not to mention several major subway lines. Millions more people are constantly spewing in and out of offices, theaters, hotels, residential towers and restaurants.
Walking is the dominant mode of getting around on Eighth Avenue, Cutrufo explained to me. In other words, the primary way human beings are getting from one block to the next in Midtown, especially at rush hour, is by walking, not by car.
Urban Planners have been known to say that if you plan for cars and traffic, you get cars and traffic. If you plan for people, you get people and places. There's little doubt that Eighth Avenue in Midtown, with its four big wide lanes dedicated to cars, was planned with automobiles in mind.
Cutrufo says it would be instructive for the city to rethink things and take a look at what the existing dominant modes of getting around are in a particular area, and plan accordingly. If there are large pedestrian volumes, the city needs to do a better job accommodating those needs. Eighth Avenue is not the vital I-95 artery. There are plenty of other uptown avenues that cars can utilize to get uptown.
If the city needs to take away one lane currently dedicated to automobiles, or remove parking spaces to make the street safe, so be it. Besides, there are plenty of studies that show the economic and social benefits of bike lanes coupled with good pedestrian infrastructure Cutrufo notes.
"In Midtown Manhattan, the cars aren't the customers at the local retailers, it's the people who are riding mass transit and the people on bikes, and the people who are walking," said Cutrufo.
I got curious about just how wide those sidewalks on Eighth Avenue actually are after talking to Cutrufo. So one Sunday in January, I took a tape measure up to Eighth Avenue at 35th Street. Trying to not look conspicuous, I measured the sidewalk on the west side of avenue. It's around 13 feet wide. It's basically the same at Eighth Avenue at 49th street. The bike lane also provides parking for cars as well as left turn pockets for west-bound streets.
I pedaled over to the northwest corner of Sixth Avenue at 46th Street. The sidewalks there are around 20 feet wide, and even wider on some blocks, because of building setbacks in plaza designs Right now, there are five lanes dedicated to cars on Sixth Avenue, although a protected bike lane is planned.
In its 2015 Pedestrian Safety Action Plan, part of the city's Vision Zero campaign, the message was that street design and traffic enforcement that directly encourage safer choices (or discourage dangerous choices) are key to reaching Vision Zero.
Street design can help to lower vehicle speeds, eliminate conflicts between pedestrians and vehicles, reduce unpredictable traffic movements, and guide road users toward more responsible choices.
While the hope is that people will be responsible, the report also says that tight competition for limited pedestrian space and double parking may lead to riskier pedestrian behaviors-such as walking in the street and emerging from behind parked cars-than may be seen in other boroughs with less crowded sidewalks.
Competing for less public space is what's happening in Midtown on Eighth Avenue. Space is limited on the sidewalk.
Cutrufo said wider sidewalks in Midtown Manhattan between two enormous transit nodes would create a safer pedestrian environment, and a much more more attractive one too.
"To achieve that, the city would need to either eliminate on-street parking on one side of the avenue or remove a lane of traffic, and either of those options might be politically and logistically difficult to achieve for a variety of reasons," said Donsky.
He said an alternate, less permanent approach that could be implemented quickly might be to change parking regulations to prohibit on-street parking on one side of the street during the hours when the sidewalks are over capacity and dedicating the space that would have been for parked cars to pedestrians; many cities do this for cars to ease traffic in and out of their downtowns during rush hours.
For now, those of who ride a bike will simply have to pay attention and accept the fact that those people walking in the bike lane are simply staking claim to the limited public space available to them on Eighth Ave.
At some point, the city will need to acknowledge the chaos brewing on Eighth Avenue. Taking just one lane of the road now dedicated to cars, converting it to an expanded sidewalk, then moving the protected bike lane into the adjoining lane along with the parking and left turn pockets, would make Eighth Avenue a more livable, attractive desirable and economically efficient street all around.