I got fired from my first "real" job out of college. Fired from the same job twice, actually... because bursting into tears over a role I hated somehow got me a second chance... even though that chance was "against the better judgement" of my then manager. It's cringe-worthy, embarrassing, and not my proudest moment--but it's the truth.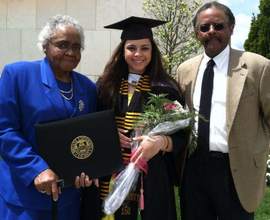 After I got the axe, one of the first things I did was call a great mentor from my time at Bryant University, Management Professor David Greenan. He's a roll-with-the-punches type guy that will share his worst career stories to show students, "hey, we've all been there and we've all had REALLY bad days. Trust me, it can and will get better." During our phone conversation, I remember him saying, "at least you learned what you DON'T want to do as a career!", and that was very true.
I still get a tad bit queasy at the thought of small agency recruiting. Many people find success in it and find a way to power through it, but as my parents knew before I even began that role--it just wasn't right for me. All the power to those people that find success in small agency recruiting, I'm just not one of them. 50 minimum cold calls a day, prodding for leads, and not being able to say the name of the company we were headhunting for.... it didn't sit well with me and I couldn't fake that it did. I'm not one for BS or one to BS others; it's just not my style. I won't ignore my own beliefs, truths, and values to appease someone else... that's the "Miller" in me; or as my late grandfather Leland Miller liked to call it--nevermind actually, I definitely can't use that word on LinkedIn.
Next chapter, I somehow stumbled into Human Resources. Talent Acquisition more specially. Mostly coordination with a little recruiting here and there. Sarah T. from Winter Wyman (a staffing agency that I think very highly of) and I figured that my short lived five month career as an IT agency recruiter could translate into a corporate role she had found for me. About a month into my new role, I had found my niche. Something I felt that I was very good at. I finally saw that being somewhat of a control freak was quite transferable to a professional role.
In college I couldn't quite figure out what I was really good at. Math--I wasn't the best, economics I didn't care for... applied psychology is what I have my degree in, but I found myself no longer interested in getting an additional degree so that people could unload their deep seeded issues while sitting in my comfy chair. During college, I had a lot going on back home. I can fully admit that I wasn't always fully present and sometimes my education didn't get the focus it deserved (or the focus I was paying an arm and a leg for). I loved my writing and poetry classes, but of course any work I had published was unpaid. At that point in my life writing was a hobby, not a career path.
Fast forward four years later and I've coordinated talent acquisition operations for the #1 health plan in the country, a top biotechnology company changing patients lives on the regular, and currently for one of the top consumer goods companies for kitchen and vacuums. No, I'm not the world's youngest VP or making hundreds of thousands in commission in a fancy sales role; but I'm happy. I'm learning a ton each week and my career can only go up from here (with the expected ups and downs along the way).
Point being, the downed trees in the roads are learning experiences. As frustrating and answerless the hard situations can be, the stars eventually align and things start to make some sort of sense. If you get fired from a job, you're not the first and you're not the last. Yes, it's going to sting quite a bit, but face the fact that in some weird way, that breakup was for the best. Try new things. Start all over. Fail. Succeed. Fall a few times and get yourself back up. As Andy Grammer sang in his 2010 hit Keep Your Head Up, "this is just a is journey, drop your worries, you are gonna turn out fine"(don't act like you don't know at least some of the words).
REAL LIFE. REAL NEWS. REAL VOICES.
Help us tell more of the stories that matter from voices that too often remain unheard.