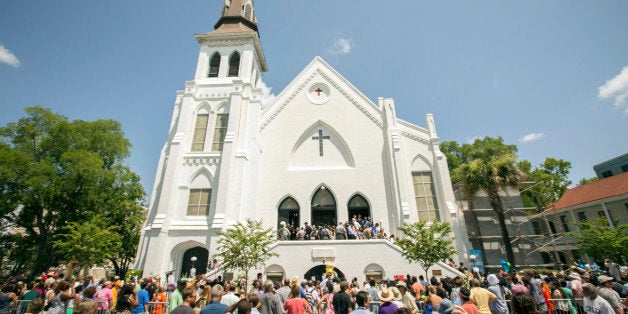 The Charleston massacre holds up a mirror to America and what we see, though horrific and devastating, is nothing new. What stares back at us is our long history of racism and violence passed down to a new generation. Dylann Roof, the 21-year-old white supremacist who allegedly carried out this act of hate and terror, may have walked into Mother Emanuel alone but his actions are by no means isolated -- they are part of a power structure that perpetuates itself by drilling the idea that Black lives do not matter into the minds of young men like Roof.
Mother Emanuel, one of the oldest Black congregations in this country, has stood as a symbol of freedom and resistance to racism for almost two hundred years. That is why Roof, like others before him, apparently chose it as his target: to send a message to Black people that they can't be safe anywhere -- not in their houses of worship, not in their neighborhoods, not in their schools, not in this country.
It fills me with deep sadness and anger that the terror we feel as a community today is as potent as it was decades ago. This is an America we know all too well. One in which systematic violence against Black people continues to be the norm. The list of victims grows longer by the month with our young dead or brutalized at the hands of police, and tens of thousands of Black lives being crushed under the fists of the new Jim Crow. And, as a Black community, we pass that sadness, anger and terror down through the generations to our children in order to protect ourselves the best way we can.
What happened in Charleston should shock us all into realizing that our primary strategies for dealing with systemic racism -- national calls for healing and dialogue -- increasingly fail us, if for no other reason than we know full well that they won't change the power structures that allow such violence to happen.

When a person who is Black or Muslim commits a terrible crime like this, Black and Muslim communities suffer from collective punishment. Entire communities are vilified, immediately subjected to investigation, surveillance, street stops, and incarceration. When a person who is white commits a crime like this against Black or Muslim people, those communities still suffer because of the terrible loss of lives as well as our society's refusal to even acknowledge that structural racism is woven tightly into the American fabric. It is the only thing that hasn't melted in our melting pot. Time is running out for us to find the courage to admit this and do something about it.
What would it mean to take a hard look at the structural racism that is the backdrop of this tragedy and actually address it? What if we dared to think about the Apartheid South-Africa and Rhodesian flag patches on Roof's jacket and consider what they portend for Black and Brown people in this country? Those flags are iconic symbols not just of racial violence or hatred, but of something more vast and harmful. They are symbols of white supremacy, which includes all the terror, incarceration, degradation and inhumanity that a state can tolerate to slowly -- and legally -- kill or incapacitate the Black people within it. That is why Roof wore them proudly, and that was the context in which he felt it was safe for him to act. It is a great disservice to the cause of racial justice in our country to consider white supremacy only in the context of Africa's history, particularly when the Confederate flag -- America's flag of white supremacy -- flies over the South Carolina state house at this very moment. America's history of inhumanity is re-booted every morning when that flag is raised. More than just a symbol, it's an affirmative statement of what horrors the state will condone.
When that flag comes down, we as a society will have taken a significant step towards confronting our history, our past that never passed, and finding the courage to end the state and individual violence that flows from white supremacy. There are no guarantees that it will stop individuals from doing terrible things like this - and in fact we will likely see greater resistance to this step from people who continue to benefit from the demonization and repression of Black and Brown communities. But we owe it to a new generation of Americans to be honest about where we came from, brave enough to go to the roots of the power structures that perpetuate violence and racism, and smart enough to be radically intentional about where we need to go if we are not to see acts like this as the essence of the America we know too well.
Popular in the Community