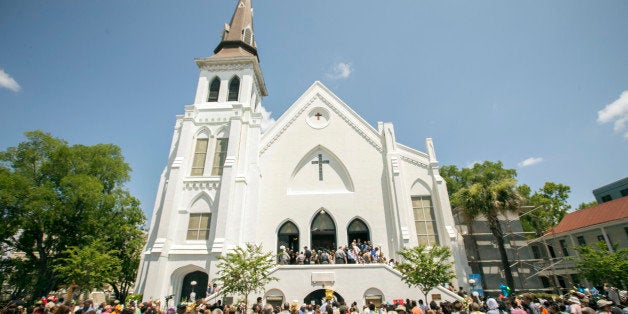 In response to sexual violence, we too often hear the hateful and self-serving phrase "they were asking for it." Now, in the wake of mass shootings, gun apologists have taken to publicly and loudly importing this shameful, victim-blaming tactic.
After the gruesome massacre at Emanuel A.M.E. Church in Charleston -- where nine Americans lost their lives, including South Carolina State Senator Rev. Clementa C. Pinckney -- National Rifle Association (NRA) board member Charles Cotton declared, "[Senator Pinckney] voted against concealed carry. Eight of his church members who might be alive if he had expressly allowed members to carry handguns in church are dead. Innocent people died because of his position on a political issue."
My organization, the Coalition to Stop Gun Violence, was so outraged and offended by these comments that we published a full-page ad in The State newspaper in Columbia, calling on South Carolina leaders to distance themselves from the NRA.
Victim-blaming seems to be official policy at the NRA, and the sentiment trickles down to all corners of the pro-gun movement. Whether it's a case of sexual assault or domestic violence or even a school shooting, their focus is always on victims "failing" to arm themselves. For example:
• Talking about the Charleston shooting, South Carolina state Senator Bill Chumley remarked, "These people sit in there, waited their turn to be shot. That's sad. But somebody in there with the means of [armed] self-defense could have stopped this. And we'd have less funerals than we're having." Senator Chumley has a 92% rating from the NRA and voted last year to authorize the carrying of concealed firearms in bars.
• In response to an editorial in UNC's Daily Tar Heel written on March 22, 2015 that argued "guns are not the solution to campus sexual assault," NRA News host Cam Edwards replied, "I hate to tell the editors here of the Daily Tar Heel, but the burden of stopping that assault is not going to be on the person committing that assault, not at that moment in time. The burden of stopping that assault is on the victim. It is on the victim."
• After Kansas City Chiefs Linebacker Jovan Belcher shot and killed his girlfriend Kasandra Perkins before taking his own life in December 2012, NRA CEO Wayne LaPierre commented, "The one thing missing in that equation is that woman owning a gun so she could have saved her life from that murderer."
• I have personally witnessed pro-gun activists calling my friend Colin Goddard--who was shot four times during Virginia Tech massacre--a "coward" for not stopping the shooter that day.
Let's be clear, when someone uses a firearm to violate the rights and freedom of another human being, it is solely the responsibility of the shooter and those who lobby for policies that irresponsibly push guns into the hands of the least qualified and most dangerous among us. People do not ask to be victims of homicide because they are not carrying a gun.
The nine innocent Americans murdered in Charleston were exercising their fundamental freedom to worship in a manner of their own choosing. Because they chose to pray without weapons does not mean they were "waiting for it." It means that they were trying to live their lives as the Constitution envisions -- in "domestic tranquility."
The reality is that blaming the victim is deplorable, no matter the circumstances, and is a strategy to avoid dealing with tough problems. But as we have seen with the epidemic of sexual assault, domestic violence and gun violence, avoidance just ensures that the violence continues. One way to honor those killed in Charleston is to make sure that we as a country refuse to tolerate a "they asked for it" mentality for one more second.
Popular in the Community