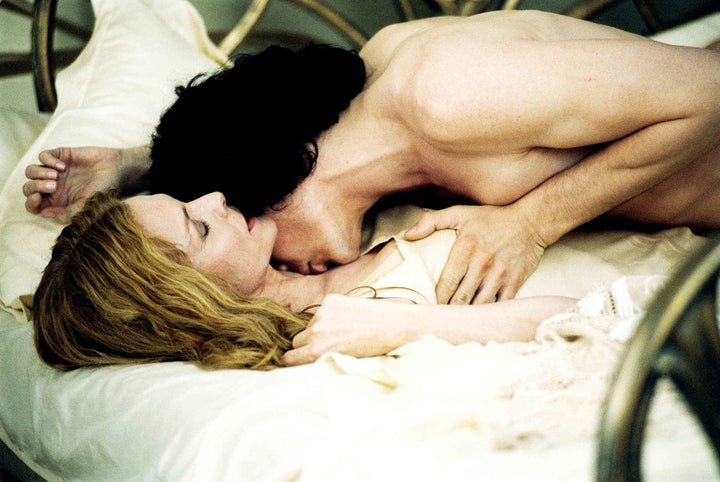 Sex is in the air, what with Governor Sanford going AWOL for a cruise with his Argentine hottie (joining the club of Republicans with conservative mouths and liberal dicks). Which brings me to Cheri, Stephen Frears's new film about courtesans of the Belle Epoque who parlayed sexual savoir faire into hefty fortunes.
Adapted from Colette's eponymous novel, the film follows the affair of Lea de Lonval (Michelle Pfeiffer), a retired, luscious courtesan in her fifty's, and Cheri (Rupert Friend), the exquisite, wanton son of a rival demimondaine (Kathy Bates). At fifty-one Michelle Pfeiffer is roughly the same age as Lea. So we could be forgiven for hoping that here at last was an Anglo-Saxon breakthrough flick with a middle-aged woman as object of desire. But in fact, we've been cheated.

Except for a final shot that reveals her naked, morning face, Pfeiffer looks more thirty than fifty-something. The film's saying: here's a desirable middle aged woman -- only "middle-aged" looks like thirty. Casting Pfeiffer also distorts Colette's portrait of Lea as earthy, sensual, and maternal. Pfeiffer is an exercised, whittled size 4 or something -- but they didn't, so far as I know, have Pilates in the Belle Epoque. And because there's little chemistry between Pfeiffer and her toyboy -- and passion is conveyed so antiseptically -- the film fails to convey Colette's knowing take on the porous border between lust and love.
While Rupert Friend's Cheri is often filmed cavorting semi-naked, Pfeiffer stays clothed. In a love-making scene in Lea's Norman mansion she's shot coyly from behind, long hair cascading over her back. It's as if the filmmaker felt the planet might implode if exposed to the sight of a body less perfect than Amber Heard's. When I recently questioned Frears about this at a press junket, he responded, "these things are a matter of taste." Actually Pfeiffer herself came up with a better answer: Cheri reverses the usual by privileging the female gaze, so "the focus is on the man as object of desire," instead of the other way around.
Yeah, but I still don't buy it. I think we're looking here at a case of Brit reserve -- or maybe horror at femaleness -- and that a Continental filmmaker would have given Lea's seductive ripeness its due. This Cheri affirms a penchant for faces that appear eerily ageless and a thinness equated with holiness. At the same time it makes women feel bad, for a change, about aging. Because if this is what fifty looks like, as Gloria Steinem once famously said, then God help the rest of us.
Popular in the Community