When I recently asked three world-class chefs in Dubai to create culinary creations inspired by fashions discovered at the Vogue Fashion Dubai Experience, I did expect I'd get to peak into their kitchens. But I never imagined that I'd also get a wondrous insider's look into their humanity.
Chef Steve at The Palace Downtown Dubai, was inspired by the colors and cultural heritage of the African Java-print fashions by Dent de Man, while chef Abel at The Address Downtown found his inspiration within the structural look of a Max.Tan red mesh dress, thus recreating a modern take on the classic red velvet cake.
The reason I love doing what I do so much is because I often get to the heart and soul behind film, food and fashion. Think of it as a direct, private line to the men or women behind glitz and glamour. Even with celebrity chefs, artists, fashion designers and movie stars, their humanity is what interests me most.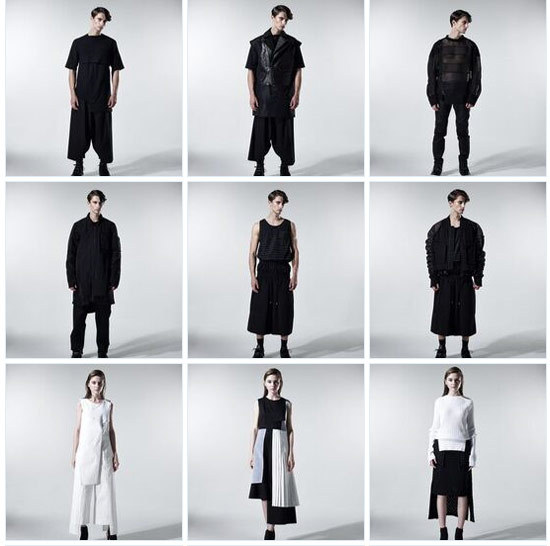 And what wonderful warmth and candid intelligence I found in the figure of Executive Chef James Knight-Pacheco at the Dubai Marina Yacht Club! His interpretation, of the black and white structural looks created by Korean designer Byungmun Seo, went straight to the form of both fashion, and food. He overstepped the obvious, color (or the lack thereof) to discover the essence of the composition. What a beautiful experience this all turned out to be.
When I say "only in Dubai" I mean it. I love the grandness of this place, and those who understand it best are those who possess a spirit of discovery. One only has to sit perched on the second floor terrace of the Aquara, chef James' first class restaurant inside the Dubai Marina Yacht Club -- overlooking the water dotted with multi-million dollar boats and framed by the impossibly high buildings of the area -- to understand why. Perhaps, if there is one thing these three great men I got to interview last week have in common, and whose culinary generosity I thank for the extra notch I've had to begin using on my belt these days, it is their pioneering spirit. Dubai is a city that can boast over 6,000 restaurant, nearly 14 million visitors a year, and still doesn't have its own Michelin guide. It was chef James who brought this important fact to my attention.
In terms of world-standing, Dubai is still a baby on the global foodie map. Sort of like NYC pre-2005, the year when the first US Michelin guide, focusing on the City, came out. I often draw parallels between Dubai and the Big Apple because I truly believe there is something about this city borne out of the desert, with a thirst for the future and a hunger for glamour that truly feels like NYC in the good ol' days.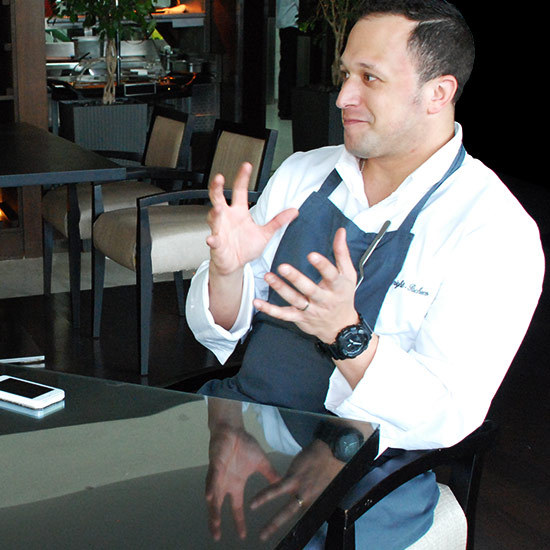 Chef James' background is, in his own words, "half Venezuelan and half British; I was born in Venezuela and came over to the UK when I was 8." He attributes his love of food and cooking to his Venezuelan culture, which is family oriented. "My family is all female led, four sisters, my mother, my grandmother, lots of aunties and I was always in the kitchen," a place he calls "magic."
The first dish he ever remembers cooking with his large family is Carne Asada, which chef James describes deliciously as, "pulled beef with rice, really simple, but the preparation for this dish is long; days of cooking and at the end you shred it. Then you put sauce on it, sort of like a Bolognese but it's really tender."
As a young adult, he admits he "liked school but loved cooking," which led to a cooking job for extra pocket money. This progressed, and after three years in hospitality school chef James went on to be a college lecturer while also managing a pub. It was while at this job that he decided to turn to fine dining because, he says, "I knew there was more to cooking than pub food."
From the best seafood restaurant in the UK to a Michelin-star restaurant in London -- a situation he describes as "fifty chefs in a kitchen, we were like hungry lions trying to climb up the ladder" -- chef James then landed, pardon the pun, at a place on a mountain in Oman, where, chef describes, "guests could arrive and paraglide off the mountain into the resort." Until his "brain kicked in" as he calls it, and he moved to Dubai.
When I ask chef James his favorite meal, what he turns to in times of need and comfort, he discloses, "I'm from Devon, a huge fish place and I've always been passionate about fish, so for me it would have to be coquilles St-Jacques, very simple baked scallops," then adding, "it's one of the first starters I learned to cook in shell, so on all different levels a favorite."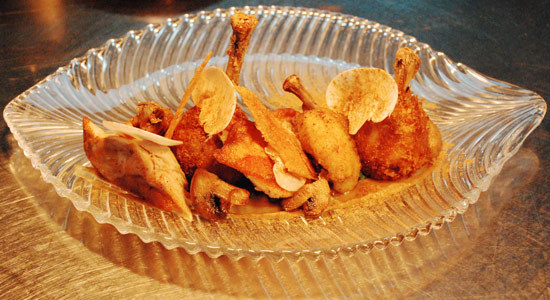 I'm surprised that for his dish, inspired by Byungmun Seo's linear, almost architectural clothing, chef James chose chicken and mushrooms, with a twist. The spin here is that the chicken is cooked in all kinds of way, and the dish includes many different parts of the bird, while the mushrooms are served in powder form as well as cooked, raw and in the sauce framing the composition. Once I taste the dish, I realize it achieves exactly what it set out to do, wow and impress, like Byungmun Seo's bi-chromatic fashions. Both works are provocative, by their sheer existence, while functional with some poetic license thrown in. What all art should be.
Check out the YouTube video below to discover the inspiration behind chef James' dish, in his own down-to-earth, lovely, kind voice.
All images used with permission.
Related