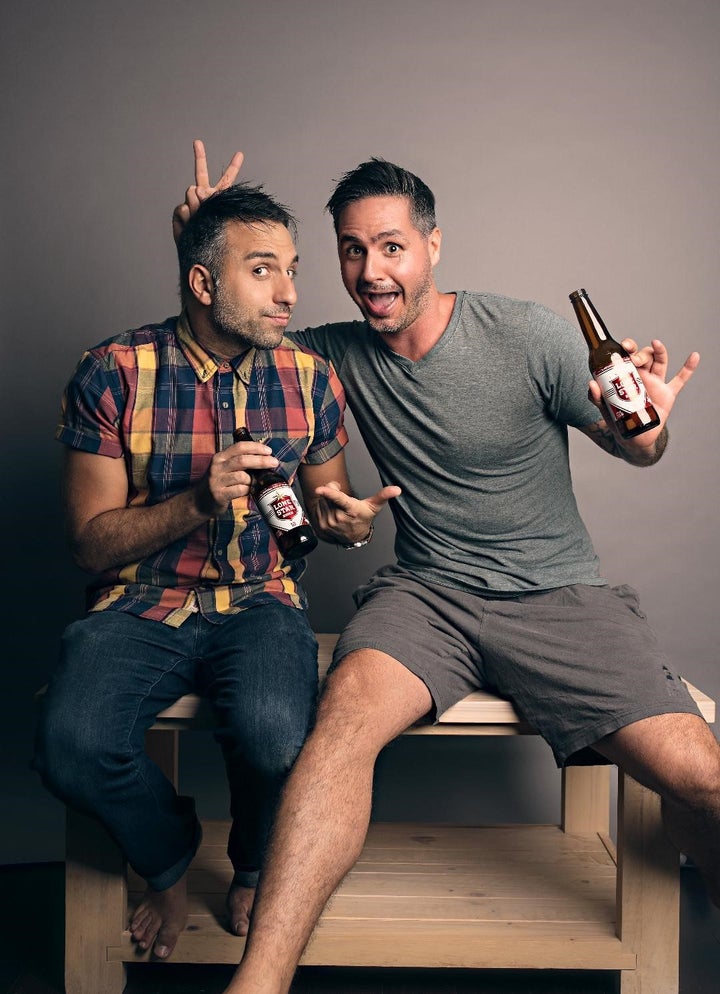 NINE Theatricals Lone Star works largely because of the chemistry between Matt de Rogatis, who plays Roy, and Chris Loupos, who plays his brother Ray, have in real life been best friends for 25 years. "Well with Chris and I, knowing each other so well for so long, its like we can pretty much anticipate what the other is going to say and what the other is thinking in everyday life," de Rogatis explained.
Chris Loupos, however, is actually not an actor. "Well, Matt and I did this particular play about 7 years ago in New York City at a small theatre just kind of for fun," Loupos relates. "I was certainly doing it for fun, Matt is definitely a dedicated actor but I'm just kind of doing it for a fun experience. But he told me he wanted to do this play again and the team had a group of people read for the role, but they didn't really feel like there was a true fit there. So Matt asked me if I would come and read for it, I said sure, and here we are."
At the outset Joe Battista and Jack O'Hara play Texas barroom-infused music contemporary to the time of the play, the late 60s and early 70s. That sets the tone for the rest of the play.
There is an authenticity to Lone Star -- particularly to the accents and mannerisms, as well as the research that went into the roles --that is quite astonishing. "I don't know if I would say it's organic because it's obviously something we had to learn, we aren't from rural Texas, but at the same time there are definitely parts of my personality that I put into Ray," Chris Loupos explains his approach to this performance. "No question. I don't know anyone who talks like this or acts in the way Ray acts, I just did some research on people from the general area where the play is set, watched some movies from that time period, tried to look at their clothes and what they did for fun and mashed it all together. I also wrote a sort of bio for Ray, giving him back story and adding some legitimacy to his story even if it's all just me imagining it. I will definitely say acting is a TON of work. I think people see actors and think it's easy or that you just show up, and that couldn't be further form the truth. The work is what gets you to the comfort, if that makes sense."
"Roy and Ray are brothers, and that dynamic just works so well. I think one of the most important elements for the success of this show is work ethic and I give Chris a lot of credit," adds de Rogatis. "For someone who has never really acted before or trained at a school, he put a tremendous amount of effort into the role and he has continued to work hard at developing Ray and finding new elements and shades to his character. My character Roy is a returning Vietnam Vet and Chris and I did a little experiment during our creative process where he wrote me a letter when I was in Vietnam. He mailed it to me, I got it, and then wrote him back talking about my experiences there and answering his questions, etc. It's little things like that that really help you get into the characters life .... We have all worked really hard. Myself and Greg Pragel included, who plays Cletis. "
Lone Star, set in 1972, Maynard, Texas is suffused with nostalgia. After the rock and blues performance the play itself begins, set in the backyard of Angel's bar. Roy a Vietnam veteran alpha male and his kid brother, Ray, are drinking an alarming amount of beer and chattering about mostly nothing. Chris portrays Ray, adoring a foil to his unhappy and lost brother, whose world is gradually collapsing. Ray is essentially trying, in a roundabout way, to save his alpha male brother from a dangerous spiral of beer and junk food.
Neither de Rogatis nor Chris Loupos have ever gone to an acting school and yet the play works on every conceivable level. Still, the play's success did not come automatically. In the early stages of the play's life, only a few people attended. It was a rough time, both actors note. "It was very discouraging yes," de Rogatis admitted. "I remember being backstage at the first couple of shows with such a horrible pit in my stomach. There were three people at one show. Two at another. I felt such tremendous embarrassment and it was so bad that i actually had feelings running through my head like 'maybe I shouldn't do this anymore.' You really start to question it and you feel like such an amateur when you're in 99 seat theater and there are 3 people there and the only reason they are there is because they work for the theater and are there out of pity ... I actually told people not to come see the show. I didn't want them to come and be the only ones there and say to themselves, 'this is what he is doing with his life?' -- The only thing that helped me keep going was that i knew we had a good product. At about the fourth show, our first review came out from Daryl Reilly of TheaterScene.net and it was a really good one. We saw audiences begin to grow. The following weekend Marina Kennedy of Broadway World gave us another incredible review and after that we were off and running."
"Oh yeah," Loupos remembers of those early punishing days of Lone Star. "We were definitely discouraged. It's one of those times where when you think about it you can remember how you felt in the room when you heard the news. It was very deflating, we put a lot of work into this play, months of rehearsing and working on it, and to find out nobody was going to show up was hard. We considered pulling out of the festival, cancelling shows, we were really kind of considering anything. But we ultimately pushed through, finished out the festival run in front of sparse crowds and used it as motivation to make the Triad shows better. And I think it worked because as you mentioned, the reviews for the show have been overwhelmingly positive. Once they started to trickle out and people were reading about it being good, it kind of started to get us a little momentum and brought us to where we are now."
"There was a demand for more shows and producers decided to move the show to a bigger venue," adds Matt de Rogatis. "When that run closed, The Triad, invited us back for more shows in August. That went so well that we now have more next week ... My previous two shows, Hamlet and The Collector, were so well received and at the beginning Lone Star was looking like such a tremendous step backwards. But when we were in dire straits, we all rallied and dug deep and reached out to people to come see the show and help get the word out and it just caught fire. Now i would say Lone Star is my best accomplishment because of how we took this thing from ruins and made it such a success. It's been so successful in fact that the family of James McLure, the late playwright of Lone Star, heard about the shows success all the way down in Florida and they are coming to see it later this month."
James McLure wrote this superb, underrated one act play in 1979, as America was still in the shadow of Vietnam. One of the early hopes of de Rogatis with this play is that McLure's work achieves a second life as a result of this play. McLure's challenging ear for authentic dialogue of that time and of that particular place makes for a memorable performance. "The very early shows of Lone Star were not looking good," de Rogatis recalled. "Attendance was really poor and there were talks of canceling the run. But deep down we knew how hard we worked and that if we just stayed true to the characters and the effort we put in, people would respond. And they did. We went from three people at one show to nearly 100 in a span of about two weeks."
"I remember having a conversation with the producer Bob Lamb just before we opened and we were talking about what a bad place the show was in. It wasn't long after Tom Brady and the Patriots pulled off the miracle comeback in the Super Bowl a few months earlier. I remember saying to Bob, hey, ya never know what might happen. It's only the first quarter and things look BAD. But maybe we can all dig deep and lead the comeback. And we did. And I'm so proud".
Director Pete McElligott was an integral part to the authenticity of the play. "Pete turned this thing into such a great play," de Rogatis enthuses. "Honestly he is one of the best directors I have ever worked with. He NEVER ever pushed his will on you. He merely threw out suggestions and let you play with it. 99% of the time you realize he is right....He really took all three of our characters and helped us flesh them out tremendously. He's easy to talk to, easy to work and put in so much time and effort with us. This show really was the perfect storm of committed artists doing anything and everything they could to make this show as great as it could possibly. I would love to work with Pete again someday."
Related
Popular in the Community