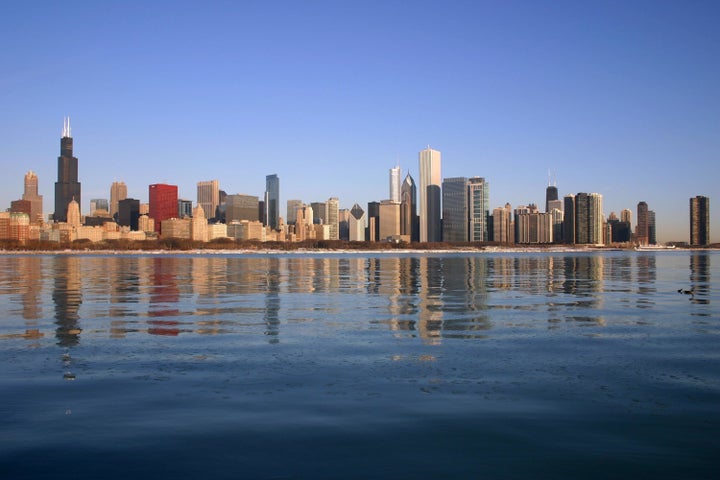 It's the largest free dancing festival in North America. The Chicago Dancing Festival, in its sixth year, will once again spread its wings and bring dance to the public by offering six days of free performances, movies and discussions centered around all types of dance.
Founded by Jay Franke and Lar Lubovitch in 2007, the Chicago Dancing Festival has been instrumental in opening up the world of dance to a larger audience. In speaking on the impetus for creating such a festival, Franke commented, "There is so much happening around dance in Chicago. There was a platform to make an international impact. We just needed a big idea to be a big presence." Franke and Lubovitch committed themselves to exquisite programming and curation, making sure that all types of dance are exhibited and that there is something for everyone. The festival is also entirely free, leaving no barriers to entry.
This year's program brings in some of the best dancers from Chicago and around the nation, featuring an evening dedicated to Chicago dance companies on the 20th, an evening of East Coast and West Coast dance companies on the 23rd and the grand finale evening featuring seven dance companies on the 25th. Other programming includes an evening of NY style mambo lessons on the 22nd, a night of dance movies on the 21st at the Museum of Contemporary Art and an evening of dance discussion on the 24th, also at the MCA, which makes this a dance-packed week in Chicago! Each night is free and open to the public, although some nights require tickets and some are already at capacity. Be sure to double-check the schedule before taking advantage of one of these dazzling events.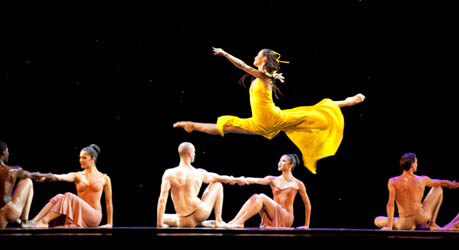 Photo credit: Cheryl Mann
Dance companies performing include the Martha Graham Dance Company, Stars of the New York City Ballet and Stars of the San Francisco ballet, just to name a few. Performed works are from thirteen different choreographers, including Jerome Robbins, George Balanchine, Christopher Wheeldon and Twyla Tharp. There are also three new commissioned works for the Festival, one of which is Touch of Soul, choreographed by contemporary choreographer Nicholas Leichter, to be performed by After School Matters' Hip Hop Culture Dance Ensemble. This was commissioned by the Festival to honor the memory and legacy of former Chicago First Lady, Maggie Daley.

In speaking with Janet Eilber, Artistic Director from the Martha Graham Center of Contemporary Dance, it seems that revealing the magic of dance at the Festival is not just a treat for the public. "This is our third time returning to the Festival," acknowledged Ms. Eilber. "There is incredible consideration given to dancers, the performance pieces and the companies. It is state of the art curation and a very powerful arrangement of performances," she noted warmly. "I believe our performance of classic Graham works enhances the other pieces performed and vice versa. The varied and well curated components make for a larger whole."
If attendance numbers indicate success, the Chicago Dance Festival is a doozie. Last year 18,000 people attended and more are expected this year. "Audiences and venues each have different personalities," described Ms. Eilber. "With what the dancers felt coming from the audience at last year's finale performance, we could have blown the roof off!"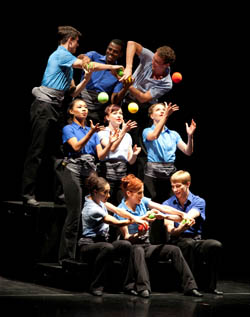 Photo credit: Cheryl Mann
An interesting twist to this year's extravaganza is the commission of Larry Keigwin's Bolero re-created anew for the Chicago Dance Festival. Bolero takes Chicago volunteers with no dance experience and, through Keigwin's tutelage and choreography, excavates their personalities and attributes. "As a choreographer, I am great at creating human traffic on stage, " Keigwin remarked in a friendly interview at Senn High School during rehearsals.
While it is certainly challenging instructing up to 60 people with no dance experience, Bolero captures one very distinct facet of the Festival: to invest in the future of dance by growing audiences. In the case of Bolero, this happens through participation. "There is a refreshing, simple, and authentic joy of dance that comes when non-dancers perform. It becomes a mirror of the audience, art imitating life."
The 2012 Chicago Dancing Festival lands at an interesting time, just months before Mayor Rahm Emanuel and the Commissioner of Cultural Affairs, Michelle Boone, launch the official Chicago Cultural Plan in the Fall. Making the arts accessible to the public is certainly part of the groundbreaking document, set to position Chicago as a major player in the international culture arena. The Plan's Recommendation #11 of 36 is clear: Broaden participation of all Chicago residents in culture. In accordance with this, the Mayor's office has been very supportive of the free Chicago Dancing Festival.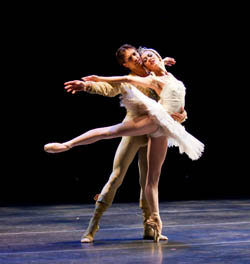 Photo credit: Cheryl Mann
However, it isn't just the Mayor and Commissioner Boone's new Cultural Plan that drives his interest in making Chicago a worldwide city for dance. Mayor Emanuel is also a trained dancer himself. Co-Founder Franke explained with a distinct energy in his voice, "The Mayor has been such a champion of the Festival. He even emailed suggestions of companies to consider." When I asked Keigwin about what he thought of Mayor Emanuel being a dancer, he was also enthusiastic. "Amen! Every leader should take dance lessons before heading into office!"
The Chicago Dancing Festival Runs from August 20-25. Many events to this free festival are sold out, but some tickets still remain.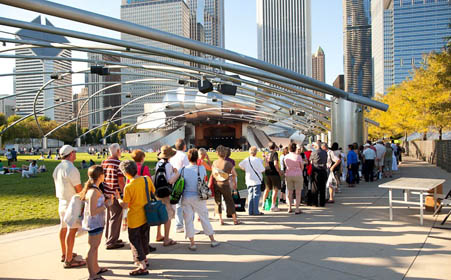 Photo credit: Todd Rosenberg
Calling all HuffPost superfans!
Sign up for membership to become a founding member and help shape HuffPost's next chapter