The Chicago International Film Festival celebrates its 50th year this October 9 - 23. Recognized as the first international film festival in North American, the Chicago International Film Festival is a pioneer in focusing on international films. Founding Director and creator of the iconic film festival 'eyes' logo, Michael Kutza commented on the early years of the Festival in a recent red carpet interview. "We were there before there was a Sundance, before there was a Toronto and Montreal....they would come to Chicago and they would say, 'so that is how you do it!' " Due to its focus on international films, The Chicago International Film Festival is even better known around the world than it is in the United States.
The Festival and its parent organization, Cinema/Chicago, also founded in 1964, have remained true to the original vision: to discover new and rising talents in filmmaking and to bring the best in international cinema and the artists behind the work to Chicago audiences. This year's 50th anniversary Festival will feature a selection of "50th anniversary screenings," featuring the work of returning filmmakers presenting past Festival films, personal favorites and important repertory films, as well as new films by emerging and celebrated filmmakers, with a special focus on Scandinavian cinema.
Showcasing films from more than 50 countries, with filmmakers from around the world in attendance, don't be fooled into thinking that the Chicago International Film Festival only focuses on obscure international films, directors and actors. Over the past 50 years Bette Davis, Martin Scorsese, Harvey Keitel, John Lennon, Jack Nicholson, Charlton Heston, Mel Brooks, Orson Welles, Francois Truffaut, Robert Altman, Michael Douglas, Al Pacino, Joan Allen, Isabella Rossellini, Morgan Freeman, Halle Barry, Susan Sarandon and Ed Norton have either been highlighted or were in attendance.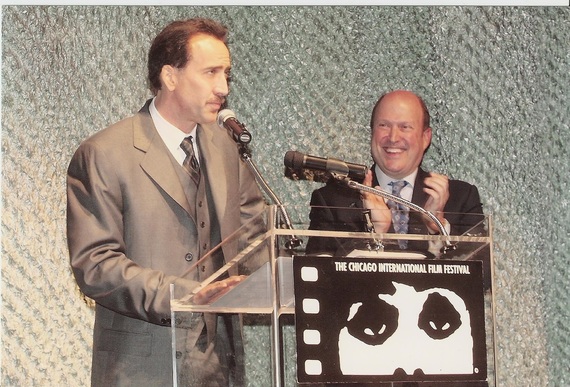 Nicholas Cage at the 39th Chicago International Film Festival. Courtesy: The Chicago International Film Festival
"Each year we rigorously pursue the best in international cinema as well as the cutting-edge work of new talents in our steadfast commitment to share the most innovative and ambitious cinematic art with our audiences," said Kutza.
One of the Festival's most notable features is the vast diversity of offerings with numerous competitive categories and several highlight programs such as Black Perspectives, Cinema of the Americas, ReelWomen, Out-Look, After Dark and the City & State program, showcasing films made in Chicago and throughout Illinois.
In 2014, the Festival will shine a spotlight on Scandinavian cinema, opening with "Miss Julie," directed by veteran actress and Ingmar Bergman collaborator, Liv Ullmann and starring Golden Globe®-award winning actors Jessica Chastain, Colin Farrell and Samantha Morton, as its opening night film. "Miss Julie" will screen October 9 at the Harris Theater, 205 E. Randolph Dr. Director Liv Ullmann is scheduled to attend.
"As we mark this great milestone, we also celebrate the Chicago International Film Festival's position as one of the city's most vibrant arts organizations," said Film Festival Managing Director Vivian Teng. "Drawing people from all walks of life from across Chicago and beyond, the Festival is a place where audiences come together in their common love of film to share in the art of visual storytelling and expand their worldview."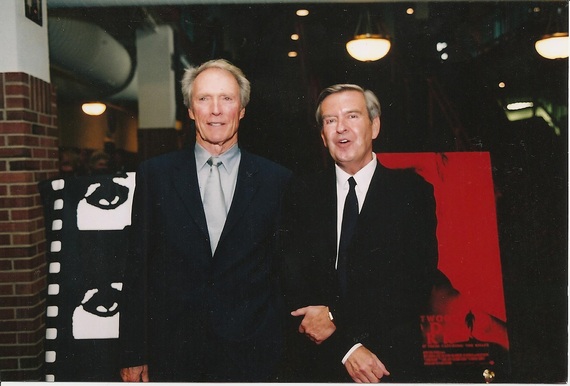 Clint Eastwood at the 39th Chicago International Film Festival. Courtesy: The Chicago International Film Festival
Congratulations are due to Michael Kutza on the tremendous job of bringing a premier international film festival to Chicago, starting from nothing 50 years ago and building it to be a world-wide respected event. "Every year we have grown and have become bigger and bigger," said Kutza with a proud, boyish smile, "and the film makers just keep coming back!"
REAL LIFE. REAL NEWS. REAL VOICES.
Help us tell more of the stories that matter from voices that too often remain unheard.