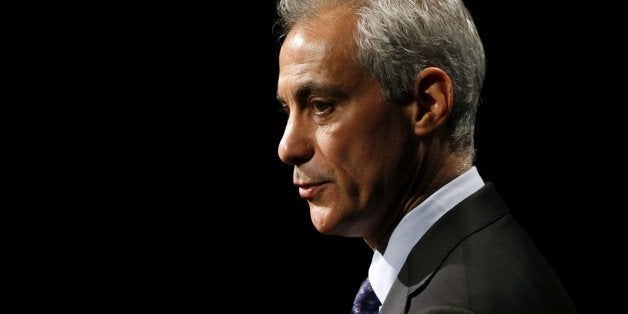 Back to work, Mayor Emanuel. The campaign is over and you have been re-elected. With a second term in office assured, you have another four years to lead and govern Chicago. Voters decided that you're the leader that we want. Now we need you to lead Chicago by bringing together a city, without regard for race or ethnicity.
You can start by building a more transparent police department, a department more responsive to the needs of the community. Recent data revealed that Chicago now leads the nation in the use of the controversial "stop and frisk" practice. Over the course of four months during the summer of 2014, more than 250,000 Chicago residents were stopped and detained on the streets, even though they were never charged with a crime or given a ticket.
We also know that these stops disproportionately target African Americans, who comprise 72 percent of all such stops, even though African-Americans make up only 32 percent of the city's population. The numbers are even worse for African American men when they are in predominantly white neighborhoods.
Police are responsible for no more than a brief comment card when they make these stops, and the reasons offered too often are vague and incomplete. This is unacceptable. You can use your second term to begin collecting and making public detailed data on these stops, data that will help residents in every Chicago neighborhood understand that they are being treated equally.
You also need to make sure that each neighborhood, no matter the color of its residents, has enough police protecting them. We need to know that whether we're in Lakeview, Jefferson Park, or Austin, police will be proportionately assigned, properly trained and ready to work. Police need to be assigned and deployed both equally and fairly. There shouldn't be a discrepancy in police response time between Lincoln Park and Englewood. That is not the Chicago any of us want.
You won another four years, Mayor Emanuel. You told us you'd listen to us and do what is best for Chicago. We want a safe, effective, united Chicago for all residents, no matter our neighborhood or skin color. We want to know that no matter our race or home neighborhood that we can walk down the streets without fear of an intrusive and unjustified search by police. We want to know that if a crime is committed that there will be follow up with law enforcement. We want to know that if we call the police for something, that we can be in River North or Lawndale and they will be there as quickly as possible. This is the Chicago that we want.
We look forward to you leading us toward that.
Related
Popular in the Community