"Inside the Mind" is a Q&A feature series, where I sit down with numerous dynamic entrepreneurs to find out how they think, what drives them, and the influences in life that have shaped them to become the people they are today.
Introducing Jonathan B. Smith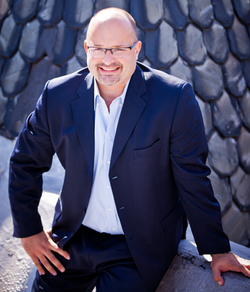 Jonathan B. Smith is the founder of ChiefOptimizer and delivers success for leading-edge, high-growth companies. He is a C-level business leader who thrives in an environment where innovation is championed and continuous evolution of business strategy is expected.
After an early career on Wall Street, in 1999 Jonathan transitioned to become a Partner with 3D New Media where he injected new vigor into the company's web development and search engine optimization activities. His efforts made an immediate market impact by delivering $2 million of engagements with high-profile clients such as GM, Morgan Stanley and Barclays Capital.
By 2002, Jonathan founded and served as President of Peak Placement, LLC, a niche Internet marketing and search engine optimization firm. Clients benefited with a combined $20 million in new revenue as a direct result of Peak Placement's expertise.
Jonathan's next undertaking came in 2005 as Chief Operating Officer of Wave Dispersion Technologies, a $15 million mini-multinational government and defense contractor. Many of the company's strategic initiatives were launched under his leadership, resulting in the company's ranking among Inc. Magazine's 500 List based on 1000% growth through sales to US government agencies, allied governments, and Fortune 500 companies. (Bio Courtesy of Jonathan Smith)
What does having success in business mean to you?
Success is working together with a team, putting together our vision, putting together the traction piece, and then being able to execute on that and achieve the goals we have set out from the beginning. When we've set those goals, I want to make sure that everything we're doing is for good, and not for evil. I like to run on the good business model, so that no one is getting harmed and hopefully the world is a better place when we're done achieving our vision.
You started your career on Wall St. before jumping into entrepreneurship. How were you able to apply your knowledge of the corporate world, into your entrepreneurial endeavors?
I am so grateful that I had an opportunity to be in the corporate world. When I was there, I worked for Arthur Anderson, JP Morgan, and Deutsche Bank. I got some amazing training, and got to see how world-class organizations run. I tend to like running a business on a structured flexibility basis. That means there is some structure - the kind of structure that I learned from Arthur Anderson, JP Morgan, and Deutsche Bank - but in the entrepreneurial world I have more flexibility to operate. We call it pivot, today - we called it flexibility 10 years ago. And what happens is, I know that when I'm dealing with someone in the corporate world, what their parameters are that they are operating based on.
Also, I have a mentor who is a very successful entrepreneur in England, who told me: 'Whenever you're dealing with people in the corporate world or the government world, remember that they are pensioners.' That means they want to make sure they are doing things that are going to protect their long-term job security, and pension. I always carry that idea with me.
Name a person that's had a tremendous impact on you as an entrepreneur.
I'd have to say it was my grandfather, Joseph G. Smith. He had a liquor distribution plant, and from the age of four I would go to work with him sometimes after school and over the Christmas Holidays. I remember sitting in his chair and saying 'Someday I'm going to run my business like my grandfather.' He oftentimes let me sit in on business meetings, and I was always amazed at how much wisdom he had, and was willing to share. I would say 'How did you know that was going to happen?' and he'd respond, 'I have lots of experience and someday you'll have lots of experience too.'
Name a trait you think every entrepreneur should possess.
I think every entrepreneur has to have the trait of being willing to embrace the fact that the journey requires sheer will to be successful. There will be some really fabulous days as an entrepreneur, and there are also some really down days. The entrepreneurs that tend to succeed are those that work through those down days and realize that maybe there are 10 down days for every one super up day — but it's going to require moving through those down days in order to achieve your objective.
I'm always amazed by some of my friends who have persevered through unimaginable conflicts, disturbances, and difficulties — and just believed in themselves to the point where they ultimately succeeded.
What's one book you recommend we read, and why?
The book I recommend is Traction by Gino Wickman. Traction will help explain what the Entrepreneurial Operating System is, which I'm a big fan of. This is a system — like on your iPhone or on your Droid — that takes five percent of the computing capacity, but without it, the apps that make your phone so powerful will not work. It means that your organization will be clear on its vision and where everyone is going. It allows the organization to be clear on traction and what they should be doing within the next 90 days to achieve that vision. This will enable them to remain healthy and operate as a cohesive leadership team. If your leadership team is operating as one unit, so will the rest of your organization.
It's an amazing book. It's an amazing system. I believe that an entrepreneurial business needs to be run on a system. The Entrepreneurial Operating System is one of those systems — but your business can only run on one system. Like an Android phone can only run on an Android system, not iOS and Android. Same concept.
Tell us a fun fact about yourself that few people know.
I am a pilot. So I can fly an airplane — single engine, multi-engine, a helicopter, and a seaplane. I really enjoy flying. Interestingly, in flying, we use checklists. In the Entrepreneurial Operating System, we use checklists. So I've found using a checklist has kept me alive in an airplane, and has also kept my business alive.
Thank you for sharing your time and your story with me Jonathan.
Stay updated on this Q&A series by becoming a fan.
Calling all HuffPost superfans!
Sign up for membership to become a founding member and help shape HuffPost's next chapter