I am a bit of a snob. I like nice hotels with great food and luxurious spas, so does my Chihuahua, Jacob. Finding a hotel that will take us both, isn't always easy.
Jacob's actually more down to earth than I am, and not because he's lower to the ground.
When we travel, Jacob insists on sleeping inside a suitcase filled with dirty socks that's been left open on the floor.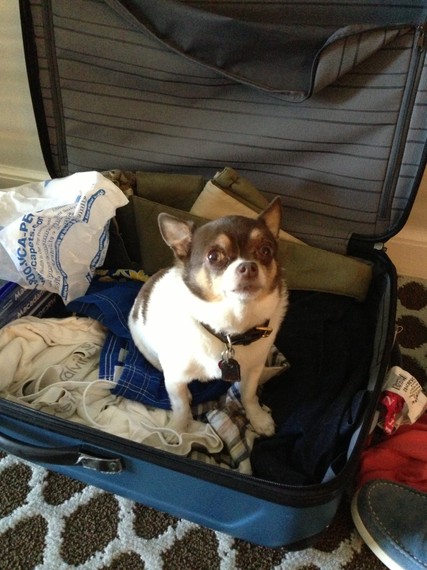 Dirty underwear aside, the suitcases are quite nice. We travel with Louis Vuitton and Longchamp baggage.
Please don't judge and please don't hate.
I've had two Olympia suitcases returned to me missing wheels and with gashes. This happened on my last two United Airlines flights...the drama was fully documented on Twitter.
Back to the Chihuahua in the overpriced French luggage.
Jacob and I decided we would share some of our favorite doggy friendly hotels. All these hotels provide goody bags with treats, bowls and beds at check-in.
Number one on our list is Caesars Palace in Las Vegas. It's possible I like it a little more than Jacob. He doesn't enjoy white truffles at Guy Savoy like I do, and my little dog tires of the Forum shops.
Caesars has a $75 pet fee. Guests with dogs are given rooms on a pet friendly floor.
Caesars has put a lot of thought into this. The floor is located as close as possible to the pet relief area outside. Quick ride down the elevator leaves you right by the exit door with the friendly doorman. Steps from there, is the designated relief area.
If you have ever tried to find your way out of a casino you know exactly why getting outside so quickly is so important to those of us trying very hard not to have an accident.
Though everything in Vegas is mega-sized, the fenced relief area with a water bowl and complimentary poopy bags, is rather small by comparison. But it's clean, and filled with smells that are surely as fascinating as a Vegas showgirl.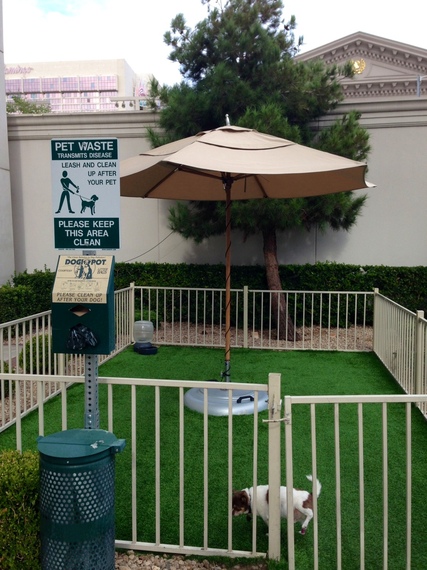 Our next favorite place is the La Quinta Resort & Club, not far from Palm Springs.
Here, it's all about the amenities for both of us. I love the spa at La Quinta with its outdoor fireplace and hammock.
La Quinta offers something I have never seen, an in-room massage for dogs. We didn't try it because Jake would have bitten the masseuse. He always barks at people in uniforms, and doesn't like being picked up strangers. He's a shelter dog, so we try to be forgiving of his issues.
For $100 a licensed pet masseuse will come to your room and massage your dog for 50 minutes. The spa will even arrange for you to get a massage in your room at the same time. That's a little weird even for me.
I did get a massage, but I went to the spa, and I left Jacob in the room sleeping in the suitcase. Another perk: many hotels will not allow you to leave your dog in the room alone. La Quinta has no problem with that as long as your doggy behaves.
To make sure the housekeeping staff doesn't wake a sleeping dog, La Quinta gives you a cute "beware of dog" sign to hang on the door. La Quinta's pet fee is $100 dollars.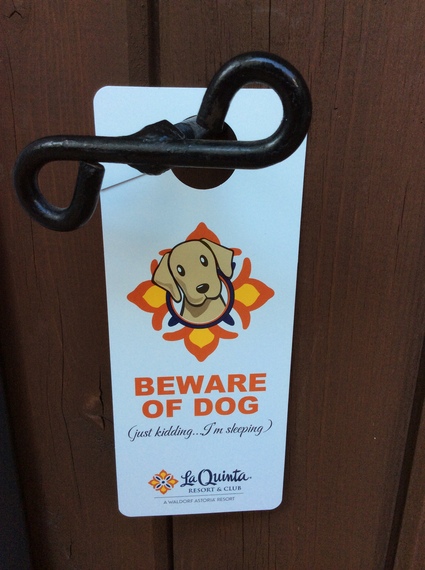 So you don't think Jacob and I are snobs for the sake of being snobs, I have included the Westin Hotel in Costa Mesa, California on our list. I love this hotel. We've stayed here several times.
When I check in, Jacob checks in. The Westin gives him a special dog tag with the hotel's signature "heavenly bed" trademark (if only they knew he'd rather sleep in a suitcase) to let the staff know he's a registered guest.
The Westin has one of my favorite French restaurants, Pinot Provence. Not only are the moules frites some of the best I've had, but there's NO corkage fee. Mommy really loves that.
Here's why the Westin is so great for dogs. There's NO pet fee. That's right, a really nice hotel that let's dogs stay for free.
It's like we hit the jackpot here. No corkage fee and no pet fee mean I have more money to spend at South Coast Plaza Mall which I can walk to right across the street. Do you see why this is a favorite?
White truffles in Vegas, massages in the desert, no corkage fee in Orange Count plus my little dog gets to go too. What more could a gal ask for? Getting the Chihuahua out of my suitcase would be a good start.