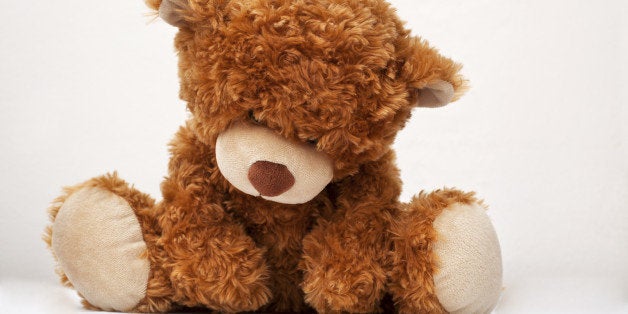 I fought very hard to be a mother.
I paid a lot of money and put my body (and my surrogate's body) through synthetic hormonal hell to be a mother.
At least in the common definition of a traditional mother.
My story could be considered epically sad and tremendously messy. But, I like to think of it as beautifully flawed and filled with ever upward light and love. And, every piece of my life puzzle in this sometimes brutal and yet beautiful life is proof that I am a warrior. Because, it is messy and beautiful to live our lives authentically brave, and so, everyday I choose to find and move ever upward.
Being a warrior means living all the parts of my story fully, wholeheartedly and brazenly, authentically courageous.
It means never shying away from the most-asked question of every woman my age, "How many children do you have?", and answering it in my own honest way.
"We tried, we tried really hard, but we can't have kids."
It means never allowing shame to steal my story when I am asked the inevitable second most-asked question, "Well, why don't you just adopt?"
"We know adoption is not our path. We've been through a lot, financially and emotionally, with In Vitro Fertilization (IVF), surrogacy and losing three babies already. We have decided to accept a childfree life."
I will not apologize if my answer makes you uncomfortable. I will not allow your need to fix or take away my pain to silence my story. I will not let shame, self- or societally-induced, steal my light.
So, I will educate. I will write and speak my story, owning my shame, every day of my life. I will live it because it is the only way to honor myself. I will live it because it is the only way the landscape of infertility will change. I will live it because we all have our epically dark yet light-filled journeys. Because hard is hard and maybe, just maybe, openly owning my story will make you just uncomfortable enough to open your eyes and hear someone else's story and therefore lead you to some compassion and understanding.
Ever Upward
Ever Upward is about letting go of what isn't and embracing a new purpose. Ever Upward is about figuring out how to be better than okay after surviving loss, trauma and tragedy. Ever Upward is about thriving.
Every day I live and write about the epic stumbles followed by every purposeful rise.
My darkness is the random anger and bitterness that can over take me at times especially when it comes to fertility. My darkness is the underlying sadness that comes and goes because I didn't get what I wanted or hoped for. My darkness is that in every traditional sense of a woman my age, I won't ever really fit in because I am not a mother. My darkness is owning my struggle, even the struggle within my recovery.
But, I choose my light which can only be found through the darkness.
My light is surviving failed IVF and surrogacy. My light is accepting and redefining my childfree, yet childfull life. My light is finding my chosen family within the love of our surrogate family especially with their unexpected pregnancy after our failed IVF tries. My light is finding my role in the lives of all our chosen children. My light is having the patience to find my faith again. My light is owning my story, for the world to see, in order to break the silence of infertility but more importantly in claiming my ongoing recovery. My light is knowing that I am a mother in more ways than most are open to considering. My light is in trusting my gut wrenching ironic role in being a childfree mother as I mother in more ways than I ever could have imagined.
As, my light is living authentically brave, darkness and all, no matter what. Because life in recovery is always a complicated grey of the darkness and light; this is the ever upward journey.
Only in embracing my light through my darkness have I been able to find me again. Only in letting go of one dream was I able to find and define a new one.
Only in the acceptance of my lifelong losses am I able to be a mother, the childfree mother.
Popular in the Community