Children lined the front sidewalk of The Children's Inn this past week waiting for Santa to roll in on a Harley. The popular annual "Santa Ride," brings dozens of uniformed Montgomery County, Maryland police officers, escorting Santa Claus to The Inn on motorcycles.
For Dillon Papier, 13, from Frederick, Maryland, this was his first time meeting Santa. The exuberant teen has shied away from meeting Santa in the past. After spending much of his life in the hospital, battling a rare disease, and most recently liver cancer, Dillon prefers time with his family and friends. But buoyed by his parents and one of his favorite Inn staff members, Mallory Lewis, Assistant Director of Resident Services, Dillon waited patiently to greet Santa.
Mallory pushed Dillon in his wheelchair to Santa's side. Dillon had a question for the burly, bearded Santa: "Are you a Nats fan?" Dillon asked, not revealing that he threw out the first ceremonial pitch on his birthday alongside Washington Nationals pitcher Stephen Strasburg. Santa didn't hesitate. "You bet," he said. "And a big Caps fan too." Santa and Dillon fist-bumped.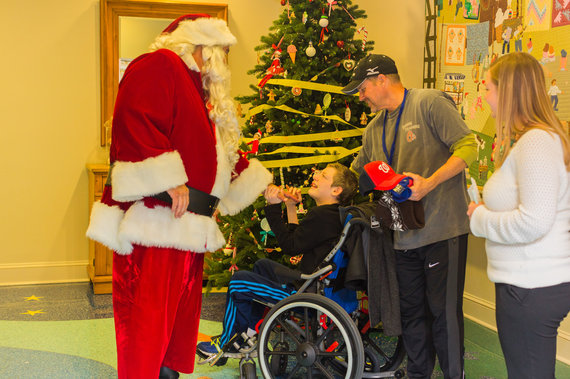 This year marks The Inn's 25th anniversary and my first year as The Inn's new Chief Executive Officer. The holiday season gives me a chance to reflect not only on the many gifts our community supporters bring to our children but on the many gifts our children bring.
Dillon and his family are among more than 1,500 families who come to The Inn every year to stay while participating in research studies at the National Institutes of Health. Thanks to our dedicated donors, our families pay nothing during their stay, no matter how long treatments last.
When The Inn opened in 1990, we provided 37 rooms for families and children. Back then, the goal was to create a spacious, safe and supportive haven where families could help one another cope, cook meals together and offer mutual comfort. The vision for The Inn was born after hearing from families who endured long drives to the NIH and were sleeping in their cars because they couldn't afford a hotel. Many were eating from vending machines.
Today, we have 59 rooms and a waiting list of generous volunteers. In addition, our Woodmont House in Bethesda, Maryland, is a transitional home for up to five families who have children enrolled in long-term pediatric research at NIH. Our core mission still is vital: Providing a comfortable "Place Like Home" but it has evolved as we have seen our families become partners in biomedical research.
We have witnessed the breakthroughs in pediatric diseases:
Cancer is nearly 80 percent curable in kids, but we still have some pediatric cancers that are not curable, including many pediatric brain tumors.
HIV/AIDS now is successfully treated; the first pediatric AIDS patient stayed at The Inn.
The Undiagnosed Disease Program enrolled more than 100 children this year. Since the program started in 2008, 90 children have received a diagnosis and possible treatment - all of them stayed at The Inn.
This unique, very powerful role we play in medical discoveries has propelled us to grow. We know from 25 years of experience that when you give families the space to be together, to support and help one another, health outcomes improve. The language of illness is universal, crossing all cultures and backgrounds. Dr. Crystal Mackall, Chief of Pediatric Oncology at the National Cancer Institute, summed up The Inn's contribution: "The Inn gets caring right," she said.
NIH doctors and our clinical advisors, such as Dr. Lee J. Helman, help make sure we get it right: "As our treatments become more individualized and focused on both curing more children, as well as decreasing the long-term side effects of therapy, The Children's Inn will continue to be our partner," Dr. Helman said. "The Inn allows us to make progress."
"I look like any other kid," Julia says, "but what people don't know is that I'm fighting for my life. My greatest battle still lies ahead."
At The Inn, we hope to give her a fighting chance - and make her battle just a little easier.
Calling all HuffPost superfans!
Sign up for membership to become a founding member and help shape HuffPost's next chapter