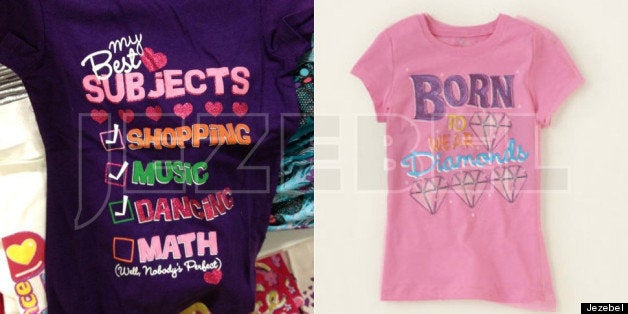 It's neither funny nor cute to suggest girls can't -- or won't -- like math in school.
The Children's Place found that out the hard way this week, after protests over some of its shirts forced the store to drop at least one of the designs.
Jezebel was one of the first sites to pick up on the tees, after tipsters sent writer Laura Beck photos of two particularly questionable shirts: one that read "Born to Wear Diamonds" and another that cited the wearer's best subjects as "shopping," "music" and "dancing" but not math, because "nobody's perfect."
Beck noted that the shirts seemed worse when compared to similar clothing marketed toward boys:
By contrast, their boys t-shirts are all about surfing and playing drums and being a superhero. They're by no means perfect, but they paint the picture of a pro-active kid putting himself out there and making things happen. If the company doesn't want to mix all the shirts together —boys and girls basically have the same bodies at those ages, why can't they choose for themselves? — then at least they could make some little ladies shirts with messages other than "OMFGYG LET'S GO GET DADDY'S WALLET TO BUY SEQUIN$$$!!!!11"
"The infamous 'Math is Hard' Barbie came out over 20 years ago, and you guys are *STILL* trying to glamorize empty-headed materialism? Shame on you," agreed another poster, Heath Isimsiz.
On Monday, the deluge of protest seemed to reach the ears of The Children's Place executives, who announced on Twitter and on Facebook that they had pulled the offending "My Best Subjects" shirt shirt.
Consumerist noted that this is certainly not the first time a store has gotten in trouble for similar clothing options.
"We've seen these kinds of messages in the past, and it appears that [The Children's Place] hasn't learned the lesson other retailers have that marketing clothing to girls with the message that 'math is hard' is a questionable move," Consumerist's Mary Beth Quirk wrote.
It may not have learned the first time, but this latest round of protest is sure to leave a lasting impression.
Related
Before You Go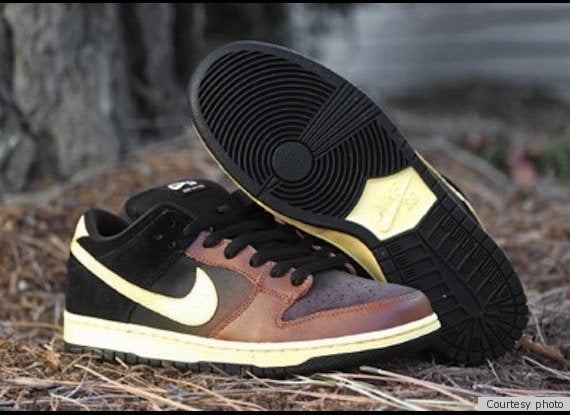 Controversial Products