Edith Wharton's first publication was "The Decoration of Houses" in 1902. Co-authored with the architect, William Ogden Codman, Jr., the book was a polemic against "lambrequins, jardinières. artificial plants, wobbly velvet-covered tables littered with gewgaws, and festoons of lace on mantelpieces and dressing tables." But Wharton missed what would have made great fodder for her tales of America's upper class women. Much of the action in Wharton's stories unfolds in Gilded Age drawing rooms crowded with objets d'art, women are on display among the precious objects. The pioneering role that American women played in the acquisition of these splendid objects - especially those from China - is a tale worth telling.
Whereas Wharton missed a great story, the husband-wife team, Karl E. Meyer and Shareen Blair Brysac, have now written "The China Collectors: America's Century-Long Hunt for Asian Art Treasures." Like a Wharton story, the book is rich with complex protagonists in vivid settings. The action in Meyer and Brysac's book unrolls from New York's bustling Fifth Avenue townhouses, to the rising metropolis to Kansas City, to China where the chaos of the end of the Qing (Ching) dynasty (1644-1911) had led to the collapse of that country's elite. And like a Wharton story, the tale of Chinese art in American collections is rife with moral overtones.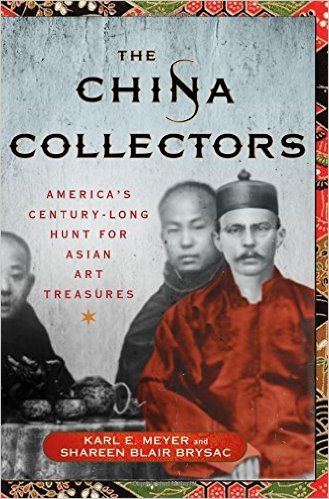 Photo courtesy of Amazon.com
While China's centuries-old Imperial rule was collapsing, America was expanding into international business and foreign affairs. The robber baron wealth of the Gilded Age stretched out its arms to eagerly embrace collections made available by desperate Chinese owners, competing warlords and unscrupulous tomb robbers. Enter American collectors.
Beginning with the first Opium War of 1840 Chinese art was up for grabs by foreign collectors, and Americans entered the fray to acquire these treasures. This period of collecting, so poignant for Chinese, is considered the Golden Age of Chinese art collecting by westerners. Meyer and Brysac, provide a colorful narrative of "foreign devils" braving sandstorms and warlords in China as well as well-funded museum directors snuggly ensconced in boardrooms stateside. Behind the scenes, moving much of the action, the cast of female characters play their roles. In China, Dowager Empress Cixi (Tz'u-hsi) controlled the Chinese government in the late Qing dynasty for 47 years from 1861 until her death in 1908. In America, female collectors flush with Gilded Age dollars were quickly developing discernment and expertise in their quest for Chinese art.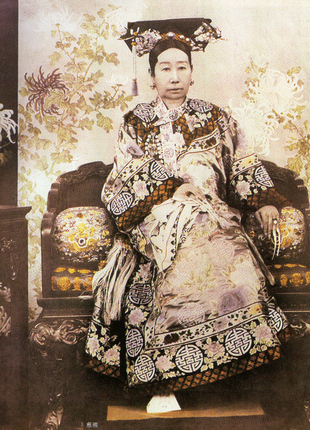 Photograph by Yu Xunling, court photographer, via Wikimedia Commons
Among the most avid American China collectors was Abby Aldrich Rockefeller, daughter of Senator Nelson Aldrich and wife of John D. Rockefeller, Jr., sole heir to his father's petroleum fortune. Abby was an enthusiastic adventuress in New York's art scene whereas John preferred to dwell on art of the past. But on things Asia, Abby and John are best aligned with Buddhism (her) and Confucianism (him). Whereas Abby famously acquired a Tang era (618-907 AD) bodhisattva from a temple in the Lingyan Mountains, for example, John's tastes ran to highly decorative Chinese porcelain. Like Jack Sprat and his wife, they licked the platter clean with their sweeping collection of Chinese art.
In their collecting spree of Chinese art, Abby and John were aided by the approval of the Payne-Aldrich Tariff Act in 1909. Crafted by Abby's father, Nelson, (chair of the Senate Finance Committee), the Payne-Aldrich Tariff Act eliminated all tariffs on artworks more than a century old. The Revenue Act of 1917 permitted a special exemption from taxes for donations to nonprofits institutions "operated exclusively for religious, charitable, scientific, literary or educational purposes." Abby and John displayed their Chinese art in what was the city's largest townhouse at 10 West 54 Street (now the outdoor gardens of the Museum of Modern Art) and their country house, The Eyrie, on Mt. Desert Island, Maine (razed in 1962). Today, art works from Abby and John's collection are owned by the Metropolitan Museum of Art , Kykuit in the Hudson Valley, Asia Society and and the Abby Aldrich Rockefeller Garden on Mt. Desert Island, Maine, among others.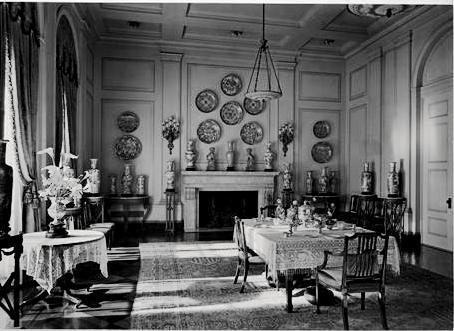 Photograph credit Gottscho-Schleisner Collection, Library of Congress Prints & Photographs Division

During trips to China, Abby sought out the company of Charlotte Hill Grant, wife of Dr. John John Grant, Associate Director for Medical Education and Public Health at Peking University Medical College. Charlotte knew all the best shops for Chinese antiquities, especially that of a Mr. Dai, whose back room was the source of Manchu court clothing and accessories, now at the Denver Art Museum. Lucy Calhoun, wife of U.S. ambassador to China William Calhoun, was a "picker" for Chicago's Antiquarian Society, an auxiliary of the Art Institute. After her husband's death, Lucy returned to live in Peking where she updated an 18th-century Buddhist temple with electricity and plumbing. The Yu sisters, Der Ling and Rong Ling, daughters of a Chinese mother and a Boston merchant, acted as intermediaries and translators for the foreign community in China. Der Ling, who had been a lady-in-waiting to Express Cixi in the Forbidden City, later advised the American collector Barbara Hutton on her collection of Chinese art. Likely the most familiar American woman collector was Isabella Stewart Gardner from Boston (but originally a New York girl), collector of pretty much everything.
Meyer and Brysac do a masterful job of contextualizing the frenzied collecting of Chinese art by Americans into the political, historical and social landscapes of the times. Like a story by Edith Wharton, it's a tale of intrigue, manners and colorful personalities. It's also a story of women working quietly behind the scenes to move the plot forward. And like a Wharton story, at the end of the book the reader is left to ponder the morality of actions and their results - in this case, vitrine after vitrine of stolen and looted Chinese art now on display in American museums.
REAL LIFE. REAL NEWS. REAL VOICES.
Help us tell more of the stories that matter from voices that too often remain unheard.