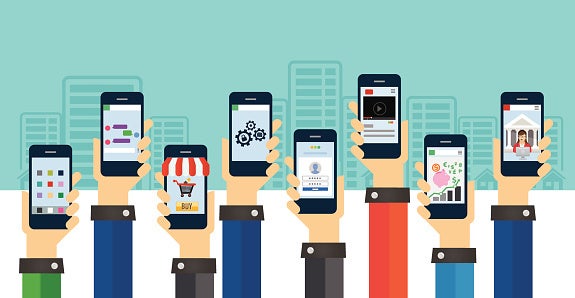 Is WeChat Pay taking over Alipay? The situation can be better characterized as WeChat Pay and Alipay settling into a stable duopoly, not unlike how MasterCard and Visa have a virtual duopoly in the credit card world.
According to market research firm Analysys, in Q1 2017 Alipay enjoyed approximately 54% share of mobile transaction value while WeChat Pay took 40% share. Average Alipay transaction values are higher than WeChat Pay transactions, so if you are just counting number of digital transactions, it is pretty much even at this point.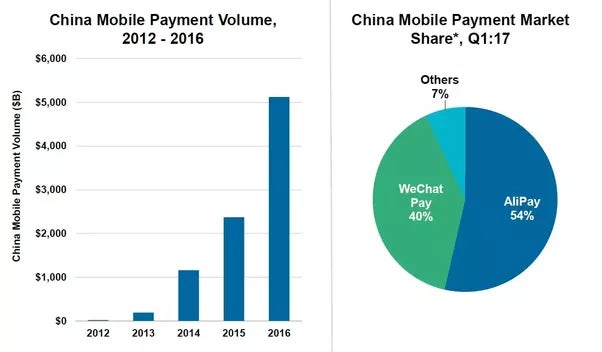 As recently as three years ago, Alipay had a near-monopoly on the market, accounting for over 80% of transaction value. But in 2014, WeChat made the ingenious move to allow users on its social platform to send digital hongbao (red envelopes) to other users — which super-charged wallet adoption across WeChat's nearly 1 billion users. Within a year, WeChat Pay had more users than Alipay. Recognizing this, Alipay also added the digital red envelope feature a year later but it was already too late to prevent WeChat from wedging its way into its monopoly.
Today, both Alipay and WeChat Pay are accepted pretty much everywhere you go. I have yet to come across a physical payments terminal that does not accept both Alipay and WeChat Pay. Similarly, I have yet to come across anyone who cannot accept person-to-person payments from both. From a user experience perspective, there is very little discernible difference between the two platforms.
Looking past user experience, there are some meaningful differences. For example, Alibaba's e-commerce platforms (Taobao/Tmall) do not accept WeChat Pay which gives Alipay a large advantage for mobile e-commerce transactions (as Taobao and Tmall comprise the majority of e-commerce transations in China). At the same time, as nearly every single Chinese person old enough to use a mobile device uses WeChat (compared to only about half that are active e-commerce users), WeChat Pay actually has a couple hundred million more active users compared to Alipay. But Alipay (through its parent company Ant Financial) can counter this by offering a broader set of consumer finance products tied into its payments platform: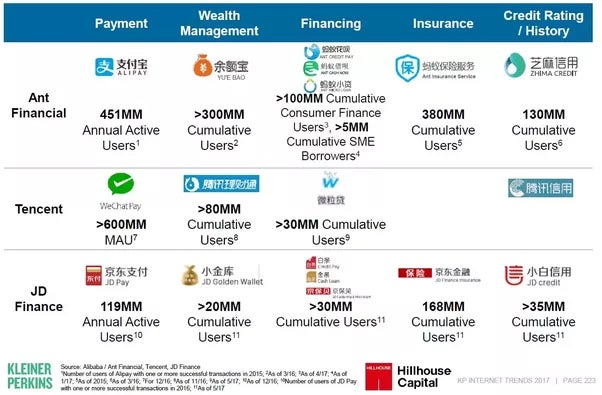 All in all, I think Alipay and WeChat Pay are quite evenly matched and I do not see this turning back into a monopoly situation for either one of them. Nor do I see any other third parties wedging their way into the space. Instead, I expect Alipay and WeChat Pay to continue battling it out over the coming years, matching each other feature for feature and trying to leverage the respective strengths of their affiliates/parents (essentially social vs. e-commerce) to try to gain some advantage.
It will be an interesting fight. At this point, the two questions I have about this epic battle are:
Will Alipay remain the "Visa" (e.g. slightly larger market share) of China's digital payments space or will it be relegated to becoming "just" Mastercard by WeChat Pay?
Which platform will be more successful outside of China? International (Southeast Asia in particular) is the next major battleground for these two behemoths.
Disclosure: As of May 31, 2017, I own (personally and/or through my fund) shares in both Alibaba and Tencent.
This question originally appeared on Quora - the place to gain and share knowledge, empowering people to learn from others and better understand the world. You can follow Quora on Twitter, Facebook, and Google+. More questions:
Calling all HuffPost superfans!
Sign up for membership to become a founding member and help shape HuffPost's next chapter
This post was published on the now-closed HuffPost Contributor platform. Contributors control their own work and posted freely to our site. If you need to flag this entry as abusive,
send us an email
.