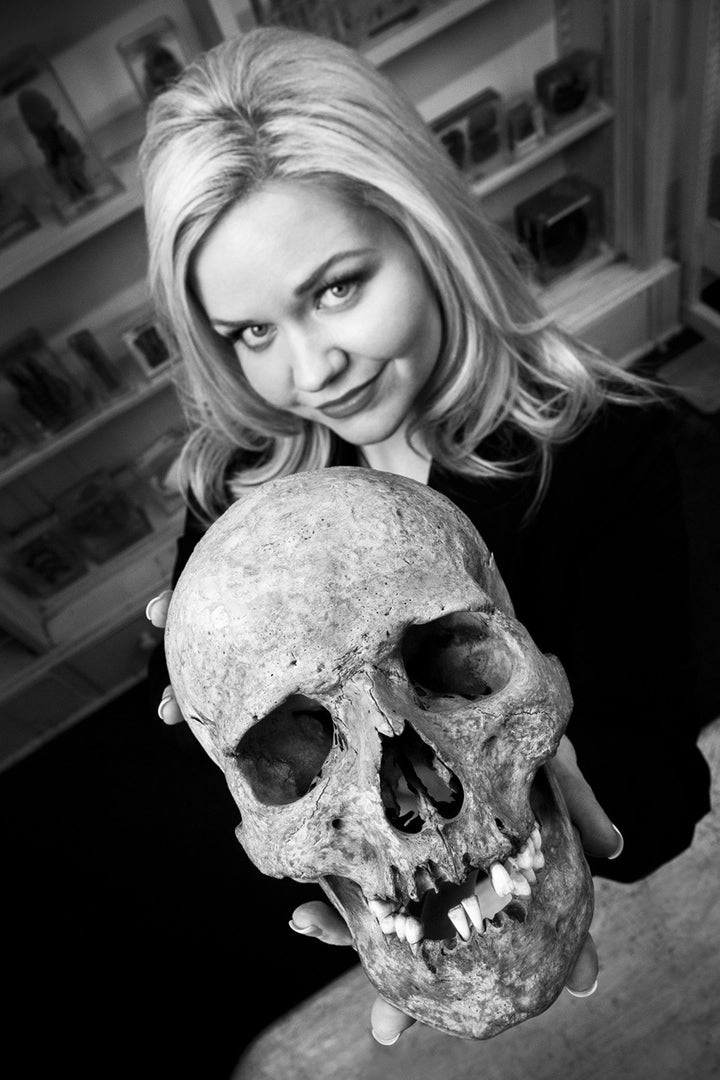 I like to think that I'm the first to notice, love, and highlight a fantastic new phenomenon that's out there: beautiful, young and brilliant women who specialize and punditize on all things morbid. Have you noticed this yet? No? Do pay attention: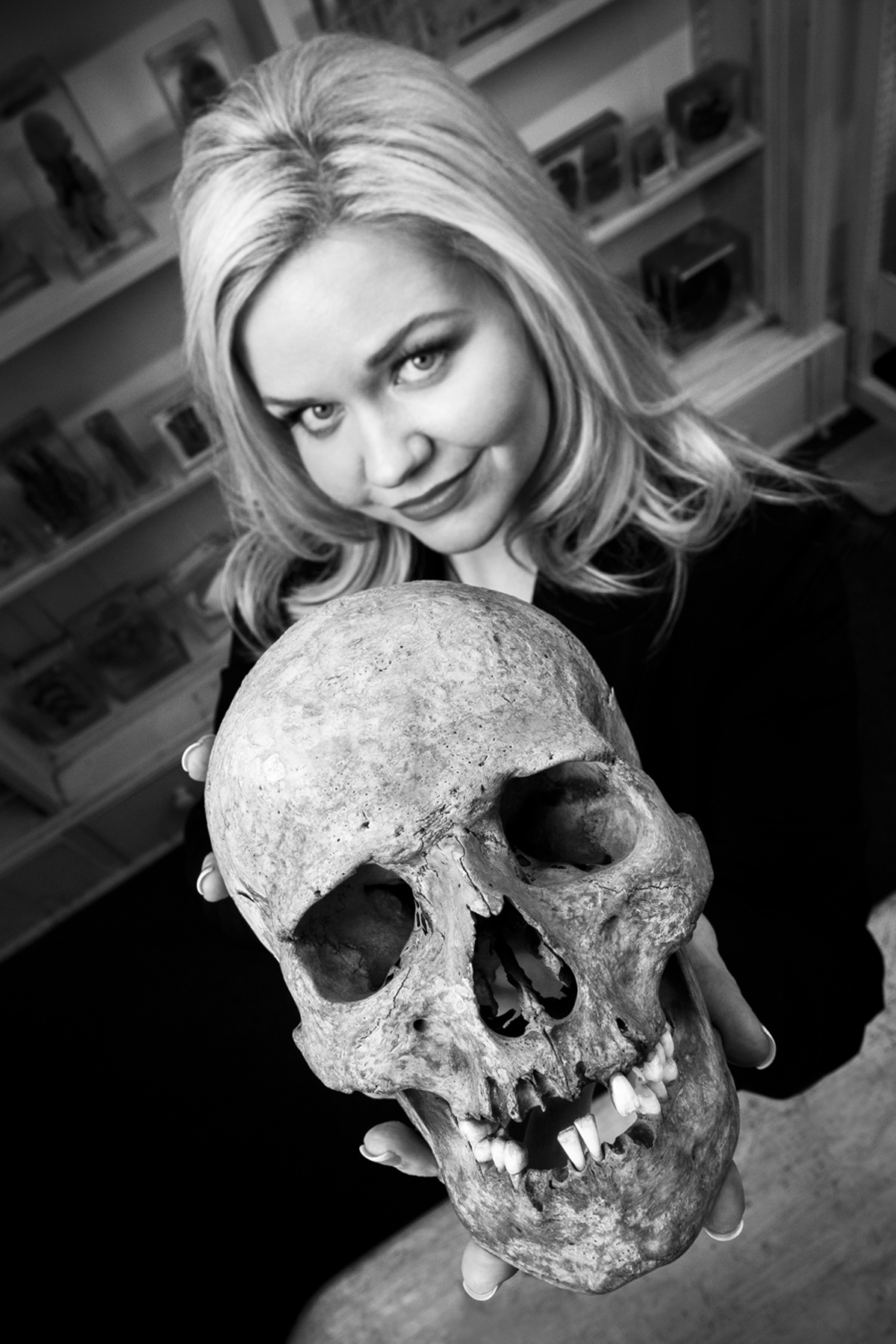 Fitzharris received a Ph.D. in the History of Science, Medicine & Technology from the University of Oxford in 2009. She is currently a Wellcome Trust Postdoctoral Research Fellow at Queen Mary, University of London. She is the creator and author of the popular website, The Chirurgeon's Apprentice, which looks at the horrors of pre-anesthetic surgery, and has written for New Scientist, The Lancet, History Today and the Guardian. She has appeared on television for the BBC and National Geographic. Here is her deal:
Q: First, What's a Chirurgeon and why just an apprentice?
Dr. Lindsey Fitzharris: The word "chirurgeon" is just an antiquated spelling of "surgeon" -- and it is pronounced very similarly. Why an apprentice? I don't like to think of myself as an expert. It implies a finality; an end to learning. And I am very much on a journey of discovering new and wonderful things about this fascinating subject. So in this respect, I really am an apprentice.
Q: Growing up. Were you strange?
Dr. Lindsey Fitzharris: I'm not going to lie. I was a strange child, and the signs were there from the beginning that I would become an even stranger adult. I used to make my grandmother take me around to old cemeteries in Chicago when I was younger. I suppose you could say I have always been fascinated with death. But more so, I have always been fascinated with the past.
Q: What do you like most about working in this rather morbid space?
Dr. Lindsey Fitzharris: I've always been a passionate storyteller. I suppose that's what first attracted me to history as a subject. I'm so often moved by the stories I come across in my research -- stories about the people who died, about the loved ones they left behind, and about the surgeons who opened up their dead bodies for the sake of medical science. I like to think I'm bringing the "human" back into a history of human anatomy.
Q: Where did you get the inspiration for The Chirurgeon's Apprentice?
Dr. Lindsey Fitzharris: The concept for The Chirurgeon's Apprentice evolved from a conversation I had once with my friend, Alex Anstey, founder of Reality in Dreams. He's a filmmaker, and I, a mere historian. Yet, he was fascinated with my research. That got me thinking: maybe my work has broader appeal. Driven partly by this and partly by the desire to reach beyond walls of academia, I started the website. Incidentally, Alex -- who was recently First Assistant Editor on the Les Misérables film -- will also be editing Medicine's Dark Secrets. I'm very lucky to have such a talented and creative team behind this project.
Dr. Lindsey Fitzharris: Unbelievably well! I am constantly amazed by the generosity of those interested in this dark and macabre subject! Within 48 hours, we had already raised over $6,500. I just hope we reach our goal so that I can make this project a reality.
Dr. Lindsey Fitzharris: For me, history should not be experienced through words alone. It should be seen, felt, heard. I believe interacting with historical objects is just as important as reading about them. Not everyone has access to collections like the ones I do, which is why I want to make the film. I don't believe the past belongs only to historians and scholars. I want viewers to experience medical history in a more dynamic way than they might otherwise be able to do from reading about it in a book.
Q: You write about a lot of gory history. Is there anything you can't stomach?
Dr. Lindsey Fitzharris: If I'm writing about it, I'm not fussed. If I'm experiencing it, that's another matter! I'm attending an autopsy next month and am terrified by the thought of it. The sight, the smell, the feel of a dead body! I have no idea how I will react when I am face-to-face with the realities of death.
It reminds me that there is much more to the human experience than I could ever convey with words.
Q: Is death "the last taboo?"
Dr. Lindsey Fitzharris: I'm not sure I'd say it's the last taboo, but it certainly can be taboo in today's society. We interact with death in very different ways than people did in the past. Some of the objects I'll be looking at in Medicine's Dark Secrets may shock viewers, like the book made of human skin or the dissected hands of a man who committed suicide in the 19th century.
What I hope to provide through this documentary is historical context. Most importantly, I want viewers to remember that these disembodied specimens once belonged to real people with lives like you and me.
Q: You must be a good time at a dinner party.
Dr. Lindsey Fitzharris: I have to be careful when I'm in the company of strangers. I have a knack for blurting out gruesome facts that sometimes leave people looking a bit pale! But the story I always tell -- and one which seems to delight most -- is the one about the barber's pole. It was the first story I ever wrote about on The Chirurgeon's Apprentice. Most people are unaware that barber-surgeons (as they were often called) bled patients for medicinal purposes in earlier centuries. The tradition of the striped barber's pole harks back to that era, when it served as an advertisement for their proficiency as bloodletters. The pole represents the rod that the patient gripped to make their veins bulge and the brass ball at the top symbolizes the basin used to collect the blood. The red and white stripes represent the bloodied bandages. Once washed and hung to dry on the rod outside the shop, they would twist in the wind, forming the familiar spiral pattern adorning the barber poles of today.
REAL LIFE. REAL NEWS. REAL VOICES.
Help us tell more of the stories that matter from voices that too often remain unheard.