Chocolate, chocolate, chocolate, chocolate, almonds, coconut, coffee, chocolate, marshmallows, chocolate, chocolate, chocolate, chocolate, poultry spices, sushi seasonings, salad vegetables, chocolate.
Okay, what doesn't belong in this picture?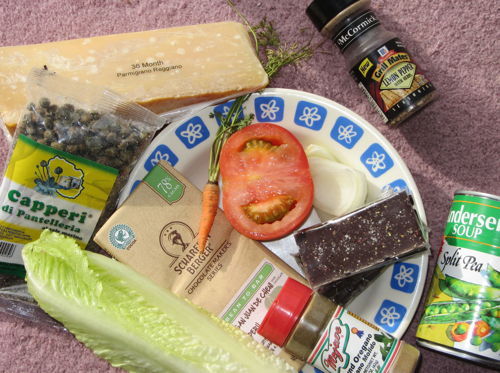 The gauge that demarcates what can and cannot reasonably be used as an ingredient in artisanal chocolates never stays in the same place for long. Bacon? So last decade. Salt? Wait, was there ever a time before truffles didn't go krunch, krunch, krunch and evoke fish-'n'-chips? Sriracha sauce? Yawn.
At TasteTV's Fall Luxury Chocolate Salon in San Francisco last weekend, I saw our salt-meat-chipotle contingent. I saluted purists such as Amano, Nuttyness and Scharffen Berger, to whom outrageous flavors still seem a distraction. (SB scooped up silver and gold medals for best dark and best milk chocolate, so sometimes simplicity rules.)
And I met French chocolatier Wlady Grochowsky of Bozeman, Montana-based La Chatelaine Chocolat, who was inspired by a chicken dish he ate for dinner at a restaurant to create a raspberry-dark chocolate ganache containing fresh thyme. Another meal inspired his cinnamon-basil chocolates.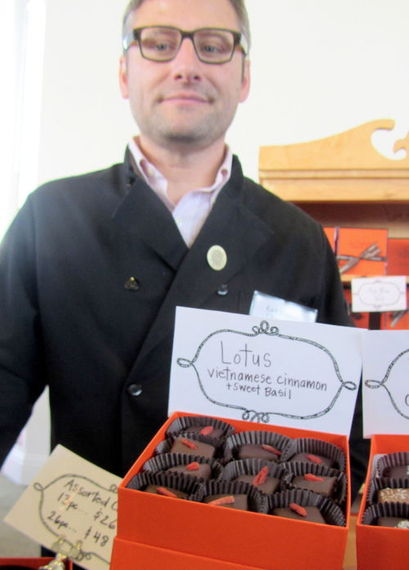 Thyme -- that tough and minty shrub that tastes so good in stuffing, oxtail soup and coq au vin -- also appears in a dark-chocolate bar made by Belgium-based NewTree.
Karen Urbanek, the painter-chocolatier behind Flying Noir, has used rosemary, saffron, pimento, Sichuan peppercorn, laurel and wasabi -- not to mention sparkly mica -- in her exquisitely hand-painted truffles, which nabbed a gold medal for "Best in Salon":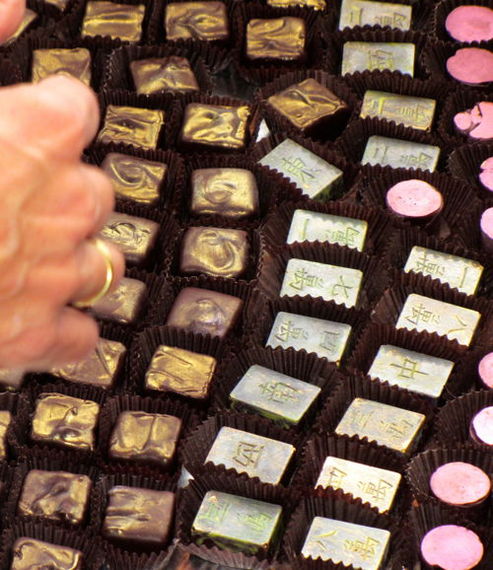 Speaking of Sichuan peppercorns, Executive Chef Sharon Nahm is currently serving SP-spiced dark-chocolate pot de crème at San Francisco's E & O Asian Kitchen: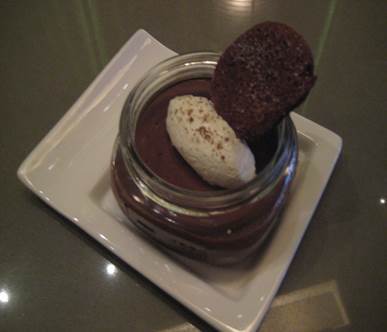 Flying Noir's Urbanek has also used tomato powder in truffles, and here -- right here -- is where that demarcating gauge gets flung into the sea. How far is too far?
But Tracy Wood Anderson of Wine Country-based Woodhouse Chocolate boldly goes where no chocolatier has gone before. Having already created the Salty Savory Bars series flavored with Chinese 5-spice, smoked paprika, saffron, cumin and herbes de Provence (they're depicted in the top photograph in this article, next to the onion), she's now developing a line of fresh-vegetable-infused chocolates, which she plans to debut next spring. That's right: salad-in-a-choc.
"They're going to surprise people: little chocolates filled with fresh vegetables that you would find at a high-quality farmers' market," Anderson's husband and Woodhouse co-founder John Anderson told me. The full repertoire of produce that Tracy plans to use remains a secret as yet, but tomatoes and corn are definitely involved.
These ingredients won't simply be chopped salsa-style and enrobed. Rather, they'll be processed in a specialized osterizer -- "something like the ones the molecular gastronomists use," Anderson said -- to produce pure vegetable essences, which will then go into ganaches and gelées.
Pointing out that the Aztecs relished their chocolate unsweetened, Anderson said that he and his wife "are just as likely to get inspiration from meat rubs as from anything more traditional. There's no reason to believe that any ingredient simply can't work in chocolate."
As for the farmers'-market chocs, "we don't know whether or not people will like them, because it's so far out there. They're going to scare the hell out of some people, that's for sure."
(Probably even more than Parmigiano Reggiano chocs would. Or caper chocs. Maybe we'll see those in 2015.)
How to approach a tomato truffle? Or -- just guessing here -- an onion, potato or cabbage truffle?
"Clear your mind of preconceived notions," Anderson advised, "and then you will find beautiful things. What are truly some of the sweetest, most explosive-tasting things you've ever tried? Admit it: Many of them were fresh vegetables. Maybe not white-sugar sweet, but go out and pick an ear of corn off the stalk and you'll see what I mean.
"If you find the right combinations and concentrate the flavors, there's no reason in the world why you won't end up with something succulent and beautiful."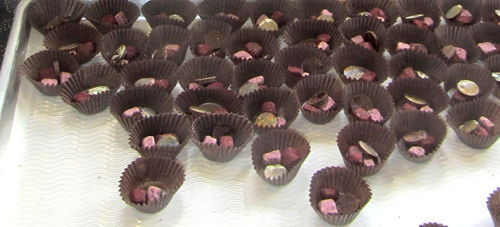 Pot de crème photograph by Vanessa Karlsson. All other photographs by Kristan Lawson. All images used with permission.
Support HuffPost
A No-B.S. Guide To Life
Related
Popular in the Community