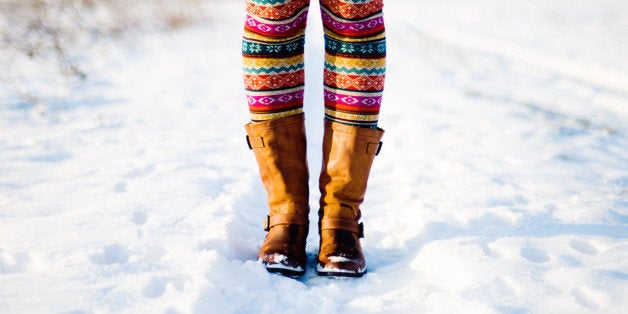 There's a constant gripping burn within my lungs as I steal a breath and for a moment hesitate to give it back. A reminder that this life we are each given is only borrowed and filled with uncontrollable uncertainty. As I climb into my snow kissed vehicle and hear the door latch, I'm suddenly engulfed with the silence and weight of life. Uncontrollable tears stream from my eyes as a well of emotion pouring out from the deepest parts of my soul -- a culmination of the incredible past month's events, the goodness that surrounds me, and the uncontrollable reminders of a life with cystic fibrosis.
Winter
The words, "please no," dispel within every tear that finds its way upon my cheek as I sit paralyzed in my vehicle awaiting to take on the day. I close my eyes and take a deep breath -- a silent prayer pleading for just one more. Each frigid piercing breath I take drenched in an overwhelming mix of grateful memories, present fears, and the reminder of an uncontrollable future. The rawness of the morning's unexpected awakening still stinging every part of my being. Awakened by coughing up excess amounts of blood set my lungs and emotions aflame -- a reminder of my life with CF and winter's arrival. My mind instantly thinking of those I love and how CF is so unfair to each of them.
Again, I take a deep breath and do my best to wipe away any evidence of tears. I make a few phone calls to my CF team and a plan is set in motion. I remind myself this is my beautiful life - the seasons will change and winter will always come. All I can do is continue living and embrace the uncontrollable realities of CF. All I can do is live honestly and boldly in this life I love so very much.
I knew the days ahead would be tough both physically, mentally, and most of all, emotionally. I knew how far I had come since a year ago. How strong I was and how I didn't want anything to threaten this beautiful life I was living. I knew it would be hard to keep my focus without some reminder of CF and its realities invading my consciousness after such an unsettling event. I knew the pain and exhaustion my body faced in the days ahead as we dug out from winter's first spell. I knew the ruthless side effects of potent drugs that awaited me. Most of all I feared people would see and treat me as fragile. But I took a breath and reminded myself that I was alive in that very moment. That winter holds its own unique and renewing beauty. That I must merely put on my snow boots and boldly leave my footprints in the newly fallen snow.
So I returned home, went straight to my studio and sang. I sang to prove to myself I was still breathing. That I could sing the same as I did the day before. I sang to feel every breath enliven my soul. I sang to feel certainty in being alive. Woven within every note was a song of gratitude coupled with a pleading prayer for not only one more breath but one more song. A song that would reflect the beauty that lies in every breath that I'm given. I cannot control the realities of CF, but I can choose to continue living this incredible life boldly and without regret.
Embrace
Life is uncertain -- for every single one of us. We are all gifted with the same type of borrowed time, only different journeys. It's how we choose to embrace our journey despite its uncontrollable uncertainties that allows us to truly live. The most beautiful of snows envelops my city this morning. The restlessness of my heart is quieted for a moment and I breathe in the beauty of the season -- embracing all its snow laden uncertainties while remaining rooted in gratitude for every beautiful breath I am given, the meaningful relationships that fill my life, and a steadfast hope in tomorrow.