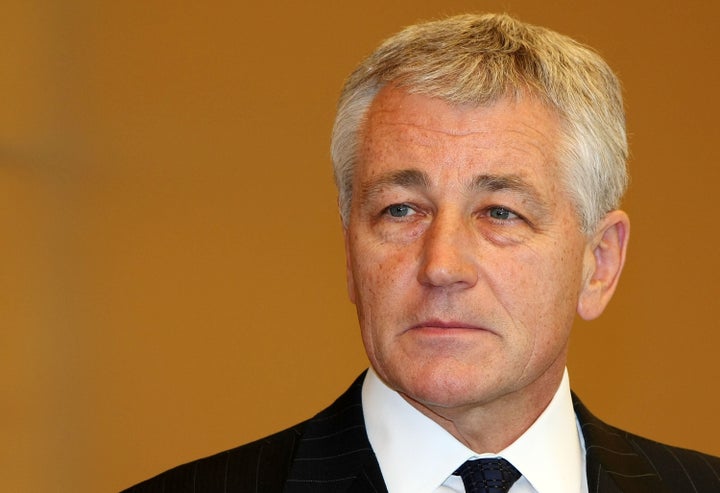 Senator
Chuck
Hagel
hasn't
spent much time at
Human Rights Campaign
dinners. I wish he had gone -- or better yet, had been invited by the organization to speak and share his views on gays in American life.
But the HRC has not invited him to speak and, to my knowledge, has made little effort to inquire about what his views about LGBT rights are, either of him or of gays who know him (like yours truly).
Hagel is a national leader who, in his role as co-chair of the President's Intelligence Advisory Board, has been focused on key problems in synthesizing and managing national intelligence. He thinks about men and women serving the nation being put in harm's way for the wrong reasons and in wars that could have been avoided. His humanism percolates through a national-security filter -- rather than having been a gay-rights advocate who then thought about national-security questions.
But Chuck Hagel is pro-gay, pro-LGBT, pro-ending "don't ask, don't tell." The only problem is that no one asked him his views lately -- including the president of the Human Rights Campaign.
Chad Griffin, the new and brilliant HRC president, has challenged the potential defense secretary nominee because of statements Hagel made in 1998 about then-ambassador nominee James Hormel. Hagel said that Hormel as "openly, aggressively gay" should not represent the United States.
Indeed, these are worrisome words from someone 14 years ago -- but in that time period, the world has changed. It should be remembered that just two years previously, U.S. Sen. Sam Nunn -- who has done so much to rid the world of dangerous nuclear weapons related materials -- had fired two of his own staff members when he learned they were gay. He viewed them as potential national-security risks.
Bill Clinton didn't have the same views of gays then that he does today. Nor did Sally Field, who gave a stunningly powerful talk at the HRC dinner this year, publicly embracing her gay son and LGBT rights. Another frequent HRC standout, Dustin Lance Black, the brilliant screenwriter of the movie Milk, is off to Salt Lake City to meet with and see people whose views today may have evolved over the last 14 years but have a very long way to go, he suggested when I ran into him at Reagan National Airport. As Black said so passionately at this year's HRC dinner, gays and friends of the LGBT community need to reach out to people to et them know we are gay and yet professional, gay and yet mothers and fathers and sons and daughters, gay and yet serving this nation in battlefields and as park rangers and in community centers. But the key part of this is reaching out, asking where people are on these issues and engaging them.
To my knowledge -- and I'm pretty well-informed about all things Hagel -- this outreach did not occur with Hagel. Concerned gay people are hyperventilating that as a Republican, he might come in and undo the gains on gay rights that have been achieved in the Pentagon.
Again, I am a big fan of HRC and Chad Griffin. I have gone to the last couple of HRC dinners as the guest of the managing partner of the mega-law firm of Paul Hastings, a straight and happily married Republican who supported Mitt Romney but is steadfastly committed to human rights and to LGBT equality. Paul Hastings is the major underwriter of the HRC dinner, and I hope that Chad Griffin or the firm invite Hagel and his wife to sit at their table and have a conversation on these issues.
Had Hagel been invited, he would have told the audience that he valued each and every man and woman who chose to serve this nation, on the battlefield and in other capacities -- regardless of his or her ethnic background, sexual identity or religion. I'm not sure where Hagel stands on same-sex marriage, but I know that he supports solid legal protections for gay families and is personally supportive of gays and lesbians.
Because I'm a national-security wonk who happens to be gay and who happens to have interacted with and followed Chuck Hagel for years. I have spoken directly about these issues with him over the years -- once for more than an hour by phone from the Broadmoor Hotel in Colorado Springs. I wrote about this experience for The Washington Note, reflecting on how my partner and I, early in our relationship, had stumbled into a New Year's Eve travel package that placed us amidst 1,000 straight couples celebrating there. Each couple got a top hat and tiara. We needed two top hats. No dice. We quickly escaped the dinner and went into a lounge with a fantastic, black jazz-singing diva who invited us to sit in the front. Then, to my surprise, as I didn't really know him well, White House Chief of Staff Mack McLarty and his wife hung out with us, loving the jazz, and were more embracing and warm to both of us than I had ever experienced in a straight crowd. It just so happened that I was invited about 18 years after that night to speak at the World Affairs Council of Colorado Springs -- and staying at the Broadmoor again brought back those memories. The hotel was packed with evangelicals there for a massive Bible-study exercise.
That night Hagel and I spoke by phone, talking at length about the wars and his concerns for the country and for soldiers and their plight. We talked about his interaction with the administration. And we talked about my memories of that night at the Broadmoor nearly two decades earlier, and my own hope that "don't ask, don't tell" would end. I told him how I thought that the ongoing purges against gay translators, particularly gay Muslim translators, working on national-intelligence cables was outrageous. We talked about this stuff.
At some point Hagel may have been a supporter of "don't ask, don't tell," but as of a couple of years ago he was not. He believed that we owed more to those who were climbing up hill to fight for this nation, who were climbing up a hill to be fairly and legally committed to the ones they loved, who were climbing up a hill to be treated fairly at work and to raise children in a loving and accepting environment.
This is the Chuck Hagel I have come to know and have respected for so many years. Hagel has lunch with Vice President Biden about once a week. They don't tell others about it -- but they are best friends. Hagel once donned a Joe Biden mask in the Senate Foreign Relations Committee on Halloween, wearing a T-shirt labeled "Vote for Me" -- when Biden was getting ready (again) to run for president. When Biden opened the door on Meet the Press on gay marriage -- saying that he had "absolutely no problem" with gay marriage -- I'm guessing Biden and Hagel chatted about it. Biden doesn't tolerate bigots or racists or people who are locked in anachronistic sensibilities, at least not on his own time. Hagel had evolved privately on these issues -- but again, no one had asked him his views.
I ran into the senator one night with his wife, Lilibeth, at a dinner where the Nixon Center was being renamed the Center for the National Interest. I was serving as the master of ceremonies for the evening -- which featured public addresses by James Schlesinger, John McCain and John Kyl, among others. Hagel, Bob Gates, Brent Scowcroft and a cross-section of D.C.'s foreign-policy elite were there -- my guess: 80-percent Republican. To my surprise and quite publicly, Hagel grabbed my hand, shook it, introduced me to his wife -- and as he had to get going, gave me a manly hug in front of quite a number of those mentioned above, including Scowcroft and Bob Gates. That's right. Hagel hugged an out gay man in a tuxedo at a mostly Republican gathering on national security. I wish I had been able to -- or had thought to -- share much of this with Chad Griffin and those in the LGBT community who had been harboring fears about Chuck Hagel.
All I can say is that like so many who are embracing our community today -- people like Mike Bloomberg, Ted Olson and Grover Norquist (yes, he is very supportive of gays in the Republican Party) -- there are Republicans whose views have evolved a lot in 14 years.
And like Dustin Lance Black said at the HRC dinner this year, we need to reach out to everyone. HRC's strident challenge was an unfortunate and, in my view, unwarranted attack on the character and humanity of Hagel.
I hope Chad Griffin, who thus far has been an outstanding leader for HRC, best I can see, walks this back in a dignified way -- and asks Sen. Chuck Hagel (I hope Defense Secretary Chuck Hagel) to speak at next year's Human Rights Campaign gala dinner. It would be awesome, in fact, to see Hormel and Hagel on stage together. That's something to think about. I should note as well that Chuck Hagel has issued a public apology to Ambassador Hormel and LGBT Americans for his insensitive remarks of 14 years ago and expressed strong support for "open service" in the military as well as for LGBT "military families." Chuck Hagel will be strongly supportive of the gains of the LGBT community in our national life -- and particularly in our military and intelligence services -- if indeed President Obama nominates this great strategic and military thinker to succeed Leon Panetta.
Steve Clemons is Washington Editor at Large at The Atlantic, where this post first appeared. Clemons can be followed on Twitter at @SCClemons.
Popular in the Community