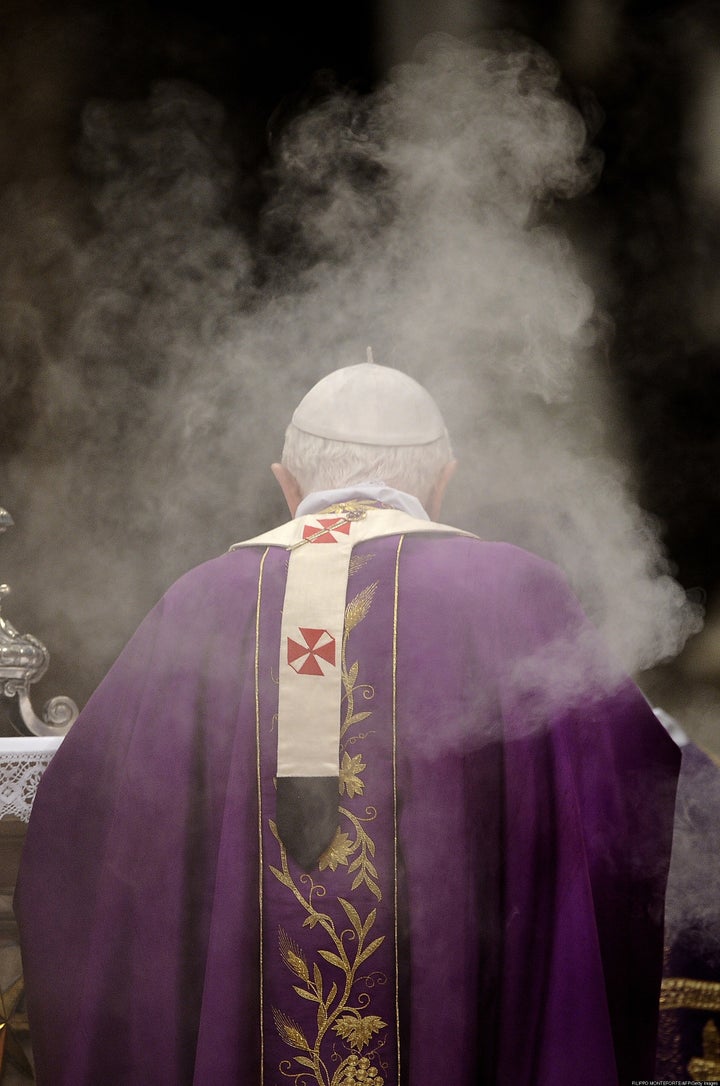 While the current headlines reflect advanced thinking by the Roman Catholic Church on topics such as condoms and the 'new princes' elections, I read little on the Vatican's response to the issue of sexually abusive clergy during Pope Benedict XVI's historic meeting of worldwide bishops and cardinals last week.

The Pontiff surely realizes that the Church cannot advance while dragging these crimes and the mayhem of conspiracies behind it. Nor can it redirect our attention by disavowing what it has done.
The opportunity for accountability, resolution and a promise for the protection of vulnerable children is now. If this chance for doggedness and truthfulness is lost, then so crumbles another pillar of civilization and hope. And if the Church is unwilling, then perhaps it is justice that it should pay with whatever is left of its integrity.
Pope Benedict XVI needs to set the stage with the full disclosure of his own record of cover-up and mishandling of the clergy abuse cases under his authority before his ascension to the Vatican's highest seat. Barbara Blaine, president of SNAP, the Survivors Network of those Abused by Priests, said last week, "Before any hopes get raised, let's remember that it's likely that every man in the room next week has ignored and concealed clergy sex crimes or is doing so right now. The prospects of substantial reform happening next week are therefore pretty slim."
If justice is to be met and satisfied and the Roman Catholic Church is to begin the long-needed healing process for the thousands of victims and survivors globally, the Church must also invite government officials, prosecutors and law enforcement officials into these meetings. The men who concealed these most heinous crimes and those involved in silencing the victims of abuse should not be allowed to solve and absolve alone. Just as guilty as the perpetrators -- the nuns and priests who raped and robbed innocent children, and who've left them forever locked in torments of their childhoods -- are those who hid and allowed decades of predatory Catholic Clergy abuse.
Long overdue is our own government's involvement on the national level. Throughout the years since the historic cases of clergy abuse in Boston and Kentucky, news media have reported on many more throughout the United States.
Now is the time for the US government to form a commission that would investigate and study the entire scope of the tragic American clergy abuse cases, more importantly the most horrendous crimes which were perpetrated against those without family or protection -- U.S. orphans. This much needed study would reveal the magnitude of the problems and the countless numbers who have been victimized along with exposing the many predator clergy, further insuring the safety of vulnerable children. We as a society know that the strongest weapon against child abuse is to arm ourselves with information and education.
Our country has just gone through an election process and numerous times we've heard U.S. citizens say they wanted a more open and transparent government. Just as Americans want and deserve a more open and transparent government, victims of clergy abuse around the world want and deserve the Church's hierarchy to finally become more open and transparent concerning the identities of predator priests and nuns. These should include those criminally convicted in courts, those identified by victims and the clergy moved from one jurisdiction to another because of sexual abuse allegations.
Just as each state in the US has created their own convicted sex offender registries which list those convicted in their respective state, the Church's hierarchy should also create a list of all convicted or suspected predator priests/nuns for each country in the world. The Roman Catholic Church needs to let the world know the mistakes it has made by re-affirming the steps they have taken and the policies they've put in place with justice and action. William F. McMurry, an advocate and expertise for abuse victims wrote, " ... without accountability, justice will remain an elusive butterfly."
Survivors of clergy abuse live with devastating and debilitating emotional scars. It is only fair that the Church also live with emotional scars by providing a list of every suspected predator clergy in the world both current and past.
Pope Benedict XVI has said the Church has a profound need to learn forgiveness. But too often the Church confuses being forgiven with righteousness. Many survivors know that absolution is not justice, nor an excuse or exoneration; it is however an action -- a necessary progression toward moving forward and healing. The Roman Catholic Church needs to know that they too need action for civilization to move forward and to heal -- just as every survivor and child who has ever suffered in silence and self blame deserves and should be allowed to heal and be protected with action against further clergy abuse. This begins with the Church disclosing and revealing.
My name is Kim Michele Richardson and I am a survivor of clergy abuse. I was abandoned as an infant to a Roman Catholic Orphan Asylum for nearly a decade.
Popular in the Community