Frank Sinatra and Winston Churchill met only once, so far as I know. On June 14, 1958, Sinatra was in Monte Carlo for the world premiere of his World War II film, Kings Go Forth. Winston Churchill was in Monte Carlo to gamble. On this particular evening, according to Churchill's last private secretary, Anthony Montague Brown (who was an eye-witness), Churchill stood at the entrance to the Monte Carlo Sporting Club (an annex of the Casino), waiting for his car, when Frank Sinatra "bounced up and wrung him by the hand, exclaiming, 'I've wanted to do that for twenty years!'
"Churchill, who didn't like to be touched, bellowed: 'Who the hell was that?'
"I told him," Montague Brown recalled. Churchill claimed not to know the name.
In 1962, Sinatra came to London to record the only studio album he would ever make outside of the United States, a disc of songs entirely by British composers, to be titled: Sinatra Sings Great Songs from Great Britain. Sinatra sent a request to Churchill that he paint a portrait for the cover. The portrait never appeared. Sinatra settled on a generic silhouette of Big Ben for his album.
Tomorrow, December 12, is the 100th anniversary of Frank Sinatra's birth. Sinatra's singing is as much a part of me as... well, Churchill style. The only thing that the two men shared, however, so far as I can see, is that each did what he did "My Way." Beyond that, they were as different as bourbon (Sinatra's drink) to scotch (Churchill's), which is to say, similarly colored whiskeys but with wildly different tastes.
I caught the oddest Sinatra show in London a few months ago, a truly ghoulish affair trumpeted as Sinatra - The Man and his Music. It featured rare footage of Sinatra singing (mostly on various television shows, it appeared), hologramatically beamed onto the stage of the London Palladium (where an alive Sinatra made his UK debut in 1950). This spectral Sinatra was accompanied by a live 24-piece orchestra pumping out very loud recapitulations of the original Nelson Riddle, et. al., arrangements. A passell of June Taylor-like dancers pranced in and out of the projections, as Sinatra sang on (mostly in black and white), blissfully undisturbed by the sparkly necrophiliac doings all round him. I came away with one thought: How badly do we miss Frank Sinatra's departed performing presence? Very much, for sure, but this much? I don't think so.
I have played two tiny parts in this year's Sinatra Centennial fuss. USA Today asked me to review SINATRA: The Chairman, James Kaplan's second and final volume in his voluminous new Sinatra biography. This I did, and you can read that HERE.
I also contributed a Foreword and some lengthy captions to a marvelous new collection of Sinatra photographs taken by the legendary Broadway photographer William "Popsie" Randolph during Sinatra's early years in New York City. Assembled by Popsie's son, Mike Randolph, FRANK SINATRA: New York, NY 1939-1956 has a subtitle that says it all: "Intimate Portraits of a Young Frank Sinatra."
You'll have to buy the book to see the pics but I thought I would share the Foreword now as an added inducement, and as my own centennial tribute to the most Churchillian singer of them all -- in fact, the one and only.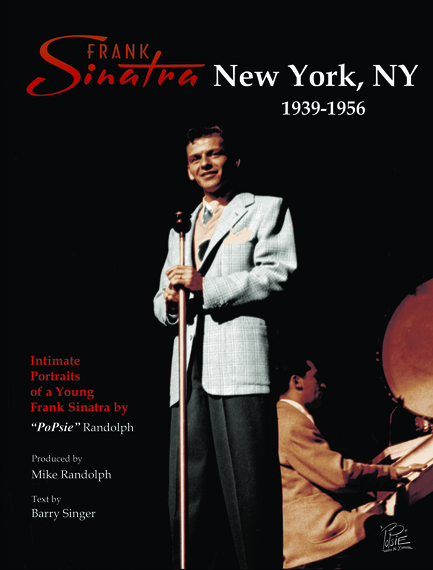 Looking at pictures of Frank Sinatra singing is not nearly as great as hearing Frank Sinatra sing but the payoff is almost as compelling. The photogeneity of Frank exerts its own fascination. Factor in New York as the setting and Sinatra's youth as the subject and you may find yourself growing lightheaded as you page through this book, with an uncontrollable urge to scream: "Frankieee!"
Go ahead. Many of these images have never been seen before and they are worth screaming about, conjuring as they do an explosive young Frank Sinatra at the moment of his detonation. And after. The aftermath is almost as intense as the moment itself.
New York is where Frank Sinatra first came to make it as a singer. Having dropped out of high school, Sinatra, as a teen, was on a downward track of short-lived dead-end jobs -- catching hot rivets in a Hoboken shipyard; unloading book crates in a publishing warehouse; working the night shift on the docks cleaning machinery in freighter holds -- until the morning when his monosyllabic fireman father, an ex-boxer, looked up from his breakfast and told his no-good, seventeen-year old son to "Get out." Sinatra dutifully packed a small suitcase and bought a ferry ticket across the Hudson River to New York.
He knew only one thing at this point: That he wanted to be a singer, like Bing Crosby. For empirical proof, he looked to the city. But his voice, still immature, impressed none of the low-level song business pros he sang for. Sinatra soon caught the ferry back home.
The closest he next came to Manhattan was a club called the Rustic Cabin in Englewood Cliffs on the New Jersey Palisades, just across the recently completed George Washington Bridge. The Rustic Cabin was a murky Jersey joint with a faux log-cabin facade. Its only link even tangentially to the city was a radio wire for live broadcasts over New York station WNEW. Sinatra sang at the Cabin as a waiter. One night, while singing "Night and Day," he was heard in New York by someone who mattered. In a room at the Hotel Lincoln on Eighth Avenue and 44th Street, Harry James -- Benny Goodman's former-trumpet star -- stopped whatever he was doing to listen to Frank Sinatra on the radio. James liked what he heard and, as a recently minted big band leader himself, decided to go looking for this boy singer to see if he was for real.
You might, in fact, say that Benny Goodman was the inadvertent correlation between Frank Sinatra's future and these photographs by Popsie Randolph of Sinatra capturing that future. Born William Sezenias to Greek immigrant parents in Manhattan in 1920, "Popsie" Randolph, as he came to call himself, dropped out of school in the eighth grade and, scuffling for money during the Depression, worked as a "towel boy" at a midtown bordello frequented by musicians like Benny Goodman. Goodman eventually hired Randolph as his "roadie" (or "band boy" in the parlance of the age), setting up the Goodman band's instruments.
It was Goodman who gave Popsie his first really fine camera (as a wedding present) and bankrolled him as a photographer. It was Goodman's trumpet star, Harry James, who gave Frank Sinatra his start as a band vocalist in the summer of 1939. Sinatra made his name with James, then quickly left him behind after roughly a year to join Tommy Dorsey, perhaps the preeminent big band in the country. It really was an astonishing rise for a no-good kid from Hoboken and the voracious Sinatra soon capped that rise by leaving Dorsey less than two years later and going out on his own as a single.
This is where Popsie Randolph, a voracious riser in his own right, catches up with Sinatra and where our book really levitates. Though Popsie also managed -- as you will see -- to photographically document Sinatra's relatively fleeting time with both Harry James and Tommy Dorsey, he also miraculously chronicled what you might call Sinatra's immaculate conception. On December 30, 1942, Frank Sinatra officially launched his solo career with an appearance at the Paramount Theater in Times Square, opening for the Benny Goodman Orchestra. Popsie Randolph was there, with his camera. So was Jack Benny, who introduced Sinatra that day and recalled the resulting response of 5,000 berserk audience members: "I thought the goddamned building was going to cave in." Goodman himself put it even more succinctly, as the sonic roar hit him from behind: "What the f--- was that?"
Popsie Randolph managed to snap great pictures of this seismically historic moment. Popsie loved to follow Frank Sinatra around; from the get go, Sinatra may have been his favorite camera subject. As a result, Popsie Randolph was in the right place at the right time -- as he would be again and again in a photo-taking career that would ultimately encompass four decades and every important personality, from swing to rock and roll. Looking at his photographs today of young Sinatra you can see all of the kid's history in his expression and in his body language; the cocky assurance and the fidgety fella from Hoboken, the innate star and the raw rookie still getting an adolescent boot out of it all; the boy and the man.
Calling all HuffPost superfans!
Sign up for membership to become a founding member and help shape HuffPost's next chapter