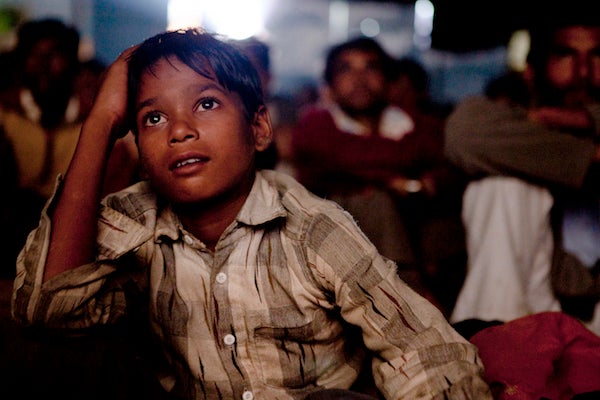 In a recent interview, filmmakers Shirley Abraham and Amit Madheshiya confessed that "through the eight years of making this film, we have often felt a burden — admittedly a beautiful one — of the grand narrative of cinema that we were to create." If it is that burden which brought about the cinematic masterpiece 'The Cinema Travellers' turned out to be, let us all carry that load, gladly on our shoulders. Their film is a wonder of creativity, a jewel of artistic vision that few documentaries have ever equaled or can even dream to come close to.
When the film premiered in Cannes last year, where it was awarded the Special Jury Prize, l'Oeil d'or for Best Documentary, I got to watch it remotely on my computer. In those precious moments, while Abraham's and Madheshiya's masterful filmmaking sultrily drew me into the screen, I felt like an Alice in cinematic Wonderland. I'd stepped into a mystical world, one I shared with the film's subjects, three Indian men who struggled to continue to enrich the world with what cinema alone can provide. What happened to these men's audiences, entranced as the villagers were with the films showing on those big sheets, at those makeshift screening venues, that's how I felt. I laughed with them, I cried with the film, and I fell in love with its filmmakers.
Then, in Dubai for DIFF in December — try saying that three times fast! — I finally met Abraham and Madheshiya, and got to watch their work as it was meant to be watched — on the big screen, enveloped in its emotion-inducing score by Laura Karpman and Nora Kroll-Rosenbaum. It was an experience that left me tearful, joyful, in awe and full of hope. I even broke down during our interview the next day, while we talked about the men featured in their film. Those men they describe brilliantly so in their synopsis, "a benevolent showman, a shrewd exhibitor and a maverick projector mechanic bear a beautiful burden — to keep the last traveling cinemas of the world running." Mohammed, Bapu and Prakash had become part of my life somehow, thanks to the soulful care of their documentarians. And Abraham and Madheshiya had captured a place in my heart that would never belong to anyone else, ever.
'The Cinema Travellers' screens next in the US at IFFLA in Los Angeles on April 7th and at the Museum of Moving Image in NYC on April 15th.
Following are the highlights of our talk.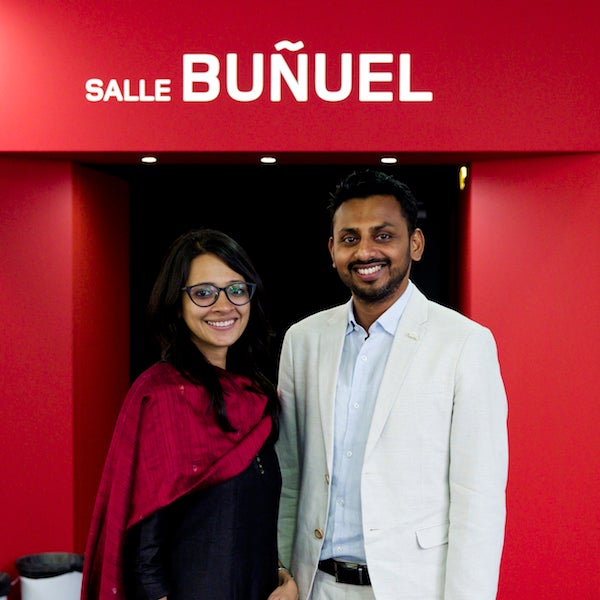 You own personal chemistry is so wonderful. I sense such respect for one another and it's really moving. How did you connect, Amit and Shirley, and become co-directors?
Shirley Abraham: It happened such a long time ago, in college.
Amit Madheshiya: We met in college, and we did some projects together there. There is a beautiful synergy that we also feel and there are no egos, there is no conflict of any kind. And our opinions differ most of the times, we fight over things, creative things.
Abraham: Also we see different things in a frame. I would always see the person, Amit would always see the image.
Madheshiya: I don't connect with people as much as Shirley, so I'm only looking at the aesthetics of it all.
That's a great combination right there as well!
Abraham: We don't see the same things but it translates into the same vision somehow.
How did you find your composers?
Madheshiya: We were very fortunate to be at a Sundance Labs, it was a music and sound design lab and that's where we met Laura Karpman. She was one of the advisors at the lab. It's a week-long lab and you work on one scene of the film and then you try to create a piece. The challenges you come across you discuss with your advisor. And that's when we met her. She is an amazing amazing person and has this kind of energy. And she always looks at possibilities, such a positive person. In her company we always feel like we are not doing enough in our lives. We should do more! We immediately connected to her.
Abraham: We both don't have much of a background in music, and until this time at the lab at Skywalker Sound, we were really hesitant about music. In general, we would always think because of where the film is set, sound design will hold the key to unlocking things for us.
Sound design instead of a soundtrack?
Madheshiya: Yes. The way we look at cinema for us music is an intrusive element, a foreign element. Like I'm intruding into this world. That's how we thought of music. And then we met Laura.
Abraham: Who one day caught us in the corridors of Skywalker and I think she understood our hesitation. She said, "nobody ever cried over the screeching of whales." You can get that sound perfect, as perfect as it can be, but nobody cries over that. She also understood our apprehensions about the photography montage at the end, and how we wanted the viewer to remain in the moment, not have the music take them out of it and she addressed that by saying that we wanted the emotional equivalent of a hug. Just talking to her she made us understand gestures in terms of emotions — us, who are so hesitant towards music. She unlocked something for us.
Although you've been working on many projects before, at this point you are like the debut actor who wins the Oscar. You've crashed onto the scene in Cannes and conquered our hearts. Do you feel pressure to follow that?
Madheshiya: I would say no. Because while we were making this film, Cannes was not even our ambition. Whenever I am making something I make it for myself. It sounds very cliche but I should be happy with what I'm making. I should enjoy it. And I imagine there might be other people like me who will enjoy it. When we were making this film it was for ourselves and for people like us. When we go into our next project it will be the same thing, we'll give it our best and we'll make it again for ourselves and hope we can please ourselves with it. And hope others will enjoy it too.
Abraham: I find filmmaking very difficult. It scares me every time I look at a story because there is a certain density to stories and they keep you guessing, they keep you on your toes. They terrify you. As long as I continue to feel this mix of delight and terror, as long as I think I need to keep becoming a better filmmaker worthy to tell these stories that come to me, I think I'll be fine. The day I find it easy, is when I should really be worried for myself.
All images used with permission.
Calling all HuffPost superfans!
Sign up for membership to become a founding member and help shape HuffPost's next chapter
This post was published on the now-closed HuffPost Contributor platform. Contributors control their own work and posted freely to our site. If you need to flag this entry as abusive,
send us an email
.