I was pleasantly surprised when my DisrupTV co-host Ray Wang, CEO and founder of Constellation Research, informed me that Dion Hinchcliffe had joined his firm. I consider Ray and Dion as two of the very best and most respected software enterprise analysts and thought leaders. Both are also two of my favorite follows on Twitter because of the incredible quality and quantity of content and personal engagement. To learn more about CIO and digital business transformation, Ray and I invited Hinchcliffe to join us on DisrupTV, a weekly thought leadership show focused on business, leadership and innovation, featuring Fortune 1,000 CXOs, successful startup founders, venture capitalists, and technology/media analysts.
Dion Hinchcliffe is an internationally recognized business strategist, bestselling author, enterprise architect, industry analyst, and noted keynote speaker. He is widely regarded as one of the most influential figures in digital strategy, the future of work, and enterprise IT. Hinchcliffe is currently Vice President and Principal Analyst at Constellation Research. Hinchcliffe is a recognized industry expert on the topics of digital transformation, digital workplace, social collaboration, API strategy, social business, Service-Oriented Architecture (SOA), online business models, CIO issues, digital business, and next-generation enterprises.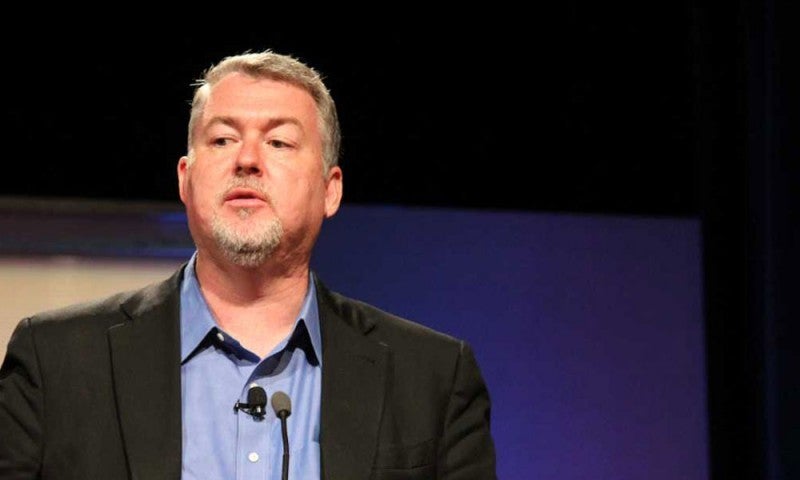 Hinchcliffe's thought leadership can be found on ZDNet, ebizQ, On Digital Strategy, and the Enterprise Irregulars. He also co-authored Web 2.0 Architectures for O'Reilly as well as the bestselling Social Business by Design. He was recently identified, through data analysis by Robert Half Technology, as one of the top 3 people mentioned most by CIOs worldwide. Industry analytics firm Onalytica ranks Hinchcliffe as the #2 influencer globally on the subject of digital transformation. He has keynoted or spoken at hundreds of leading industry conferences Hinchcliffe is the best follow on Twitter (@dhinchcliffe) for business leaders responsible for digital transformation.
In the digital age, what are the characteristics of a great CIO? According to Hinchcliffe, today's successful CIOs have moved away from being 'Dr. No' and controlling to being more inclusive and collaborative. Today's effective and successful CIOs also put the customer first. Customer experience is the top of their agenda. CIOs that help deliver strong customer experience work for companies that outperform the industry. Customer centricity includes both internal and external customers.
Who has the most influence in business, IT or marketing? The CMO still has a lot of power and influence but the CIO is who makes things happen. Hinchliffe believes that eventually the chief digital officer will report to the CIO.
Successful CIOs have a startup mentality. — Dion Hinchcliffe
How important is the startup mentality for CIOs? The startups are bringing most of the innovative ideas in terms of how to make digital happen. A startup mentality that drives agility, scale, and rich engagement models are what CIOs need to mimic. CIOs with a startup mentality also become talent magnets. With digital infused in everything that we do, hiring good talent is no longer enough. CIOs need to create a work environment that attracts the very best digital savvy talent. Organizational survival will depend on how effectively CIOs can recruit in a hyper competitive market.
Which industries attract the best IT talent and are most successful with digital change? Companies that have a technical background are the most effective with business digital transformation. Hinchliffe points to General Electric as an example of great company with top talent and successful transformation. Financial Services industry are also strong with IT talent and ability to drive digital transformation. Manufacturing in certain sectors and Transportation industries are also demonstrating advanced digital capabilities. The best technology talent want to work for digital native software companies (companies born in the cloud, that are mobile, social and data/AI driven).
What leadership lesson is most important for CIOs? Hinchliffe has developed a thesis about CIO leadership success based on collaboration and openness. It starts with recognizing that a CIO cannot digitize their company, customer and partner environments on their own. The key lesson is this: to get the most value from something, you have to give and be open. CIOs have to open their platforms and be a part of a ecosystem - customers and partners. A platform business invites others to help you digitize and scale your products and services. A 100X more IT requires CIOs to give up control and designing for velocity and scale. The 2017 imperative for CIOs is agility and scale.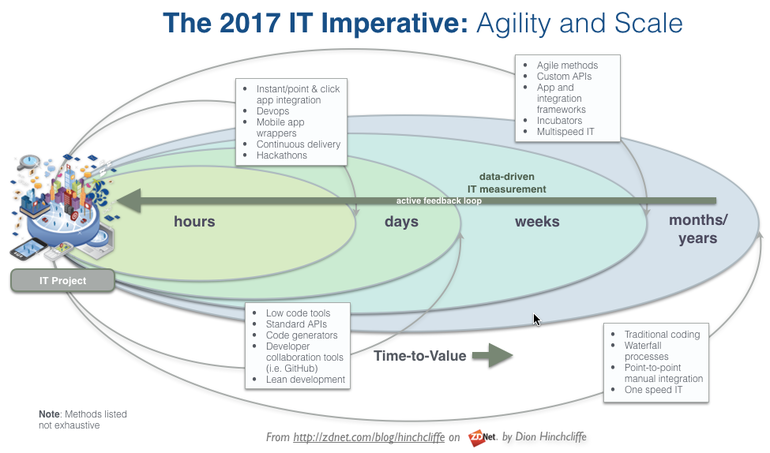 Successful CIOs design for velocity (direction and speed) and control. — Dion Hinchcliffe
What are emerging technologies for rapid digital transformation? Hinchcliffe identified 5 emerging technologies for rapid digital transformation: BI/analytics/big data, public cloud, devops, mobile apps and private/hybrid cloud. According to research, 94% of executives are feeling significant pressure to move quicker than ever to keep up with the pace of technological change.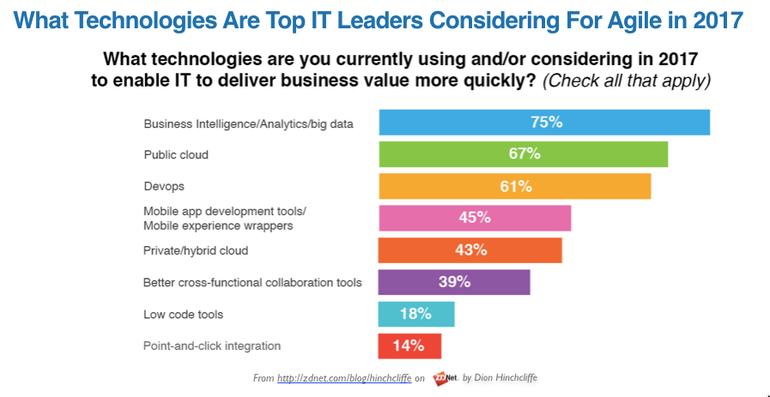 Successful CIOs are focusing on data to improve decision and action velocity. Hinchcliffe notes that based on his research of CIOs, data is the #1 need for agile transformation. It's about instrumenting your business to get KPIs faster, run projects faster, to make optimization and changes faster and build a robust flow of data. Information to make faster and better decisions is the top success factor. Fast feedback loops, that includes employee and customer collaboration, is key to building organization's agility muscle. This is about getting to the grounded truth quickly and deliver value to stakeholders as quickly as possible.
Who controls the marketing tech stack, the CIO or the CMO? The broader trend is that the CMO wants control. The marketing tech landscape has gone from a few hundred in 2011 to nearly 6,000 new companies today. The CIO does not have the competency to keep up with the rate of technology change in marketing. The CMO is much closer to marketing and can evaluate the needs better. Digital marketing organizations are growing at 20-30% a year, much faster than IT growth. The CMOs are involving CIOs for system integration and privacy and security requirements.
What is the current state of enterprise collaboration? According to Hinchcliffe, collaboration is again a very hot topic based on new set of tools that leverage AI and intelligent apps to improve work productivity. The enterprise collaboration space is seeing a burst of innovation. Hinchliffe notes the following advances in collaboration including: 1. emerging technologies like AI, NLP, and bots, 2. a trend toward lightweight text chat and 3. newly successful experiments in integrating productivity tools together with collaboration apps.
Artificial intelligence makes collaboration better. — Dion Hinchcliffe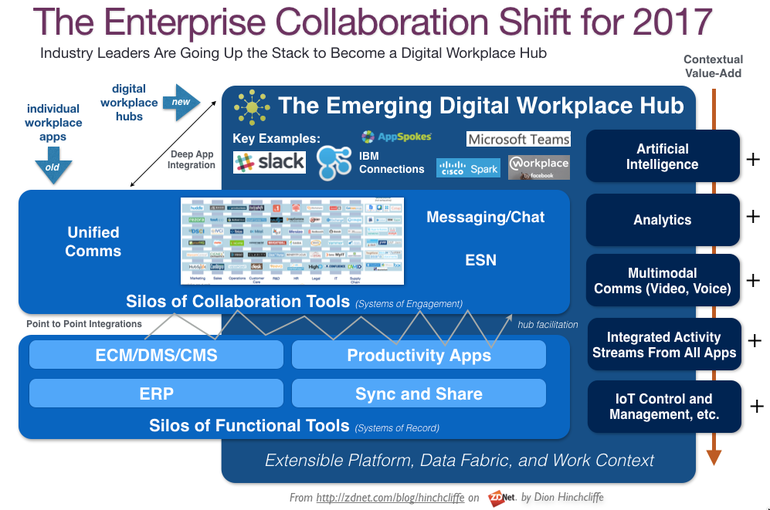 Hinchcliffe will focus his research on the new c-suite. Leadership is changing forever and being transformed with digital. Hinchcliffe will study the future of work and co-creation of value by analyzing and learning best practices from the best companies in the world. He has written extensively about the digital workplace and its richness, diversity, and shifting environments. He has identified the top challenges of today's digital workplace including explosive growth of apps and devices, shadow IT, communication and collaboration apps, low employee engagement and more.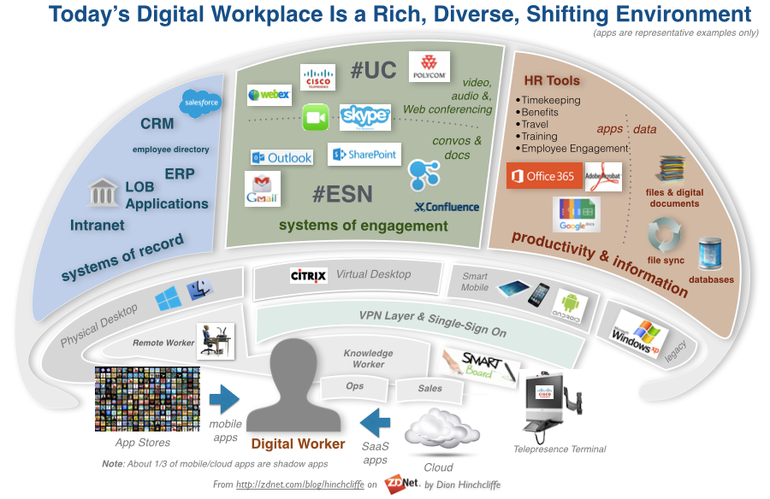 To learn more about Hinchcliffe's research focus areas and our in-depth conversation on digital transformation, please view the video conversation above and follow Hinchcliffe on Twitter at @dhinchcliffe.
Calling all HuffPost superfans!
Sign up for membership to become a founding member and help shape HuffPost's next chapter
This post was published on the now-closed HuffPost Contributor platform. Contributors control their own work and posted freely to our site. If you need to flag this entry as abusive,
send us an email
.