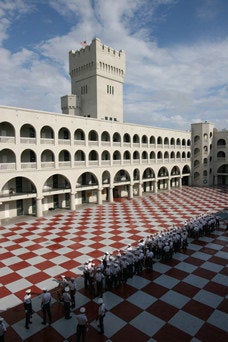 After Penn State's horrific abuse scandal came to light last week, another college has come clean about an abuse allegation on their campus.
On Saturday, the Citadel, a South Carolina military academy, said it lamented not doing more when sexual misconduct allegations surfaced against one of their camp counselors four years ago.
Louis Neal "Skip" ReVille was an alumnus of the Citadel and a counselor at the Citadel summer camp. In 2007, the college was informed of sexual misconduct allegations against ReVille which they did not pursue. ReVille was since charged with criminal sexual conduct with a child and was arrested last month.
In 2007, the college received an allegation that five years earlier, ReVille invited two campers at The Citadel Summer Camp into his room to watch pornography. They did not touch each other, but engaged in sexual activity, the college said.

"Though the general counsel was unable to corroborate the accusation, the college continued its investigation with the camper's family, who made it clear they were very concerned about maintaining their privacy and not having their names publicized... Despite the concerns of the family, whose right to privacy was foremost on our minds, we regret that we did not pursue this matter further," John. W. Rosa and Doug Snyder, chairman of The Citadel Board of Visitors, wrote in a statement.

The Citadel, in Charleston, South Carolina, said a review of ReVille's records at the time revealed no other complaints, and his file included a clean background check. He was a highly respected cadet and denied the accusation, the college said.

According to Reuters, after ReVille graduated from the Citadel, he became the principal at Coastal Christian Preparatory School where he coached sports for several years.
"It seemed fun and OK," a mother of a boy who went out with ReVille to the Post and Courier . "Now, I have nightmares that I let that happen without saying a thing."
Related
Popular in the Community