Will this week bring an agreement to keep the world from tipping into irreconcilable climate change?
Perhaps, but regardless of the headlines from the Conference of the Parties to the United Nations Framework Convention on Climate Change (or the far easier COP21), something very important is happening in Paris.
Away from the glare of celebrity speakers in Le Bourget, away from the high-stakes negotiations over global goals, some of the biggest gains for the environment are happening on the streets of cities all around the world.

The City Century
Cities are already taking action to change our climate future, and their leaders have the power to make huge changes in how millions of people interact with the environment.
We're entering a time that former New York City mayor Michael Bloomberg calls "the city century," when three of every four people on Earth will live in a city. And many major cities are coastal, where the impacts of rising seas are immediate and serious.
"Cities are climate leaders, they are in the best position to effect real change. The actions we take at a local level will have a global impact and, by improving our city, we will be helping create a better world for today's urban citizens and generations to come," Rio de Janeiro Mayor Eduardo Paes said in a recent announcement about his city's climate efforts.
And at a time when US efforts to respond to climate change are mired in partisan gridlock and very real foreign policy and security concerns are occupying global leaders, cities have the ability to be entrepreneurial - testing solutions and taking quick action.
Pedal Power

Doubtful? My favorite example saves thousands of tons of carbon each year by shifting urban commutes from cars to bicycles. Paris created Velib in 2007, London and Washington DC followed in 2010. Boston, near my home base, launched its Hubway system in 2011 and since then has tracked some 2 million rides - offsetting more than 80 tons of CO2. Today there are more than 700 bike share programs operating in cities all over the world, trumpeting similar results - all because cities are listening to one another.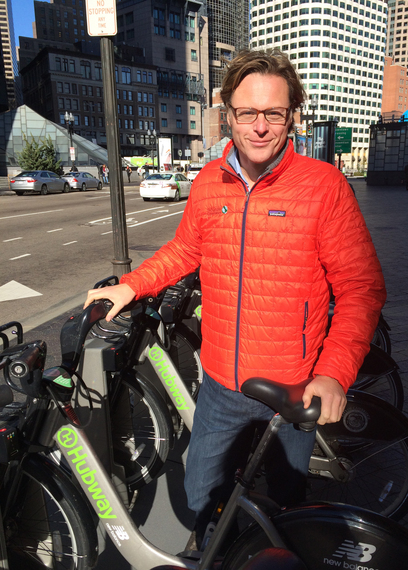 Prior COP meetings led to the Compact of Mayors - a coalition of more than 100 cities (including my current home city, Boston) whose leaders have pledged to reduce greenhouse gas emissions, pursue solutions for climate resilience and track and report their progress with full transparency.
Collectively, these cities are on track to deliver half the world's emissions reductions by 2020. And recently, Rio de Janiero was the first city to become fully compliant with the compact's goals.
Cities are competing to attract resident by becoming greener, more sustainable places where the next generation wants to live. As Michael Bloomberg said in a great piece for Foreign Affairs earlier this fall; "No longer do mayors see the economy and the environment primarily as conflicting priorities."
Communities Must Lead

Whether developing bike shares, planting trees to help clean the air, developing parks and other green spaces that help cities manage stormwater, planning for changes in sea level or ensuring access to nature (indoor and out) to improve people's lives, small changes matter. The Conservancy's global cities program is focused on these on-the-ground solutions that can be tested, proven and replicated around the world to help communities adapt to a changing climate.
In the aggregate, these actions might not attract headlines, but they can transform how we live in cities and they give me hope for the future of our planet.
I'm proud of my colleagues from The Nature Conservancy who are in Paris this week, working to change the world. But we can't all be there. We can, however, all head down to city hall to share our concerns with our mayors and city councilors. We can ask our community leaders their plans for addressing climate change before we vote in those quiet off-year elections.
And maybe when I do, I'll go by Hubway bike.
Pascal Mittermaier is the Global Managing Director for Global Cities at The Nature Conservancy. You can follow Pascal on Twitter @PascalMitter and learn more about his work at nature.org/global.
REAL LIFE. REAL NEWS. REAL VOICES.
Help us tell more of the stories that matter from voices that too often remain unheard.