Friday the 13th, November, 2015. Terrorists attack. 132 people killed and 352 wounded. Why Paris? Why Paris again this year? Why the City of Light and Literature, of Art, Painting and Architecture?
I listen to the survivors of that terrible night. A young man named Thomas Tran Dinh who worked for IBM in Paris was in the Bataclan night club with friends watching the American band, Eagles of Death Metal. Thomas had moved up to the front row to hear his favorite song, "Oh Girl." That move saved his life. Assassins with AK-47s and suicide bomber vests broke in, and began shooting for fifteen minutes. 89 were massacred there. Thomas responds by saying:
I cheated death. It's easy to hate. We have to love each other so the world will be a better place.
The night of horror went on with simultaneous attacks in five more locations: outside a stadium where France played Germany in a hard fought soccer match with President Hollande in attendance. In addition to the Bataclan, the suicide bombers hit four restaurants where Parisians and tourists were dining. The victims were mostly young people out to relax and enjoy their Friday evening, never dreaming it would be their last. Over fifty were from other countries. Their stories are painful to hear. Nohemi Gonzalez was a 23 year old engineering student from El Monte, California. Her mother who is Mexican said to remember that Nohemi was a young Latina who had worked very hard for what she had accomplished. Her dream was to study in Paris.
Seven of the assassins are dead. One is still missing. Accomplices were picked up in Belgium. More must be found. The Parisians were ordered to stay in their homes. But they came out to make a memorial shrine with lighted candles at each location to honor the murdered and wounded. At the various impromptu ceremonies, and after the President spoke to the entire Senate, you heard the words of La Marseillaise, the national anthem, being sung spontaneously. The French spirt is indomitable, and they will always stand up for the lost and slaughtered.
Allons enfants de la patrie! Le jour de gloire est arrivé!... Aux armes, citoyens! Formez vos bataillons! Marchons, marchons!
Claude-Joseph Rouget de Lisle
I was lucky enough to spend half of my twenties studying film and working with the great French filmmaker, Eric Rohmer, in Paris. As Victor Hugo says, "if you study in Paris, you are born again there." Paris became and remains the second home of my heart.
He who contemplates the depths of Paris is seized with vertigo. Nothing is more fantastic. Nothing is more tragic. Nothing is more sublime.
I believe that many people feel this about Paris. The shock caused by the monstrous killings Friday night reverberated around the world. The Blue, White and Red of the French flag was emblazoned on the Empire State Building, the Giant Christ Statue in Rio and the Opera Houses in Sydney, Australia and Dubai, in solidarity. The world mourned because the City of Light belongs to us all. And we all felt violated.
I usually end my column with a recipe. It seems frivolous in light of what has just happened in Paris but no one appreciates good food like the French. And Paris is also a city of great restaurants and tiny pastry shops that make wonderful croissants and elegant meringues. And cafes where you can have a great omelet. The open market on the rue Mouffetard where you can find fresh eggs and fantastic goat cheese. Go and have a great couscous in the Latin Quarter. So, thinking of all my dear friends there, and with a heart breaking for the blow dealt to my beloved Paris, I offer this recipe from our favorite French chef, the great Eric Ripert, owner of Le Bernardin in New York City. Chef Eric gives his version of an omelet called a Zucchini Mint Parmesan Frittata which makes use of all of the end of season vegetables. Thanks, Chef Eric.
Zucchini Mint Parmesan Frittata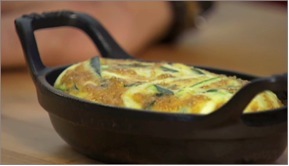 Eric Ripert says, "A frittata is a wonderful way to use up the end-of-season vegetables in a simple dish. It is very similar to a traditional omelet, except the filling is mixed in and it is not folded. This frittata is made with tender zucchini, fresh mint and aged parmesan, a perfect meal for any time of day."
2 large eggs 1/2 zucchini, julienned 2 tablespoons Parmesan, freshly grated 3 mint leaves, shredded by hand 1 tablespoon olive oil fine sea salt and freshly ground pepper
Heat toaster oven to 400°. Place the eggs in a stainless steel bowl and whisk well. Add the zucchini, Parmesan and mint. Season with salt and pepper. Brush the gratin dish with olive oil and pour the egg mixture into the dish. Bake for 8-10 minutes or until the eggs are just set, and lightly browned. Let stand 2-3 minutes and serve warm (can also be served at room temperature. Copyright AVEC ERIC 2008
This recipe and many other family favorites are available on DishandDine.com. Stop by and become part of this grass roots global food community!
DishandDine - It's All About Food http://www.dishanddine.com http://www.facebook.com/DishandDine http://www.twitter.com/DishandDine
REAL LIFE. REAL NEWS. REAL VOICES.
Help us tell more of the stories that matter from voices that too often remain unheard.