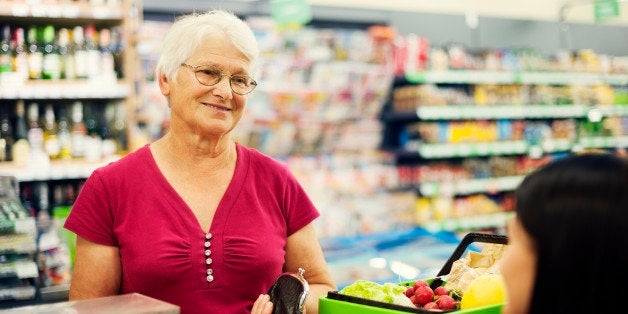 As my mother's Alzheimer's progressed, I learned that it's often the little things that make a big difference. I remember a cashier at a chain store being patient with my Mom while she proudly purchased some festive socks versus a few rather rude shoppers who nearly toppled the tiny lady who shuffled slowly down the aisle. On many days, I felt lonely and isolated as Alzheimer's tightened its grip on my mother's life -- and mine.
I recently heard about a dementia-friendly resolution passed by the city of Azusa, California in partnership with Silverado Sierra Vista Memory Care Community. I wanted to know if my community could follow this practical, innovative blueprint since many of my friends are Alzheimer's caregivers. Among them is Pat who cares for her husband Bob. Her greatest challenge today is helping him negotiate the outside world:
When Bob was still driving, he was shopping in the Brewster Bookstore and suddenly forgot how to pay. He told the clerk he was having difficulty remembering what to do next, and he handed her his wallet. She took the credit card out and helped him purchase a book for me.
This small act of kindness and understanding did a world of good.
The basic human impulse to offer a helping hand is the message behind Azusa's dementia friendly resolution. Ed Blomendahl, Senior Community Ambassador at Silverado, assembled a community task force whose mission includes educating the community and encouraging respect for people living with memory impairment. For Ed, it's personal. He watched his own family struggle in the early 1980's to find resources for his grandmother who was battling Alzheimer's: "No one could explain what it was or what it meant."
Barbara, a caregiver for her husband David, attended Azusa dementia education classes which are held at Silverado. They are free and open to the public. For Barbara:
There is nothing more difficult than being out in 'the real world' with a family member who has cognitive impairment. You're constantly worried about them wandering, saying something inappropriate, or having episodes that are aggressive, physical or loud.
The stress of the simplest excursions can easily tip one way or the other. "Whenever my daughter and I take David somewhere where the staff is gentle and understanding, it is great for the person with dementia," comments Barbara, "but even better for the family members who are so used to seeing faces of fear or even disgust." She spoke about one gentle gesture that was extended with great dignity: "We used to take David to a little restaurant where the maître d' remembered us. He was always so courteous to my husband and would ask me quietly (so David couldn't hear) whether or not he should bring his meal pre-cut to make it easier to eat."
The "real world" can be a frightening place for someone struggling with dementia, but thankfully there are folks who strive to make our communities easier to navigate. Kat, a server at Marie Callender's, attended dementia training and made small adjustments for her memory-impaired customers: "I learned that too many options might be confusing and cause the guest to become flustered or embarrassed. Instead of asking 'Do you want to add soup or salad with your meal today?' I'll ask 'Do you want to try our potato cheese soup?'" Kat has found reward in a new approach: "The training at Silverado made me realize how important body language and eye contact are when interacting with someone who has dementia. They may not understand completely what I'm saying but the feeling they get from my body language is important. I might stand at a table and take an order looking at my notepad for one table but at a table with someone who has dementia I will kneel down to their level so I'm not intimidating."
Many studies have suggested that exercise is good for the brain and can help ease certain Alzheimer's symptoms. Since exercise can be a both a joy and a challenge for the memory-impaired, Tori, a fitness specialist for Azusa's Triad Gym, also participated in the Silverado training. Her motivation for educating herself had everything to do with the mind-body connection: "We have elderly clients who enjoy the many benefits of being in the gym and being with other people. If trainers know how to communicate with someone who has dementia, they can create a more inclusive environment."
To promote the theme of inclusion, Azusa businesses display purple flower decals in their windows once they've completed dementia training. These decals welcome customers with dementia and signal support for their caregivers. As Ed Blomendahl put it: "We're trying to eliminate the stigma associated with this disease. We're encouraging people to come out and we let them know they are still valuable, contributing citizens."
The cashier who was kind to my Mom, the server who learned new approaches for communicating with customers who have dementia, these everyday heroes are the vanguard for what I hope will become a grassroots dementia friendly movement for our friends, our families, and our neighbors.
Calling all HuffPost superfans!
Sign up for membership to become a founding member and help shape HuffPost's next chapter