Conventional wisdom would have us believe that Los Angeles is a fast-growing city. Population is increasing through both the birth rate and migration, suburbs are spreading in all directions while the city also rises vertically, and our roads are hopelessly clogged with cars and trucks.

But the city I experience is actually shrinking. When I moved here fifty-five years ago, the population of the city was 2.5 million, of Los Angeles County, 6 million. Now there are 10 million people living in Los Angeles County. Back then, Angelenos thought nothing of driving vast distances for work and recreation. Freeways whisked us sixty miles in an hour, giving us ready access to almost anything in the region: deserts, mountains, ocean. As a surfer, I would often roam the coast between Laguna Beach and Leo Carrillo State Park looking for the best waves and the least crowded line-up. If I was in the mood for some good live music in a club somewhere⎯maybe Miles Davis at Shelly's Manne Hole in Hollywood or Johnny Cash at the Palomino in the Valley⎯I wouldn't hesitate to jump in the car and head out for the evening.
But no more. Traffic has me hunkered down in my own neighborhood on the Westside⎯Venice, Santa Monica, maybe an event at UCLA, but only on a weekend. Six times a year my wife and I go downtown to the Music Center to hear the Los Angeles Philharmonic perform at Disney Hall. Only on Saturdays though. Dodger Stadium, the Rose Bowl, Staples Center? Forget it.

I used to think of Los Angeles as one big neighborhood, but the city's congestion now confines me to my immediate community, which does not extend much beyond a five-mile radius from my home. Local neighborhoods are becoming more and more discrete, with their own cultural and recreational resources. Santa Monica is a case in point. With its Third Street Promenade offering a plethora of shops, restaurants and movie theaters, and the Broad Stage presenting high quality performing arts⎯drama, dance, music, lectures⎯why should I fume in my car for an hour trying to get beyond the 405?
There are lots of other autonomous neighborhoods in Los Angeles with their own distinctive character and offerings: Echo Park/Silverlake, West Hollywood, the Miracle Mile District, Topanga, Koreatown, Chinatown and the resurgent downtown with its amazing mix of hipsters living in lofts, tycoons lounging in fancy penthouses and homeless trying to survive on the streets. These communities have become destinations reserved for special visits, not suitable for some spur-of-the-moment drop-bys.
Will there come a time when more of these neighborhoods detach from the City of Los Angeles, as West Hollywood did, in order to become self-governing, leaving the city shrunk back to its original size in the old pueblo?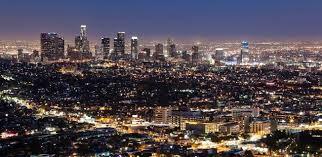 REAL LIFE. REAL NEWS. REAL VOICES.
Help us tell more of the stories that matter from voices that too often remain unheard.