Amazon's announced last week that it will purchase Wholefoods. This sets up a classic 'clash of the Titans' match between Amazon and Walmart. We've known for years that Amazon has its blasters set on stun for grocery stores. What's driving this business buyout and where will it lead?
[As President of Map Business Online, a business mapping intelligence mapping tool, I was interested in how this Clash of Titans could be visualized on a business map. Using mapping software with business data overlaid on top of the map is a great way to understand business trends. In this business analysis we use business data provided by www.RealZips.com.]
The concept of tagging consumable items around the house with an Amazon re-order button was sheer genius to me. Our laundry detergent was running low this week and I would have gladly pressed a button to trigger the re-order. I'm already an Amazon Prime account so, what the hell. Right? Who cares if I let a little Big Brother into our laundry room? If I buy the same item at our local grocery store it will cost me 30% more. I've decided I'm OK swapping my Amazon purchase history in exchange for better pricing. That's the bargain with the devil we're all entering.
Your Purchase History Data (We've all got a story)
Last month I purchased an irrigation kit for my Maine garden from a local Portland Maine hydroponic store. It cost me $54 and change. I liked it, and I wanted to buy another kit but I wasn't going to drive an hour into Portland anytime soon. So I tried the store website – no dice. I tried the manufacturer website – even worse.
Keep in mind, the manufacturer to retailer relationship is the traditional path to market for products to reach consumers. Amazon continues to disrupt this channel. Why any manufacturer of consumer goods would not sell products through their own web store is beyond my ability to understand. Selling online is affordable and it assures that a basic consumer web search can lead to a direct sale. At any rate, my irrigation guys did not sell off their website.
Exasperated, I looked up my irrigation kit on Amazon and "Viola!" I had the kit in two days for $35.00. Amazon shipped it from a farm-products third party. Amazon is definitely a retail killer, but I also blame the retail store for not tracking me and following-up with an offer. I get the concept of supporting local. I just wish local stores would make the process effective. Think people! You're competing with a Titan!
Walmart, I've read, has had a successful relaunch of their online store this year. I even bought from them. Yup, I bought artichoke seedlings for my Maine garden, online. How cool is that?
I tried to buy the artichokes seedlings from Target, who had a Google Ad Words ad for artichoke seedlings posted right above Walmart's, but they sent me plastic artichokes instead. Upon notice, Target gave me full credit and let me keep the twelve plastic artichokes for free. Oh! Happy day. I read recently that Target is rapidly losing market share to Walmart, and that 1 in 4 Target shoppers also shop at Wholefoods. For Walmart, that number is 1 in 10.
Walmart sent real choke plant seedlings in three days. I noticed they outsourced the seedlings to a local farm. Pretty smart. Oh, and I still have a few plastic artichokes left if you're interested.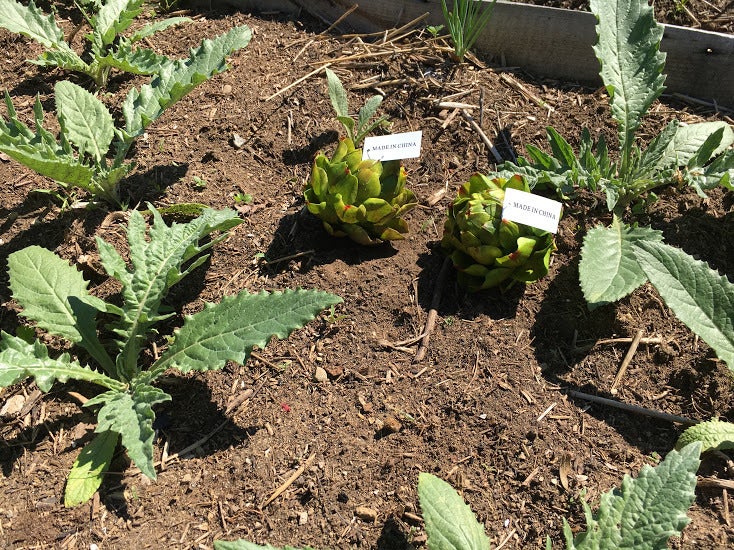 So, it would seem both Amazon and Walmart have the same web-based business model up and running. Now Amazon wants brick and mortar stores fast. While Walmart offers an online discount for store pick-up. Who will win this Clash of the Titans?
'Whole Paycheck' but Who Cares?
I go to Wholefoods maybe four or five times a year. I go to Walmart with about the same frequency, but to purchase totally different stuff.
I find Walmart is great for semi-expensive consumable items like sesame oil, vitamin supplements, and cheap iPhone headsets. I go to Wholefoods for holiday foods, better produce, and local lamb. I do this well aware of the Wholefoods nickname "Whole Paycheck." It's a holiday and Wholefoods feels special.
Amazon, through Prime free shipping, has already captured my heart/credit card. I've paid to have Amazon deliver a self-propelled, cordless electric lawn mower, several computers, and a Hammond stage organ, all with no shipping fees.
I believe Wholefoods sells into an entirely different market than Walmart. They cater to higher income households and sell higher ticket items, like high-grade consumables and quality produce. I'd say Walmart services a demographic made up of American households with annual incomes between $10,000 and $60,000. Wholefoods focus on a much higher income bracket, say $75,000 and up. Go to either store and you'll feel it.
When I go to a Walmart I feel like I'm in a semi-updated version of a 1970's department store. I see huge plastic colored balls and I smell popcorn. The produce section's lighting feels like it is deliberately shaded to make the food look attractive. I would never buy grapes here. I'm in a hurry to get out, but I know I'll pay less.
When I go to Wholefoods I know I'm going to pay more, but I'm not in a hurry. There are cheese samples I can try. The grapes look bad or the grapes look good. I know if the grapes look good I'll have nice grapes that week.
Data Visualizations Depicting the Clash of the Titans
Business datasets and accurate online business mapping software can be combined to reveal some of the story. By importing Wholefoods and Walmart store location data (using www.RealZips.com) into business mapping ( using www.MapBusinessOnline.com) we can see where the stores are located. Next, we layer that data against ZIP codes color-coded to reflect the ratio of higher Income households to lower income households. Most ZIPs in this household income map analysis are blue (ratios less than 1) or yellow (no more than 5 to 1.)
Pink ZIPS are where the real income lies. It's clear that Amazon has purchased significant presence where their core higher value markets are located. They are buying brick and mortar presence where the money is.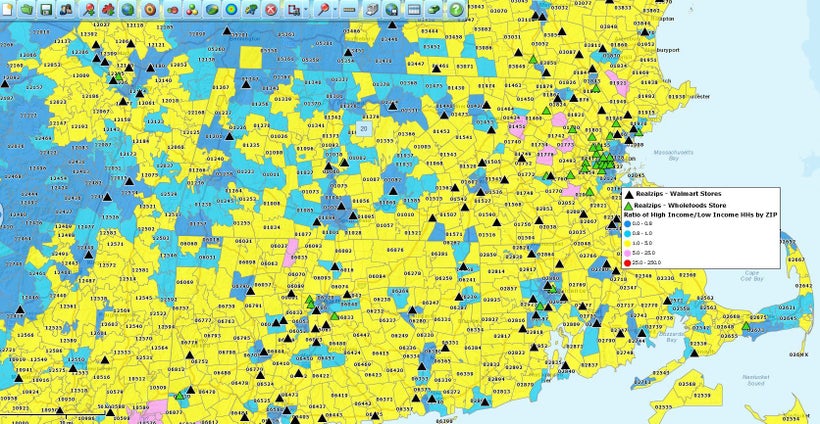 If Amazon is the grocery store serial killer, it would make sense to begin owning stores where disposable income is most likely to be disposed of. Logic would seem to dictate that the Amazon Prime customer list includes a high concentration of Wholefoods customers. Certainly, my personal shopping habits happen to match that profile.
In other words, Walmart stores are located such that no American can claim they live so far from a Walmart that they can't pick up a nice new set of plastic artichokes.
Back to the business mapping. If I import NAICS business data into my online mapping software showing, in general, where all supermarkets are located, I can generate a background heat map that shows the density of supermarkets around the nation. No surprise to find Walmart, and to some extent Wholefoods, following this pattern of supermarket placements.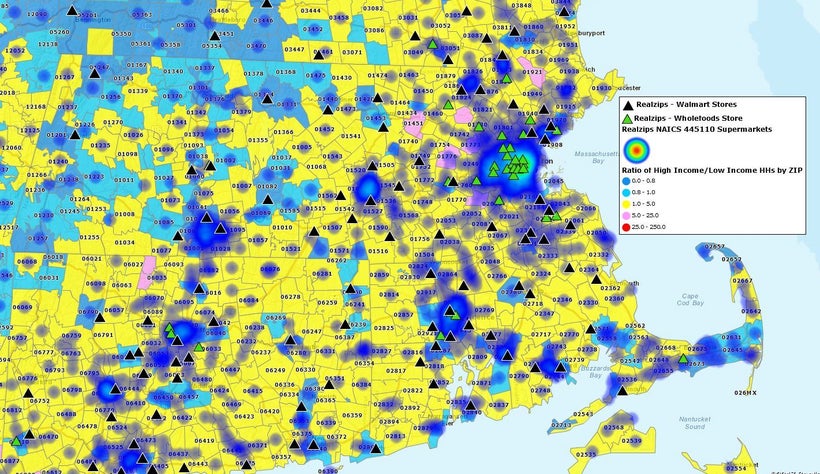 It is interesting to note, using this heat map software view, that Wholefoods stores in Massachusetts focus on the greater Boston area where all those pink higher-income ZIP codes are. While Western Mass, the Worcester and Springfield areas, sports plenty of Walmarts but no Wholefoods. I suspect these areas may be hosting some Titan clashes in the near future.
Both Walmart and Amazon base their strategy on consumer transaction data. Walmart seems to focus on distribution strategies, Amazon on home delivery strategies. Perhaps there's a need for both sales channels for consumers? Over the next ten years, we'll find out which Titan wins and where I will buy my sesame oil.
I will confess that my preferred grocery store is actually Market Basket. Trips to "The Basket" in Biddeford, Maine are my favorite way to save money. They've made the experience feel like a middle road between the two Titans. There's a wide selection and I feel like I'm on a no-nonsense, cost savings adventure.
So, while my money may be on Walmart or Wholefoods to win, my heart is hoping Market Basket takes the Titan prize. Regardless of who wins in the end, our entire world of buying groceries is about to undergo some serious adjustments. If past technology disruptions are any guide at all – the way we now buy airplane tickets, cars, hotels, movies, music, vacation rentals – the grocery store is about to change.
And if anyone wants a couple of plastic artichokes…
Calling all HuffPost superfans!
Sign up for membership to become a founding member and help shape HuffPost's next chapter
This post was published on the now-closed HuffPost Contributor platform. Contributors control their own work and posted freely to our site. If you need to flag this entry as abusive,
send us an email
.