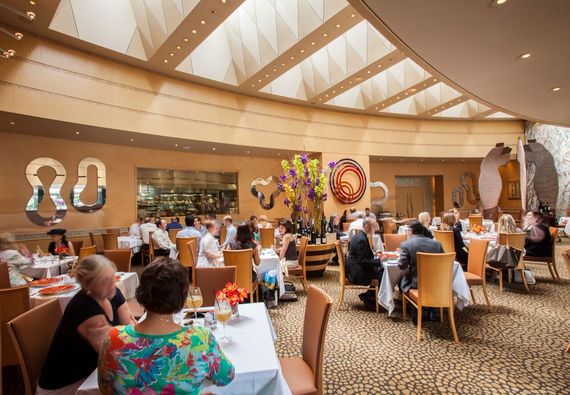 TONY'S
3755 Richmond Avenue
713-622-6778

For 30 years I have returned again and again to Tony Vallone's namesake restaurant in Houston, and in all those visits I doubt I've ever had the same dish twice. Even back in the 1980s, when Tony's was a red-walled society and celebrity dining venue and Tony himself was in a tuxedo every night, the basic menu was always appended with new dishes based on what was to be found in the local market or flown in from Maine, Seattle, San Francisco, the Outer Banks, or the Adriatic.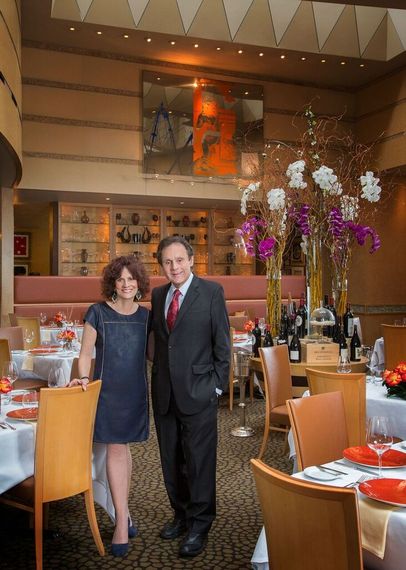 Tony's began as a modest eatery in 1965, then evolved from a red sauce standby into a continental cuisine restaurant, and by the 1990s into one of the finest Italian restaurants in America, with one of the foremost wine lists anywhere. Tony still makes frequent trips to New York and to Italy to see what's new and how what was old is being refined, then, passing all his research on to his chefs--some of whom he invites along with him--while allowing them their own personal stamp, which always has a little Texas swagger in it. And behind all that is Tony's wonderful wife Donna (above, with Tony).
The latest incarnation of Tony's is as modern and at the same time as timeless as any in Houston, with an arched dining room with a high, skylighted ceiling, a 12-foot, free-form sculpture--"The Three Graces" by Jesús Moroles--an intimate "Wine Library Room" with a spectacular Venetian glass chandelier, and a wine cellar holding 20,000 bottles and 1,100 labels, all priced quite decently.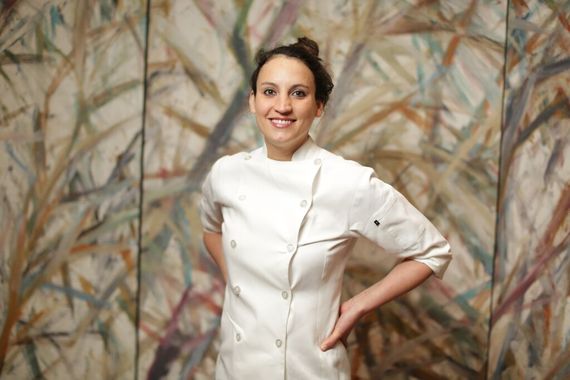 The current chef is the immensely talented Kate McLean , a Houstonion, and w ile this is clearly Vallone's restaurant and menu, McLean has a clear charge to make Tony's ideas into real dishes of quality and elegance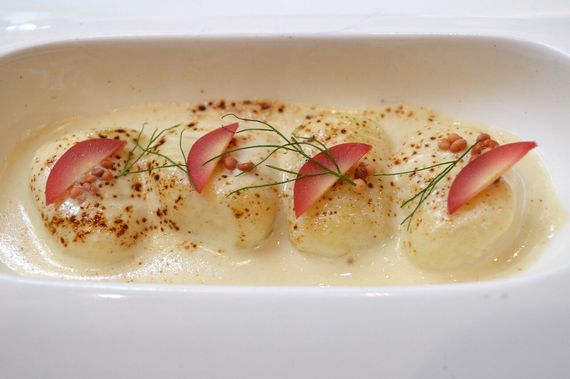 On my last visit, first up were two superb pasta dishes--ravioli ascolani ($15) came stuffed with meat, nutmeg, golden raisins, walnuts and sage, graced with pecorino romano, and gnocchi ($12), made from buttery Kennebec potatoes, baked with Sicilian olives. In their simple flavors, all buoyed by perfect ingredients, the pastas display yet again what Italian food's enduring appeal is--to be satisfying while being enthralling.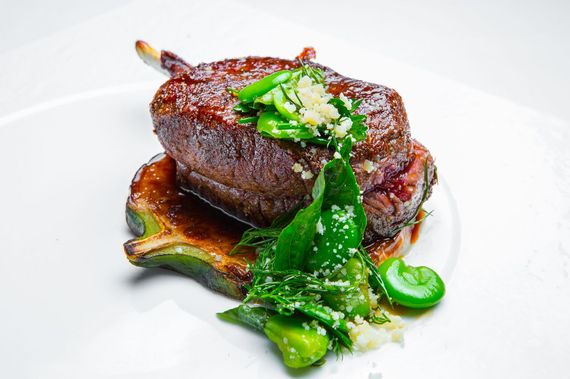 Turbot ($33) was,just kissed with dry gin, with an incorporation of baccalà into a light tomato sauce with juniper berries to mimic the gin.
America has some of the greatest veal and Tony's is as fine as any: the center cut of Provimi veal ($56) was graced with lemon and sided with watercress, cured heirloom carrots and dusted with rosemary, while luscious Colorado lamb chops ($68) joined with fava beans, eggplant. A Wyoming-raised center cut elk chop ($64) with fava beans, eggplant and jus was a magnificent presentation. For dessert there was an impeccably light apricot soufflé served with caramel sauce and a tot of grappa ($15).
Five decades running, Tony Vallone and his restaurant are unique parts of American gastronomic history.

Tony's is open Mon.-Fri. for lunch and dinner, Sat. for dinner only.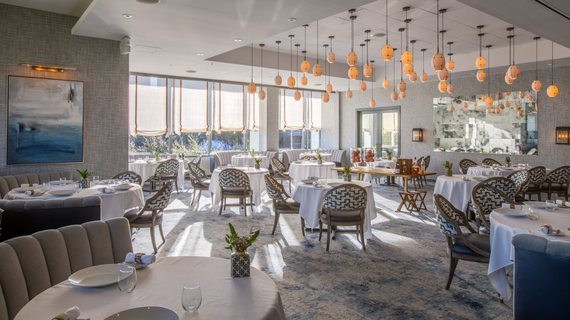 LA TABLE
1800 Post Oak Boulevard
713-439-1000
Not too long ago in the vast two-level space that is now La Table, a noted French chef was serving up a mongrel cuisine inelegantly coined as "French-Texas," which never quite clicked. Now, amiably reconfigured as a more contemporary space, La Table is easily the prettiest and most civilized restaurant to open in a long while in too-proudly-casual Houston. The tables are generously broad, with thick white tablecloths and good place settings; the sound level allows conversation to be as it should be. Downstairs there's a more casual bistro named Marché.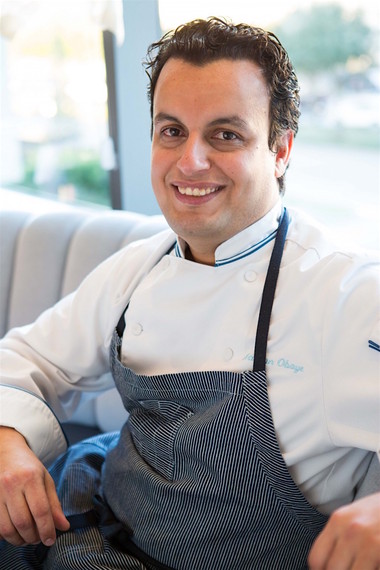 A native of Morocco, Chef Hassan Obaye (above) has a sure instinct as to what the city's real gastronomes want to eat, and it's not French-Texan cuisine. He toes a very classic line at La Table, showing the rigor of learning pure technique and passing it on to his brigade. And it is wonderful to see tableside service restored; more on that later.
La Table has the usual selection of raw bar items, and a well-worth-ordering selection of flatbreads, crispy and wonderfully varied, from tomato and mozzarella ($14) to yellowfin tuna with crème fraîche aïoli ($18).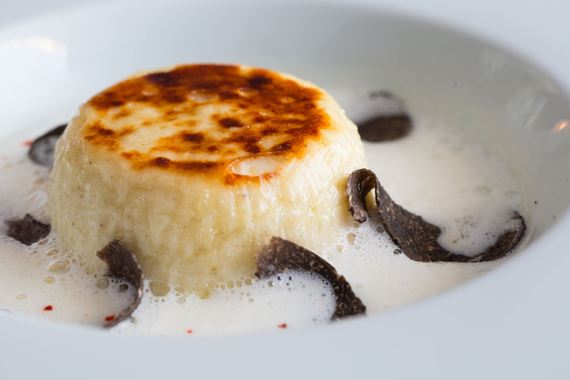 It's good to find a chef willing to bring back a good consommé du jour ($12) to a modern menu, while the lobster bisque with lobster flan ($16) is ideal in winter. Seared fresh "Prestige" foie gras comes with seasonal fruit ($29), and it's so comforting to see a cheese soufflé back on a menu like this ($21), done with parmesan emulsion and porcini. Lavishing bordelaise sauce and Parmesan emulsion onto mushroom ravioli ($19) is a marvelous new idea.
Eleven dishes are "simply seared à la plancha," including Idaho rainbow trout ($38) and Colorado lamb chops ($55), and then there are the tableside (for two) dishes deftly carved, like a caramelized ribeye with onions, mushrooms, richly buttered potato purée and a peppercorn sauce ($55 per person); Parmesan-crusted rack of lamb with spicy caponata, potato purée, and lamb jus ($55 pp). The carved roast chicken with its golden skin comes with a rendered pinto noir sauce, wild and button mushrooms, onions, seasonal squashes and potato purée ($45 pp).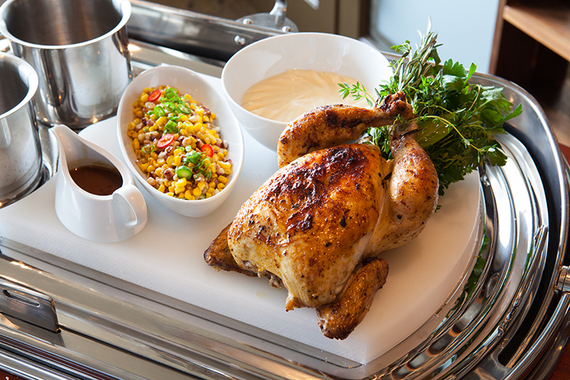 I loved the poached lobster with spicy green curry, roasted tomatoes, and baby bok choy ($55), and a yellow fin tuna with roasted Mediterranean vegetables, potatoes, green beans, olives, and lemon preserves ($45).
There is more flair in the grand chocolate soufflé for two ($24), poire belle Hélène with dark chocolate sauce, vanilla ice cream and almonds ($14), and dense, moist opera cake with chocolate ganache, almond sponge cake and Arabica coffee sorbet ($14).
Care has been put into a superbly comprehensive, 30-page wine list by wine director Michael Peltier and served with finesse by Sommelier Xavyer Burroughs, but mark-ups can induce a wince.

Tony's
3755 Richmond Avenue
713-622-6778
La Table
1800 Post Oak Boulevard
713-439-1000