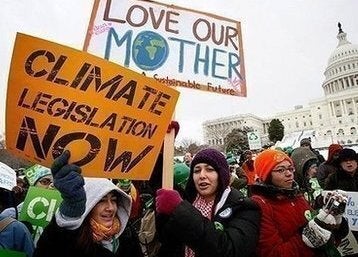 In these days following the House of Representatives' passage of the American Clean Energy and Security Act (ACES), there's a wide range of opinions on the implications of this massive bill - particularly among progressive and environmental groups.
Whatever their opinions on ACES, these groups all agree on one thing: Now that it's the Senate's turn to take on energy legislation, making ACES better will be a tough battle.
But there is at least one story that gives reason for hope for the Senate fight: The story of how an unlikely coalition successfully pushed to include key provisions in the bill - provisions that will bring economic opportunity to disadvantaged communities.
ACES now includes almost $1 billion in funding for job training programs, and it ensures local access to quality jobs in green construction. Thanks to bold collective efforts, the House adopted these provisions, and the bill now includes opportunity for communities that too often languish at the margins of American prosperity.
This unexpected success would simply not have happened without a broad range of groups - many of whom are not known for their engagement in climate and energy issues - coming together for a better, more equitable ACES. This coalition was made up of civil rights, social justice, labor, environmental, faith and community groups.
The Center for Community Change, Partnership for Working Families, National Employment Law Project, and Building Trades Department of the AFL-CIO worked with Green For All in developing a proposal for creating local access to quality jobs in ACES.
And established civil rights groups like the NAACP, Democracia USA, and Leadership Conference on Civil Rights piled on with a big legislative push to get this proposal into the bill. On the Hill, it was members of the Black and Hispanic Caucuses that pressed for the provisions. Champions like Representatives Bobby Rush, Emanuel Cleaver, and Ben Ray Luján in particular participated in the discussion and fought for their communities.
The leadership role taken on by advocates for people of color and the working poor has never before been seen on this scale when it comes to climate and energy legislation. It was essential to getting the equity provisions into ACES, and has helped shift the terms of the debate.
Senators should hear this message loud and clear as they draft legislation: Opportunity for low-income communities must be included.
1. $860 million allocated to the Green Jobs Act. This measure will provide training to workers who need new skills for clean energy jobs - training that can be the first step on a pathway from poverty to a steady green career.
2. Local access to quality jobs, through the creation of a green-construction, careers-demonstration program. Representative Bobby Rush authored this amendment, which will promote middle-class careers and quality employment practices in the green construction sector. This program will empower the Secretaries of Labor and Energy to ensure that these green construction jobs are good jobs, and are accessible to low-income communities and local workers.
The bottom line is this: shifting to clean energy means redefining the very foundation of our economy. We must make sure that the principles of equity and opportunity for all are etched into that foundation.
That means we need strong job quality standards. That means we need opportunities for low-income communities, opportunities like training, standards, and local hiring provisions, to be written into the laws.
And that means we need strong allies, a broad movement of supporters, and bold champions on the Hill to make it happen.
As we look ahead to the Senate crafting its version of energy and climate legislation, we'll need the political power, and people power, that a broad coalition can wield when it stands on common ground.
The House passing ACES in and of itself may seem like more of the same, with groups on both sides arguing the merits of the bill.
But look closer. Because we're gaining strength, we're forging partnerships, and we're building a growing consensus that low-income communities and communities of color must have a fair stake in a new clean energy economy.

Popular in the Community