Students from San Benito High School in Hollister, California, are protesting their school's sexist dress code in a pretty awesome way.
When the students went back to school on Aug. 10, administrators reportedly began enforcing the school's dress code, which prohibits female students from wearing off-the-shoulder shirts. Around 50 female students were reprimanded for wearing the shirts and sent to the administrator's office, according to Yahoo Style.
One female student who spoke to Yahoo said that she had worn this type of shirt to school in the past and it was never an issue.
"The dress code policy hasn't been an issue the past two years I have been here," the student, who chose to remain anonymous, told Yahoo.
Fellow San Benito student Andrei Vladimirov told HuffPost that on Monday, two fellow senior students named Aydrian and Brody wore off-the-shoulder shirts in solidarity with their female peers. The next day, Vladimirov said he joined the protest as well, donning a purple off-the-shoulder top.
"I felt bold and subversive, as I actually, physically oppressed something that I saw as wrong," Vladimirov said, adding, "But this story isn't about me, it is about those who are actually affected by dress codes."
Take a look at some of the awesome protestors and their rather fashionable off-the-shoulder tops.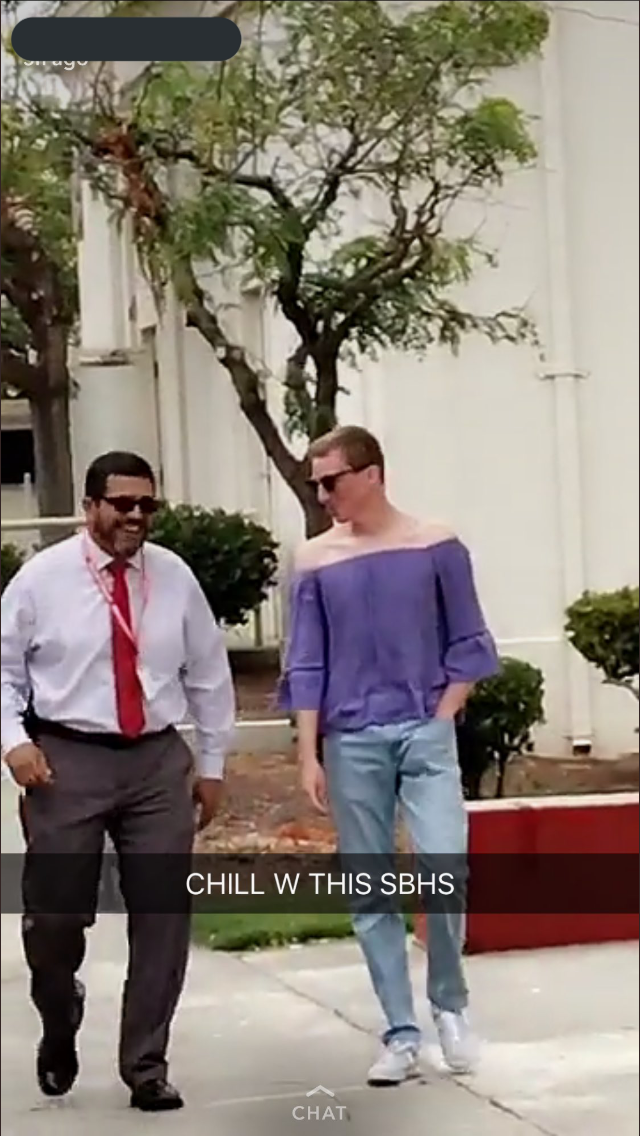 One Twitter user even pointed out that in San Benito's yearbook photos all of the female students wear off-the-shoulder tops.
"San Benito is dress coding a lot of girls for showing too much shoulder, but yet for your guys' senior pictures you guys show your damn shoulder," the Twitter user says in the below video.
Vladimirov said that the school told students the dress code policy is to "keep kids safe," but Vladimirov believes it's just downright sexist.
"What I find problematic about this [keep kids safe] response is that if someone did try to assault a woman, the responsibility should lie solely on the attacker, not the victim," he explained to HuffPost. "A woman never 'asks' to be objectified, assaulted or raped ― and such thinking is what creates harmful consequences. Women deserve to be treated with respect ― and to be treated with respect is to be given the freedom to express one's self, and hold agency as an individual."
The 17-year-old added that the idea of covering women up to keep them safe is damaging: "The notion that women should clothe themselves because it is 'distracting to men' undermines both the agency and volition of women ― which has long been suppressed ― and the maturity of men, and reinforces the idea that all men are only concerned with sex."
San Benito Principal Adrian Ramirez told Yahoo that the protest has been a really great way to sit down and listen to students.
"It's been a really good process for me as principal to sit down and hear where issues arose," Ramirez said. "We would never blame a female student for another student being distracted by something they wore. The other thing is as a school, we should be looking back and looking at how consistently we address the dress code across campus, and that's something else students have brought up."
Ramirez said that he will be discussing how best to change the school's dress code in the next faculty meeting. He's also meeting with the Associated Student Body organization on campus to "start a conversation regarding dress code."
"I already have several students who are interested in being a part of it," Ramirez said. "The goal is to make sure they are heard and can express their opinions and concerns."
Popular in the Community